Lax Attitude Along Mexico's Southern Border Becoming Thorn In U.S.'s Side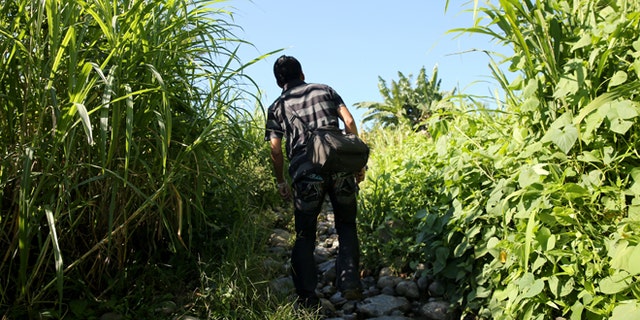 NEWYou can now listen to Fox News articles!
The differences between Mexico's northern and southern borders couldn't be more marked.
The country's long dividing line with the United States - 1,933 miles - is split in many parts of its arid, semi-desert environment by towering, metal fences and patrolled assiduously by U.S. agents on the lookout for migrants making their way north.
Mexico's shorter, southern frontier with Guatemala - 541 miles - is located in a zone of dense, tropical forest. Two rivers serve as the border for about a third of its length, and on the southern end, migrants are ferried across the Suchiate River on inner-tube rafts. The border area is barely guarded by Mexico's migration services and the only semblance of a fence comes in the form of rusty barbed wire attached to rotting wood posts – barely able to keep cattle at bay and certainly no deterrent to human traffic.
The porousness of Mexico's southern border has recently become a point of focus and contention between the U.S. and Mexico as thousands of migrants from Central America have streamed northward in recent months, fleeing the violence and ubiquitous poverty embroiling the region's northern triangle countries of Honduras, Guatemala and El Salvador.
"There is more border infrastructure now than there was a few years back, but it's not all there yet," Marc Rosenblum, deputy director of the U.S. Immigration Policy Program, a Washington, D.C.,-based think tank told Fox News Latino. "Mexico does not have a clear self-interest in deterring people."
Mexico's border with Guatemala is historically very permeable, with hundreds of people every day crossing back and forth for work, to shop and to visit friends and family. The 10 border posts separating the two countries are remote, difficult to keep suitably manned, prone to corruption and at times it can be hard hard to distinguish who is entering Mexico for the day and who is about a to hop a train to the U.S.
Experts say that Mexico has little interest in deterring Central Americans from crossing the country since it isn't the final destination of most migrants. Most of the Central Americans pause briefly in southern cities like Tapachula or Tenosique, to catch "La Bestia," the infamous train that ferries people close to the U.S. border, or to meet up with the smuggler who will take them northward in a motor vehicle.
Instead of focusing on its border with Guatemala, Mexico has chosen to enforce migration further inland, along what it refers to as "belts of control" - roadblocks and checkpoints on major highways. While there is talk of bumping up security on the rail routes north, most migrants who don't have a smuggler helping them choose the less policed La Bestia, according a report entitled 'Mexico's Other Border" by the Washington Office on Latin America (WOLA).
"Getting into the interior of Mexico on the roads, you're going to encounter many checkpoints along the way," Adam Isacson, a senior associate at WOLA and one of the authors of the report, told FNL. "Mexico really doesn't bother policing the trains."
That kind of lax attitude has worried many lawmakers in Washington – not only because of the thousands of Central American migrants coming across the border illegally but also because of the possibility of terrorists from other places trying to get into the U.S. – and calling on Mexico to step-up its efforts along the frontier with Guatemala.
U.S. Vice President Joe Biden warned Mexico's Interior Minister, Miguel Angel Osorio Chong, in June that with the country's economic growth some migrants may start choosing to stay there instead of risking the trip to the U.S.
Earlier in the summer, President Enrique Peña Nieto announced plans for more border inspection stations to help fight trafficking of immigrants from Guatemala, El Salvador and Honduras. Besides the 10 official ports of entry between Mexico and Guatemala, the Mexican government has recently established three customs facilities in Palenque, La Trinitaria, and Huixtla – all about 30 to 50 miles from the border.
"We have to get more cooperation … to make the southern border an area of stability and rule of law," Humberto Mayans, Mexico's newly appointed head of southern border improvement plans, told the Dallas Morning News in June.
Whether Mexico is putting on a tough face for the benefit of the U.S. in the midst of the ongoing border crisis or whether this is a sustained effort on the part of the Peña Nieto administration remains to be seen, but Mexico's National Immigration Institute reported that the number of minors detained in the first half of the year was 10,505 - more than in all of 2013 - and monthly deportations rose dramatically in May to about three times the number in January.
The authors of the WOLA report, however, argue that Mexico can't just mimic the U.S. border strategy of "walls, patrols, soldiers and technology," given the threat of corruption and human rights abuses that might occur under such conditions.
Instead the authors argue for a holistic approach that would include rooting out corrupt officials, ending the military role in border security and reducing legal obstacles for migrants who have strong claims to asylum or refugee status.
"The U.S.-Mexico border gets far more attention in both countries' media and national capitals due to a spike in violence on Mexico's side, an unprecedented security buildup on the U.S. side, and the intense U.S. debate over policies for dealing with cross-border migration," the report stated. "But this is changing. U.S. policymakers are increasingly concerned about Mexico's southern border."