Lawyer linked to ex-Trump adviser pleads guilty to lying to FBI
A lawyer connected to former Trump campaign adviser Rick Gates pleaded guilty Tuesday to a charge of lying to investigators, as part of Special Counsel Robert Mueller's Russia probe.
Alex Van Der Zwaan was charged by Mueller's team with making false statements to investigators in an interview about his time working for a law firm hired by the Ukraine Ministry of Justice in 2012, when he helped produce a report on the trial of Ukrainian politician Yulia Tymoshenko. According to The Washington Post, Van Der Zwaan is the son-in-law of Russian oligarch German Khan.
That firm, Skadden, Arps, Slate, Meagher & Flom LLP, told The Associated Press that it fired Van Der Zwaan last year and has been cooperating with authorities. The New York Times reported in September that the Justice Department had requested documents from the firm related to its work in Ukraine on behalf of the government of Russia-aligned President Viktor Yanukovych.
The Times reported that the report the New York-based firm drafted was used to justify the jailing of Tymoshenko -- a political rival of Yanukovych.

Van Der Zwaan is accused of lying about his last communication with Gates, who was indicted in October along with former Trump campaign manager Paul Manafort on charges related to their work in Ukraine.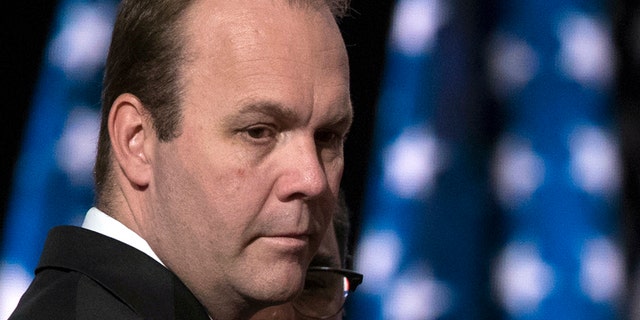 Van Der Zwaan pleaded guilty to the charge Tuesday afternoon. It was made clear in court that he had been cooperating with Mueller up to that point. Van Der Zwaan faces up to six months in prison and a fine of as much as $9,500.
Van Der Zwaan's sentencing is set for April 3.
Gates, a former business partner of Manafort, is expected to plead guilty to fraud-related charges in the next few days as part of a plea deal with Mueller, according to The Los Angeles Times.
The court document notes that Van Der Zwaan said he "did not know why an email between him and Person A in September 2016 was not produced to the Special Counsel's Office" and that his last communication with Gates was in August 2016. It also says he claimed that his last communication with an unidentified "Person A" was in 2014.
But Mueller's team said that Van Der Zwaan spoke with Gates and Person A in September 2016, and that he deleted "and otherwise did not produce emails" sought by Mueller's office -- including an email between him and "Person A" in September 2016.
The report that was produced by the firm was cited in the 12-count indictment against Manafort and Gates. That indictment accused the two men of acting as unregistered lobbyists in connection with the rollout of the report. According to the indictment, Manafort and Gates "used one of their offshore accounts to funnel $4 million to pay secretly for the report."
The plea after Mueller's team on Friday indicted 13 Russians and three Russian companies for allegedly interfering in the 2016 election.
Fox News' Jake Gibson, Catherine Herridge and The Associated Press contributed to this report.