Latino groups say there are many Hispanics qualified to take over for Eric Holder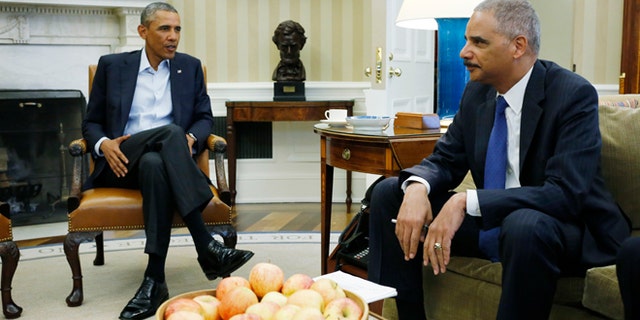 NEWYou can now listen to Fox News articles!
The announcement that United States Attorney General Eric Holder will resign from his post after nearly six years on the job has Latino rights groups offering up a number of qualified Hispanics to fill the soon-to-be-vacated spot.
"Under Eric Holder's leadership the Department of Justice has put in a strong commitment to Latino voting rights," Rosalind Gold, Director of Policy, Research and Advocacy at the National Association of Latino Elected and Appointed Officials told Fox News Latino. "Whoever the administration chooses [to replace him], we hope that they look at the pool of talented Latinos and that whoever he or she is has the same commitment to voting rights that Holder had."
While controversial in many quarters, Holder gets high marks among Latino groups as attorney general for protecting voting rights to reworking mandatory federal sentencing policies to meeting with leaders throughout the hemisphere to addressing the issue of the international drug trade.
While Massachusetts Gov. Deval Patrick, former Homeland Security Secretary Janet Napolitano and former White House counsel Kathryn Ruemmler have already been thrown into the mix as prospective nominees, Hispanic leaders say there are plenty of qualified Latinos who could fill the post.
"It has been an ongoing complaint that the higher ranks of the Department of Justice has been without a Latino since the departure of Thomas Perez, who left to be the labor secretary," Thomas Saenz, president of the Mexican-American Legal Defense and Educational Fund, told FNL. "It is certainly a concern."
Saenz added that Perez, who was assistant U.S. attorney general in the Civil Rights Division until July, would be a great choice for the position of attorney general given his background.
"He already has a cabinet-level position, but the attorney general's job is a whole different thing," he said.
Along with Perez, Saenz also suggested Alejandro Mayorkas, a Cuban-American lawyer who is currently the Deputy Secretary of the Department of Homeland Security. Mayorkas previously was a partner in the law firm of O'Melveny & Myers, where in 2008 he was named by the National Law Journal as one of the "50 Most Influential Minority Lawyers in America."
Mayorkas was nominated by former President Bill Clinton and confirmed by the Senate in 1998 to be the United States Attorney for the Central District of California, making him the youngest U.S. Attorney to serve the nation at that time.
Another name that came up for the attorney general post is former U.S. Ambassador to Argentina, Vilma Socorro Martínez.
The Texas-born Martínez has been a leading voice in Hispanic civil rights since the 1970s, having been the head of the Mexican American Legal Defense and Educational Fund and because of her work defending undocumented immigrants. Martínez became a partner at the Los Angeles law firm of Munger, Tolles & Olson in 1982, where she specialized in federal and state court litigation.
In 2009, she became the first woman to represent the U.S. in Buenos Aires as ambassador. When she left the post in 2013, she was awarded Argentina's Order of May, the highest honor awarded by that country to a foreign national.
"She has great experience as both a lawyer and with her work in the government," Saenz said.