Kentucky clerk's office refuses to issue gay marriage license despite court order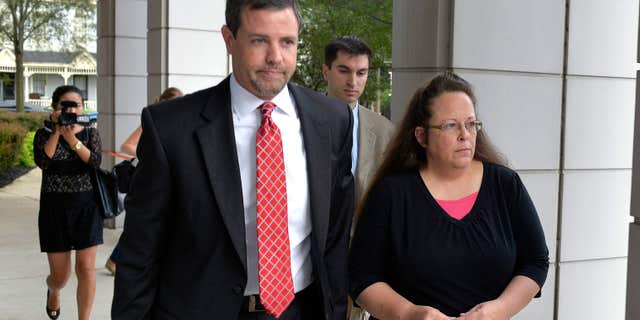 NEWYou can now listen to Fox News articles!
A Kentucky county clerk's office turned down a gay couple's request to get a marriage license based on the clerk's deeply held Christian beliefs, despite a federal judge's order to issue the licenses.
The office of Rowan County Clerk Kim Davis is one of a handful across the country to cite religious beliefs in denying gay marriage licenses after the Supreme Court legalized gay marriage in June. Davis was the first to be sued and her attorneys have vowed to keep fighting in a case legal experts have likened to the resistance some local officials put up five decades ago when the Supreme Court legalized interracial marriage.
"We're going to keep coming back," said Karen Roberts, shaking after she was denied a license to marry April Miller, her partner of 11 years. "We're going to fight this to the very end."
Three other couples streamed into the clerk's officer in the eastern Kentucky town of Morehead throughout the morning and were all denied.
Staff in Davis' office said she was on vacation. Though she has six employees authorized to issue licenses, deputy clerk Nathan Davis said the office was advised by its attorneys with the Christian law firm Liberty Counsel to continue refusing same-sex couples is it appeals the judge's decision.
The staff handed one couple a Post-it note with Liberty Counsel's toll-free phone number.
"Kim Davis is just an example of what's going to be happening not only to other clerks but to other people who are going to be confronted with this issue and we think that this is a serious matter that needs to be decided by a higher court, even the Supreme Court," said Liberty Counsel founder Mathew Staver.
Some clerks and judges across the South halted issuing licenses in the days following the Court's decision. Some resigned rather than acknowledge a same-sex marriage. Others relented under the threat of legal action and began handing them out. It's unclear exactly how many clerks nationwide are still refusing to issue licenses, but at least one other county clerk in Kentucky has pledged that he would not.
Democratic Gov. Steve Beshear has told defiant clerks, who are elected, to issue the licenses or resign.
U.S. District Judge David L. Bunning said in his ruling Wednesday that Davis has likely violated the U.S. Constitution's protection against the establishment of a religion by "openly adopting a policy that promotes her own religious convictions at the expenses of others."
"Davis remains free to practice her Apostolic Christian beliefs. She may continue to attend church twice a week, participate in Bible Study and minister to female inmates at the Rowan County Jail. She is even free to believe that marriage is a union between one man and one woman, as many Americans do," Bunning wrote. "However, her religious convictions cannot excuse her from performing the duties that she took an oath to perform as Rowan County Clerk."
Davis' attorneys have asked the judge for a stay, and Bunning has not yet ruled.
Laura Landenwich, an attorney for the couples, said they are considering asking the judge to hold Davis in contempt, which would carry a hefty fine or the threat of jail time.
Davis, a Democrat elected last November, took over the office from her mother, Jean Bailey, who served as county clerk for 37 years, according to the Morehead News. Davis worked under her mother as a deputy clerk for 26 years. Nathan Davis refused to say if he was related to Kim Davis.
The battle has exposed the deep rift that remains in this county of 23,000 people, considered to be among the most progressive in Appalachian Kentucky.
James Yates and William Smith Jr., a couple for nearly a decade, said there was a difference between the clerk's actions and their experience in Morehead. They held hands as they walked into the clerk's office, and gay rights activists, who have lined the street with rainbow signs and flags every day for more than a month, shouted "Good luck!"
Still, some of the couples struggled to reconcile their support in the community and the rejection at the county clerk's office.
David Ermold broke down in the county's judge-executive's office, after he was denied a license to marry David Moore, his partner of 17 years. He felt angry and humiliated.
"I will say that people are cruel, they are cruel, these people are cruel," Ermold said, tears welling in his eyes. "This is how gay people are treated in this country. This is what it's like. This is how it feels."
The county judge executive's secretary, Lois L. Hawkins, started to cry with him. She declined to comment, except to say it broke her heart and there was nothing she could do to help them.
The Associated Press contributed to this report.