Kazakhstan ruler, lauded by Bill Clinton for democratic and human rights gains, wins re-election -- with 98 percent of vote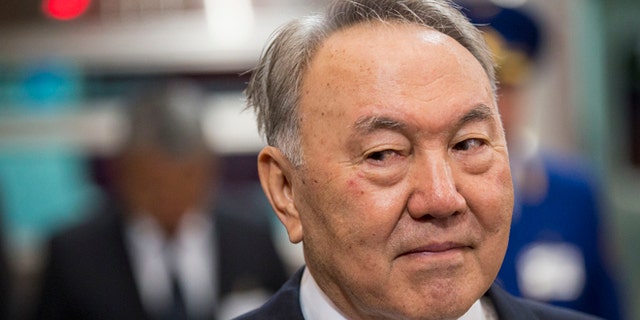 NEWYou can now listen to Fox News articles!
Former President Bill Clinton, already under the microscope for reportedly traveling to Kazakhstan with a Canadian investor seeking a uranium deal there, also gave the nation's longtime strongman a thumbs-up on democracy -- though it appears he's won re-election with a stunning 98 percent of the vote.
Preliminary results show Nursultan Nazarbayev -- who's ruled the former Soviet republic since 1989, and long faced accusations of vote-rigging -- scoring yet another landslide victory over nominal opposition.
Nazarbayev reportedly even apologized Monday for the scale of his victory, but said it would have "looked undemocratic" for him to have intervened just to make his victory look any less decisive.
Despite Nazarbayev's questionable democratic record, Clinton reportedly traveled to the country in 2005 with a Canadian investor, who was trying to arrange a deal to buy uranium mines, and spoke well of the Kazakhstan strongman.
New York Times reporter Jo Becker, who reported on the deal last week, said investor Frank Giustra and Clinton were "whisked" to the presidential palace on that visit. While there, she said, Clinton "basically endorsed" the "progress" Kazakhstan had made on its democracy -- even though Nazarbayev was known for winning elections with more than 90 percent of the vote.
Peter Schweizer, author of the forthcoming book "Clinton Cash" which details this and other deals, said Clinton even held a press conference with the Kazakhstan president and praised his human rights record.
In the end, Giustra was able to proceed with the uranium deal. Soon after that, Clinton's foundation reportedly received a $31 million donation from Giustra.
Aside from the questions raised about that transaction, Clinton's comments about Kazakhstan's president were seemingly out of step with official U.S. government criticism of Nazarbayev's human rights record.
According to The New York Times, Clinton specifically voiced support for the president's bid to head an elections monitoring group.
The election numbers emerging Monday from the Central Asian nation on Monday were staggering.
The Central Elections Commission said turnout was a record 95 percent.
The high turnout came despite what international observers from the Organization for Security and Cooperation in Europe described as a "hardly visible" campaign. Voter turnout is typically high in authoritarian states in Central Asia -- the result of habit carried over from Soviet times and massive marshalling exercises by state officials.
Nazarbayev's victory over his two nominal rivals, a trade union official and a communist politician, has been seen as all but a formality since the elections were announced. The communist candidate, Turgun Syzdykov, ran on a platform that included supporting Nazarbayev.
Clinton's camp, meanwhile, has pushed back on Schweizer's findings, describing them as "another in the many partisan conspiracy theories advanced in the Clinton Cashbook."
The Associated Press contributed to this report.