Kansas, Arizona Prevail In Battle To Have Voters Prove Their U.S. Citizenship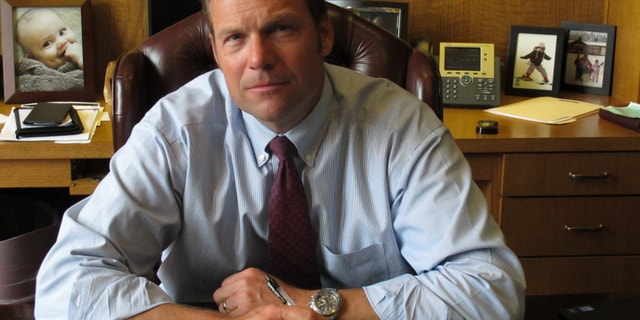 TOPEKA, Kan. (AP) – A federal judge on Wednesday ordered the U.S. Election Assistance Commission to help Kansas and Arizona enforce laws requiring new voters to provide proof of their U.S. citizenship.
U.S. District Judge Eric Melgren in Wichita, Kan., ruled the commission has no legal authority to deny requests from Kansas and Arizona to add state-specific instructions to a national voter registration form. Melgren ordered the commission to immediately revise the national form.
The states and their top election officials — secretaries of state Kris Kobach of Kansas and Ken Bennett of Arizona, both conservative Republicans — sued the agency to force the action.
Both states require new voters to provide a birth certificate, passport or other documentation to prove their U.S. citizenship to election officials. The federal registration form requires only that prospective voters sign a statement declaring they are citizens.
While most voters in both states register with state forms, their officials said the availability of the federal form created a loophole as they tried to enforce the proof-of-citizenship requirements. Kobach and others argue that the requirements preclude voter fraud by preventing non-citizens from voting, particularly those in the country illegally.
"This is a really big victory, not just for Kansas and Arizona but for all 50 states," Kobach told The Associated Press. "Kansas has paved the way for all states to enact proof-of-citizenship requirements."
Arizona Attorney General Tom Horne, another conservative Republican, said election fraud is a serious problem but that "a cover-up by the media" has prevented people from knowing the true extent of the problem.
Critics argue that proof-of-citizenship requirements make it harder for people to register and suppress voter turnout, and contend that the potential for non-citizens to vote is remote enough that it doesn't justify such steps.
Democratic Arizona state Sen. Steve Gallardo, who joined the lawsuit on the side of the Election Assistance Commission, said a proof-of-citizenship requirement makes it harder for minorities and the elderly to register. He said it is also designed to weed out progressive voters, particularly college students.
"These are new voters that are getting active," Gallardo said. "They tend to be a lot more progressive and liberal ... particularly when it comes to issues like medical marijuana, same sex marriage, more progressive-type issues. That's what this ruling does now - it makes it more difficult for this segment of voters, students, to vote."
In Kansas, the registrations of nearly 15,700 prospective voters — enough to decide a close statewide race — remained on hold Wednesday because they hadn't yet complied with the proof-of-citizenship requirement.
Election Assistance Commission spokesman Bryan Whitener said in an email only that the ruling is "under review" by the agency. However, it can appeal Melgren's decision to the 10th U.S. Circuit Court of Appeals, based in Denver.
Melgren said the U.S. Constitution gives states the power to set voter qualifications, and Congress has not pre-empted it, even in enacting a federal voter-registration law in the 1990s.
"Because the Court finds that Congress has not pre-empted state laws requiring proof of citizenship through the National Voter Registration Act, the Court finds the decision of the EAC denying the states' requests to be unlawful and in excess of its statutory authority" Melgren wrote.
The case arose after the U.S. Supreme Court last year struck down part of Arizona's 2004 proof-of-citizenship law. The Kansas voter ID law took effect last year.
The high court said Arizona couldn't reject the registrations of voters who used the national form if they weren't accompanied by documents proving U.S. citizenship. But the court also said Arizona could return to the EAC to request a modification of the form.
Under Kansas' law, election officials don't reject the national forms outright but put those registrations on hold until proof of U.S. citizenship is provided.
Follow us on twitter.com/foxnewslatino
Like us at facebook.com/foxnewslatino