Immigrants Plan Trip To Vatican To Seek Pope's Support For Immigration Reform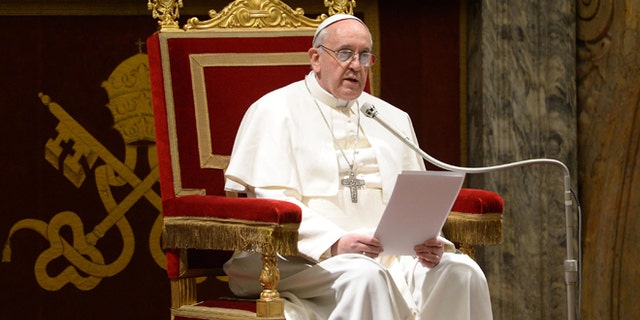 NEWYou can now listen to Fox News articles!
A coalition of activists who want U.S. laws changed to provide a path to legal status for undocumented immigrants is traveling to Rome Friday, hoping to meet with Pope Francis and enlist his help in their cause.
The Los Angeles Archdiocese is working with the coalition to get an audience with the pope on Wednesday, March 26, a day before he is to meet with President Obama, according to the Orange County Register.
The group, which includes more than a dozen activists and at least two children whose parents are undocumented immigrants, hopes to personally deliver more than 1,000 letters to the pope from children whose families are in danger of deportation, the newspaper said.
If they get to meet with Francis, they plan to ask him to talk about the importance of immigration reform with Obama when the two meet.
"I'm going to give him a card and I want him to hear my situation," said 10-year-old Jersey Vargas, whose parents are undocumented and who has been designated by the group as their sort of spokesperson. "We are not criminals. My parents came to this country for a better life. But my dad is in immigration detention and I'm afraid he will be deported. I am going to tell the Pope I feel very sad."
On Sunday, toward the end of Mass, Los Angeles Archbishop José H. Gomez gave the San Fernando Valley student and others going on the trip his blessing.
Gomez prayed that God would "give them the courage … as they stand with the poor in their struggle for dignity and justice. … And guide us to reform our immigration policies; that our country may live up to its spiritual promises of liberty and justice for all."
Last week, after a meeting with three members of the Congressional Hispanic Caucus about increasing exasperation among Latinos and other immigration reform advocates over the record number of deportations, Obama pledged to look into more humane ways to deal with immigration.
CHC members, including Rep. Luis Gutierrez, D-Illinois, pressed the president to use his executive powers to stop the record rate of deportations – nearly 2 million since he took office.
The caucus had been planning to draft a resolution demanding the president curb deportations, and extend a reprieve from removals from the U.S. to more undocumented immigrants than just those who have it now.
In 2012, Obama announced an initiative, known as DACA, that would suspend deportation for two years for undocumented immigrants brought to the United States as minors, and who meet other criteria. Those immigrants who qualified for DACA have been able to obtain work permits and driver's licenses.
In 2013, the Senate passed a bipartisan immigration reform measure that both tightened enforcement and called for a path to legal status for certain undocumented immigrants. But the effort stalled in the House, where Republicans have a majority and where there is resistance to any measure that would provide a path to legalize for undocumented immigrants.
"It's very nice for President Barack Obama to tell us quite often that he supports immigration reform," said Juan José Gutierrez, coordinator of the Full Rights for Immigrants Coalition. "But we believe we've gotten to the point where we need more than moral support."
"I don't think any of us in our wildest dreams thought we'd be going to the Vatican," Gutierrez said.
Follow us on twitter.com/foxnewslatino
Like us at facebook.com/foxnewslatino