Justice Antonin Scalia was 'enthusiastic' about Donald Trump's candidacy, author says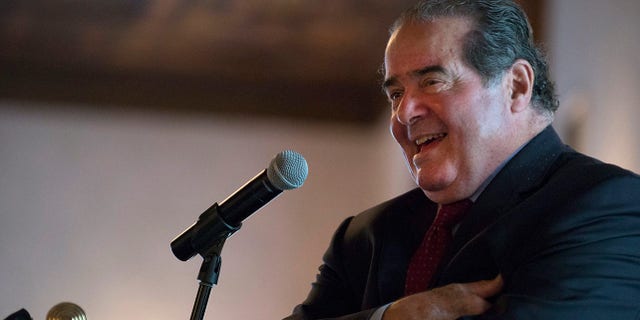 NEWYou can now listen to Fox News articles!
The late Supreme Court Justice Antonin Scalia was "enthusiastic" about Donald Trump's candidacy, according to the author of a new book about the conservative icon.
"Early on he was enthusiastic about the idea that we had a candidate whose every utterance was not airbrushed," Bryan Garner, author of "Nino and Me: My Unusual Friendship with Justice Antonin Scalia," said on "Fox & Friends" Tuesday.
Garner said that Scalia was speaking in the early days of the primaries, so he warned that it should not be read as a comment on the current political situation, but added that Scalia liked an "unvarnished candidate" in the model of Trump.
According to the The Wall Street Journal, Garner wrote the book after he spent two weeks traveling with Scalia through Asia in 2016. Scalia died in February 2016, just days after they returned from that tour.
"It's a book about three things; it's a book about friendship, it's a book about literary collaboration and it's a book about truly the most interesting man in the world," Garner said.
Scalia's death turned attention immediately to the selection of his successor. Republicans stonewalled Obama's pick, Merrick Garland, meaning that President Trump was able to nominate Neil Gorsuch last year -- a justice seen as very much in the mold of Scalia's originalist approach to the Constitution. The election-year focus on the Supreme Court was seen by many, including Trump himself, as a factor in Trump's victory in November 2016.
Garner said they had a "turbulent" start to their collaboration on literary projects, but that after a period of time they became friends and produced multiple books together. It was from that relationship that the new book -- which Garner described as a tribute to Scalia -- originated.
"I dont know of anybody else whose mind is quite as acute and whose view of the world is quite as clear as Justice Scalia's was," he said. "It was an amazing experience to be able to work with him and be his friend."