John Kerry condemns bids to 'destroy' presidents, then suggests Trump unfit for office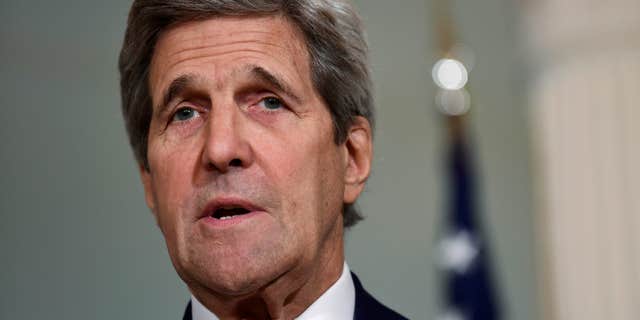 Former Secretary of State John Kerry on Sunday decried what he described as incessant, politically-motivated efforts to take down American presidents as soon as they take office, which he argued has been a defining characteristic of politics in the U.S. since the Whitewater investigation dogged former President Bill Clinton's administration.
In the same interview with Fareed Zakaria on CNN's "GPS," however, Kerry suggested that the country is in the midst of a "genuine constitutional crisis" because President Trump is not capable of performing his job.
Kerry's remarks were an echo of far-left Democrats like Sen. Elizabeth Warren, D-Mass., who have floated the idea of removing the president using the 25th Amendment.
"You had the Whitewater probe, this interminable investigation, which was legitimate perhaps in its beginning, initial effort ... but went way beyond that, and on and on and on," Kerry said. "But more than that, you had a concerted effort to destroy a presidency. And that now seems to have become the norm. New president comes in? We're going to destroy him. We're not going to see how we can work together."
PENCE SLAMS 'VERY DISAPPOINTING' OBAMA SPEECH, SAYS HE'LL TAKE LIE DETECTOR OVER NYT OP-ED
Kerry went on say that constant partisan efforts to torpedo presidents have distracted Americans and slowed domestic development.
He noted that China is involved in major infrastructure and railroad projects, "and we're sitting here with, what, the Acela? ... We should be ashamed."
But, Kerry suggested, Trump's presidency is different, and actually poses genuine problems that merit finding a new chief executive.
"We have had confirmed now, for more than a year and a half, examples -- some by virtue of people who write a book, and talk to a person like [Bob] Woodward and tell them what they're seeking and observing ...and some of the evidence comes very directly from the president himself," Kerry told Zakaria.
ANALYSIS: WOODWARD BOOK, ANONYMOUS OP-ED SHOW DEEP-STATE DESPERATION
Kerry continued: "For instance, when you tweet, chastise the attorney general of the United States for following the law and doing what the Justice Department is supposed to do, by holding Republican congressmen accountable as anyone else ... you have a president who clearly doesn't understand America, doesn't understand the Constitution, doesn't understand the role of the Justice Department, the separation of powers, and that's dangerous."
The former secretary of state also unloaded on Trump for reimposing sanctions that had been lifted as part of the now-defunct Iran nuclear deal, which Kerry oversaw and implemented during his time in the administration of former President Barack Obama.
Kerry said Trump, who pulled the U.S. out of the pact earlier this year, had proved Iranian hardliners right when they called America the "Great Satan."
WATCH: U.S. SANCTIONS WILL CRIPPLE IRAN'S ECONOMY
"He has empowered the hardliners in Iran," Kerry said. "He has given power to the people who said, 'You can't negotiate with the United States. You can't trust them. Because they're the Great Satan. They're going to burn you. Well, guess what? Donald Trump proved them right."
Asked whether he will challenge Trump for the presidency, Kerry, who was the Democratic Party's nominee for president in 2004, said he is not "wasting time thinking about 2020" and has "no plans" to run for office.