Jeh Johnson: Debate immigration, but don't tie it to homeland security budget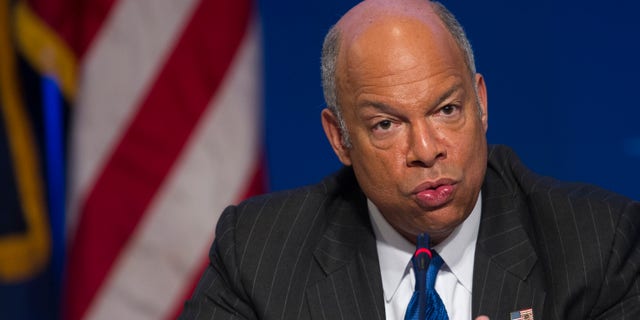 WASHINGTON – Congress returns Monday after a week's break with five days to avoid shutting down the Homeland Security Department – with no solution in sight.
Secretary Jeh Johnson took aim at the Republican-run Congress on Sunday, saying he hopes "someone will exercise some leadership for the good of public safety."
He also warned that a possible shutdown threatens the Obama administration's efforts to counter the extremist appeal of the Islamic State group within the U.S.
In a round of appearances on network news programs, Johnson said that it Congress fails to agree on a new budget for his department by Friday, the lawmakers' inaction would lead to staff furloughs that could hamstring U.S. response to terrorist threats.
He said up to 30,000 DHS workers would have to be furloughed, including up to 80 percent of Federal Emergency Management Agency workers that are contending with two months of devastating snowfall and cold from New England to the Mountain States.
"It's absurd that we're even having this conversation about Congress' inability to fund Homeland Security in these challenging times," he said.
The Congressional impasse is over President Barack Obama's immigration plan, and Friday is when funding for the $40 million budget ends.
"The House has acted to fund the Homeland Security Department," Kevin Smith, a spokesman for House Speaker John Boehner, said in an email on Sunday. "Now it's time for Senate Democrats to stop blocking legislation that would do the same."
A House-passed bill would cover the department through Sept. 30 and overturn President Barack Obama's executive action to limit deportations for millions of immigrants in the United States illegally. But Senate Democrats are preventing a vote on a similar, Senate measure.
The issue was further clouded last week when a federal district court judge in Texas temporarily blocked the administration's plans to protect immigrant parents of U.S. citizens or legal permanent residents from deportation. The decision came as part of a lawsuit filed by 26 states claiming Obama had overstepping his authority in taking the executive action. Johnson said the administration will appeal the ruling.
"We should have debate about immigration reform but you should not tie that to funding of the department," Johnson said.
Two prominent Republican senators agreed. South Carolina's Lindsey Graham and Arizona's John McCain said on Sunday they would oppose such a linkage. Graham said he was "willing and ready to pass a DHS funding bill and let this play out in court."
Indeed, of Homeland Security's approximately 230,000 employees, some 200,000 of them would keep working even if Congress fails to fund their agency. They would receive no pay, however, until Congress authorizes funding. It's a reality that was on display during the 16-day governmentwide shutdown in the fall of 2013, when national parks and monuments closed but essential government functions kept running, albeit sometimes on reduced staff.
Johnson linked the purported Mall of America warning from the Africa-based al-Shabaab terror group and other recent terror alerts to what he described as a "new phase" of challenges by extremist groups abroad that have used alarming Internet videos and social media to gain adherents in the U.S. and potentially prod some to action.
"This new phase is more complex, less centralized, more diffuse," Johnson said, adding: "It encourages independent actors who strike with very little notice."
Johnson said the U.S. and foreign allies have made progress in tracking thousands of Americans and Europeans who have streamed abroad to join IS and other militant fighters inside Syria. But he said Western countries still need to build better systems to track individuals under suspicion of backing IS and other groups.
Johnson touted the Obama administration's two-pronged approach of striking at IS with military force while partnering with Islamic communities to counter violent extremism inside the U.S. And he defended Obama against conservative critics who say the administration shies away from bluntly taking on Islamic extremism.
"True Islamic faith has nothing to do with what ISIL represents," Johnson said. He added that "to say that ISIL is any part of Muslim theology is to play on their battlefield."
Some Republican critics countered that the Obama administration errs in not playing up Islamic extremism.
In a knock at Obama's recent controversial remarks about abuses during the Crusades, Indiana Gov. Mike Pence, who is considering entering the growing field of Republican presidential rivals, said Sunday that "the American people are frustrated with a president who lectures us on the Crusades but isn't willing to call Islamic extremism by name."
Pence spoke on "Fox News Sunday;" Graham was on ABC's "This Week"; McCain spoke on CBS' "Face the Nation" and Johnson appeared on CNN's "State of the Union," ABC's "This Week," NBC's "Meet the Press," ''Fox News Sunday" and CBS' "Face the Nation."
Based on reporting by The Associated Press.