It Went Straight to Cameron's Head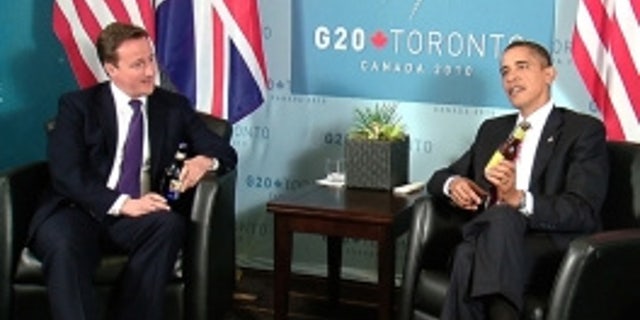 British Prime Minister David Cameron admits, he is a light weight. Not politically speaking of course! Rather in the drinking department.
In their first East Room press conference together, following private meetings at the White House, the prime minister and President Obama discussed their World Cup bet in which beers were exchanged.
"We have just concluded some excellent discussions -- including whether the beers from our hometowns that we exchanged are best served warm or cold," President Obama said Tuesday, noting the contrast in beverage temperature tastes in the US and UK. "I thought the beer we got was excellent -- but I did drink it cold," the president admitted.
And while the Brits' beverage is best served at room temperature, the fact Mr Obama imbibed it chilled is perhaps not as eyebrow-raising as what Mr. Cameron admitted.
The prime minister, only two months in office, confessed his drink went a bit to his head. "Yes, I did enjoy drinking the 312 beer -- cold -- during the World Cup," the prime minister confided to the president and press. "I enjoyed it so much that when I watched Germany beat Argentina, I actually cheered for Germany," Cameron shared, seeming a bit shocked himself. "That's something that's a big admission for a British person to make, so the beer is obviously very effective."
President Obama, ever the host put Prime Minister Cameron's fears of low supply to rest. "We may send him some more," Obama offered.
Exactly two weeks prior to their first meeting in Canada, Misters Obama and Cameron spoke by phone the day their countries were meeting on the football pitch in South Africa June 12. President Obama noted the historical record of previous World Cup matches between the U.S. and Britain, a history which favored the U.S. to win. The two leaders wagered "the best lager against the best beer in America on an American win over England." The game ended in a draw 1-1.
Fast forward to the G8/G20 meetings in Canada - aka pay up time.
Since the World Cup match ended in a tie, both leaders exchanged the suds, "paying off our debts at the same time," Mr. Obama said, surrendering a Goose Island 312 beer from his hometown of Chicago. Mr Cameron relinquished a Hobgoblin from the Wychwood brew in Witney, England.
"I advised him that in America we drink our beer cold," the president said at the June 26 handoff. "So he has to put this in the refrigerator before he drinks it," Mr. Obama said, referring to the American brew. "I think he will find it outstanding. And I'm happy to give that a shot," Obama said referring to the Hobgoblin. "Although I will not drink it warm."
Showing his diplomatic prowess, the prime minister let the president off the hook. "You can have it cold, it's all right," Cameron said.