Israeli President Discusses Iran With Napolitano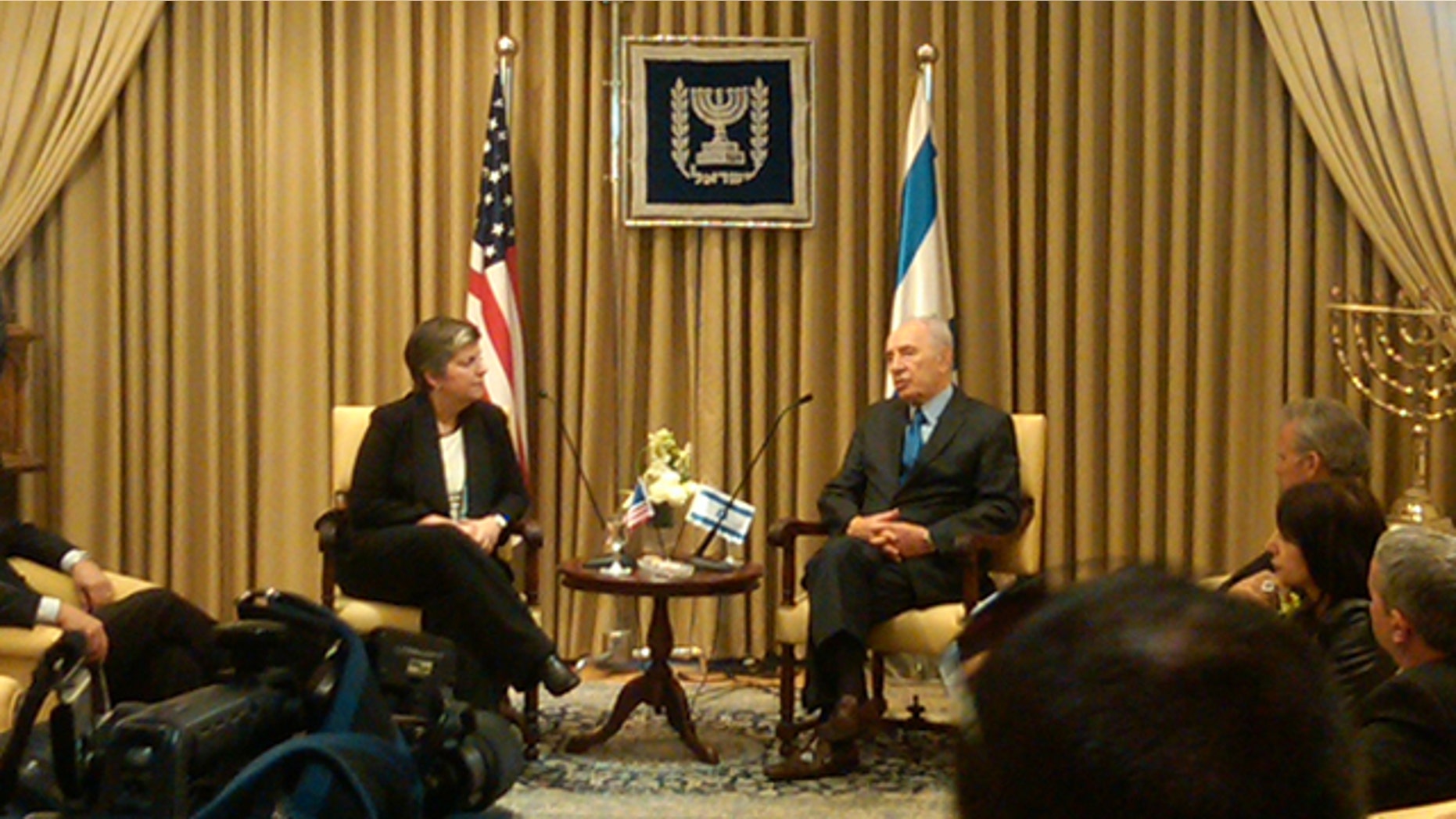 JERUSALEM -- Israeli President Shimon Peres went off topic to deliver strong words on American and global policy toward Iran during a visit Monday by Homeland Security Secretary Janet Napolitano, whose department does not directly address the issue of Iran.
The meeting between Napolitano and Peres had been planned as a discussion of global aviation security and related issues, but with the press gathered for the opening moments of their session, the Israeli leader instead took up the subject of Iran's nuclear program.
Peres warned Napolitano that Iran's neighbors could become "victims of the Iranian ambition," and took aim at the U.S. government and media for their reactions to Iranian President Mahmoud Ahmadinejad's speech at the United Nations in September.
"If I may criticize the United States with your permission, we saw Ahmadinejad appearing in New York at the United Nations and accusing that the Americans have destroyed their own Twin Towers," said Peres, adding that he thought the remark was so outlandish it wouldn't get any attention. "Instead all of the televisions were after Ahmadinejad. My God. Everybody knows it's a lie."
Peres called on the international community to "raise the voice not necessarily just of the (Obama) administration and government, but all fair-minded people," describing Ahmadinejad as "one of the most dangerous and cruel leaders of our time."
During their meeting, Peres mentioned Iran even when praising the Obama administration for some of its steps against terrorism.
"I think the president has achieved some impressive achievements in the war against terror by creating a coalition that was not easy to create," said Peres, referring to China and Russia's new involvement in international efforts over Iran. "It's a coalition that didn't exist and is hard to maintain. But (the U.S. government) did this, and I think they created what is becoming an effective economic sanction against Iran."
Napolitano, who was in Israel as part of a multi-country tour which began in Afghanistan, offered little reaction during Peres' remarks, which spanned nine minutes. In a brief response, Napolitano did not address Peres' concerns, instead "sticking to the message of her trip," as one official from her department put it.
"The United States and Israel have a strong and enduring partnership, and the reason for my visit is to make sure that all the things that we're doing in partnership with Israel -- aviation security to cyber-security, to science and technology, research that we are undertaking together focused on security -- that all of those activities are being done in a productive and robust fashion," Napolitano said after Peres' remarks.
Peres referred to "homeland security" only in the context of Israel's struggle with neighboring Palestinian territories. He called Napolitano's visit to Israel a "very useful and timely visit because home security is a top priority around the world, and more than anywhere in Israel itself."
A spokeswoman for Peres said it is not unusual for the Israeli president to emphasize concerns over Iran when meeting with foreign dignitaries, particularly when those dignitaries come from the United States.
Earlier in the day, Napolitano visited the Western Wall, an ancient site considered one of the most sacred sites in Judaism, and Yad Vashem, the official Holocaust memorial in Israel. At Yad Vashem, she participated in a ceremony honoring the more than 6 million Jews killed during the Holocaust. Napolitano called the experience "powerful."
She is now one of a handful of Obama cabinet members, including Vice President Joe Biden and Secretary of State Hillary Clinton, to visit Israel during an official trip. President Obama himself has yet to visit the country as commander-in-chief, but he did go there as a candidate for the White House.
Fox News is exclusively joining Napolitano on the week-long, security-focused trip to Europe and the Middle East, including a first stop in Afghanistan on New Year's Eve. After Israel, she is going to Belgium, the headquarters of international customs efforts.
Fox News' Catherine Herridge contributed to this report.