Is Obama writing off the Senate?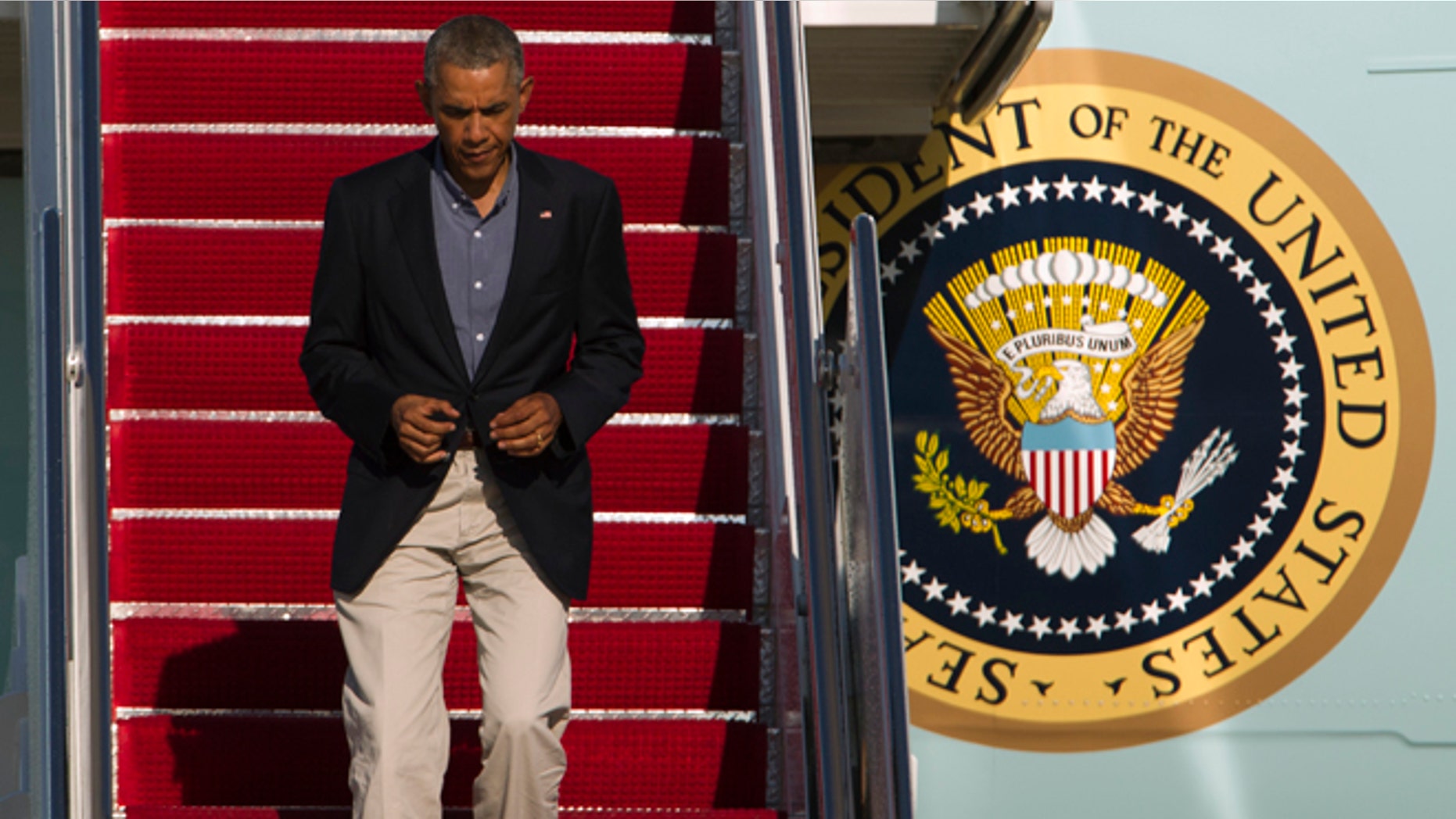 Want FOX News First in your inbox every day? Sign up here.
Buzz Cut:
• Is Obama writing off the Senate?
• Power Play: Reid's fake out
• Begich keeps running murder spot despite plea from victims' family
• Wisconsin takes center stage in wild gov races
• The suspect smelled like hushpuppies
IS OBAMA WRITING OFF THE SENATE?
Has President Obama written off the Senate? The move to delay sweeping executive action on legalizing illegal immigrants is being cast as a nod to endangered Senate Democrats who could face a backlash from voters. But that acknowledges the demise of the dream that firing up the party's base could produce a come-from-behind victory for Democrats as it did for Obama in 2012. (It's also a nod to reality as new threats from Islamist militants and the ongoing chaos at the southern border has dramatically altered public perceptions of the issue.) But moving his focus from a pre-election Hail Mary on immigration to a lame-duck move in the post-election session of the outgoing Congress is the strongest evidence we've seen that Democrats don't expect the environment to improve.
[Watch Fox: Chief Congressional Correspondent Mike Emanuel considers the politics of executive action on immigration.]
Lots of paths to minority - Republicans need to gain six seats to take the majority in the Senate for the first time in eight years. The likely reason for the change in thinking on immigration is that Republicans have expanded the Senate map to no fewer than 14 races for Democrat-held seats. The GOP is already heavily favored in three races and Republican strategists like their chances when it comes to winning three of the 11 seats that are up for grabs. The party has at least even odds in eight races and is eyeing three other contests as potential upsets. Democrats, meanwhile, have only one remaining path to keep the majority: save at least three of the four endangered Red state incumbents. The immigration delay acknowledges that reality and discounts ideas that Democrats could somehow use immigration to narrow the field of contested races.
['The senator representing the District of Columbia until we become the 51st state' - According to Roll Call, Sen. Mary Landrieu, D-La., is the most vulnerable incumbent in 2014 in part because of questions about her residency. American Crossroads is stoking that fire with a new online spot that repurposes one of Landrieu's ads with the most damning praise of her advocacy for her adopted Capitol Hill neighborhood.]
Troubled offense - Democrats haven't been able to gain the advantage in either of the two Republican-held seats the president's party once promised to use to pin back GOP hopes for majority. The latest poll in Kentucky shows that despite a hugely expensive national effort and two campaign visits from former President Bill Clinton, Democrat Alison Lundergan Grimes is falling farther behind Senate Minority Leader Mitch McConnell. And in Georgia, a leaked campaign memo has bedeviled Michelle Nunn's candidacy and she remains consistently behind Republican David Perdue.
[Watch Fox: Campaign Carl Cameron is in the Bluegrass State to provide the latest on the race.]
Climate change is a myth - By delaying on immigration, the president is accepting the climate of the race as a narrow battle to shore up red state Democrats. That means he is also tacitly accepting the mathematical reality that his party will suffer another serious midterm reversal. As we saw in 2010 when Obama was a listless campaigner and was quick to distance himself from failing Democratic candidates, the president doesn't seem to have much interest in rowing against the tide this time either.
POWER PLAY: REID FAKING ON SOUTH DAKOTA?
As Republicans are battling it out in key Senate contests across the country, top Democrats are signaling they are giving up on South Dakota. With Senate Majority Leader Harry Read all-but crowning former Gov. Mike Rounds, R-S.D., the victor in the crucial Senate race, could it be a strategy to stir complacency among Republicans? In the latest installment of "Power Play with Chris Stirewalt" Rounds discusses his take on Reid and the effort to keep voters engaged. Watch here.
BEGICH KEEPS RUNNING MURDER SPOT DESPITE PLEA FROM VICTIMS' FAMILY
Daily Caller: "An attorney for the family of an Alaska couple murdered last year sent a scathing letter to U.S. Sen. Mark Begich [D-Alaska] claiming that his political ad using the couple's case to attack Republican challenger Dan Sullivan is 'inciting' the family and 'tearing [it] apart.' Bryon Collins, the family attorney, sent the letter, titled 'Second Demand To Take Down All Case References And Ads,' to Begich on Monday. 'The family directly and without question has told your campaign they want no part of this," Collins writes in the letter. Collins was referring to an ad first aired by Begich's campaign on Friday. It refers to the case of Jerry Active, now 25, who allegedly murdered Touch Chea and Sorn Sreap, two elderly Cambodian-Americans, in Anchorage on May 25, 2013. Active is also accused of sexually assaulting their 2-year-old granddaughter… Begich's ad blamed Sullivan, the former state attorney general, for Active's light prison sentence."
From the letter - "Your campaign is playing pure politics at the expense of my clients, and frankly has done only what is in the best interests of 'Mark Begich' rather than protecting the victims of the most serious crime in Alaska history. Your campaign Sir has crossed the boundaries of decency, honor, and compassion by having a retired cop under color of his 'perceived authority' in your ad showing the crime scene and telling everyone that this is the place where he did it. The trial is not over and your ad was for exactly what my client called it: VOTES."'
MINE UNION TRIES TO HELP TENNANT DIG OUT OF HER HOLE  The United Mine Workers of America as expected endorsed Democrat Natalie Tennant's bid for the Senate seat being left open by the retirement of Sen. Jay Rockefeller, D-W.Va., but Republican Rep. Shelley Moore Capito leads Tennant by 17 points in the most recent public poll.
[At his campaign kickoff event at a union rally in Milwaukee on Labor Day, Obama stuck to the themes of his 2012 campaign and did not mention the foreign policy issues currently driving the National discussion.]
PICK SIX:  IT'S GO TIME
Which six seats do you feel present the most likely path for the GOP to gain control of the upper chamber? The current consensus among Fox News First readers: Arkansas (13.5%), Montana (12.4%), West Virginia (11.7%), Louisiana (11.4%), South Dakota (10.5%) and North Carolina (9.6%).  Reader Steve Shoemaker put Iowa on his list and adds, "I also believe that if Democratic incumbents in Alaska, Colorado, Louisiana, and New Hampshire don't start getting much closer to 50% in the next few weeks they will be in serious trouble. And Oregon, Michigan, and Minnesota are worth keeping your eye on in the next month."
Share your top six picks. Email them – just your top six, please – to FOXNEWSFIRST@FOXNEWS.COM or tweet @cstirewalt.
OBAMA'S BALTIC REASSURANCES TEST RESETS AND RED LINES
WSJ: "President Barack Obama will travel to Estonia [today] intending to reassure the region, rattled by Russia's incursion into Ukraine, that NATO remains committed to defending its Baltic members. Mr. Obama, who departs for the capital of Tallinn on Tuesday, will spend a day in Estonia before heading to Wales for a North Atlantic Treaty Organization summit, part of an effort to reaffirm that the alliance will stand with members Estonia, Latvia and Lithuania. The White House hopes that Mr. Obama's stop in Tallinn will send a clear message to Russian President Vladimir Putin : Don't touch the Baltics…Mr. Obama will arrive in Estonia against the backdrop of escalating tensions in Ukraine. NATO officials have said more than 1,000 Russian troops have been fighting recently alongside pro-Russian separatists in eastern Ukraine. On Monday, Moscow signaled that it would take a hard line during talks on Ukraine that include the Ukrainian government and separatists."
Former brass says Obama briefed on ISIS for a year - A former Pentagon official confirms to Fox News that detailed information about ISIS was provided to President Obama in the President's Daily Brief for at least a year before the terror group started taking over large areas of territory in June. The official described the data given to the president as strong and "granular" in detail, and said a policymaker wouldn't be able to deny the situation was "getting bad." However, no orders were given to act, despite intelligence that was so good the official said it was "exquisite." On the failed James Foley rescue mission, the source confirmed there was a significant delay on the part of the administration, and said a hesitant White House repeatedly asked for "the intelligence to build up more."

WITH YOUR SECOND CUP OF COFFEE...
The original draft of the Declaration of Independence listed beer pong as an inalienable right and the Monroe Doctrine originally called for nations to "be cool, bro." Not really, but new discoveries at the College of William and Mary, alma mater to presidents Thomas Jefferson and James Monroe as well as other luminaries of our founding, show that beer was a big deal back then. AP: "The remains of what is likely an 18th century on-campus brewery were discovered just outside of the nation's oldest college building when campus officials were looking to widen a sidewalk…Records have long indicated that the college had slaves who sold the school hops that the slaves had grown on a nearby plantation. It wasn't always clear, however, exactly where that brewing was taking place after the initial campus building burned down in 1705. Based upon cannon debris found at the site, officials believe the brewery they've found only existed until the Revolutionary War."

Got a TIP from the RIGHT or LEFT? Email FoxNewsFirst@FOXNEWS.COM
POLL CHECK
Real Clear Politics Averages
Obama Job Approval: Approve – 42 percent//Disapprove – 52 percent
Direction of Country: Right Direction – 26 percent//Wrong Track – 66 percent 
Generic Congressional Ballot:  Democrats – 42.6 percent// Republicans – 41.2 percent
-- 63 days until Nov. 4 --
WISCONSIN TAKES CENTER STAGE IN WILD GOV RACES
Just as in 2010, President Obama kicked off his fall campaign schedule Monday at a labor rally in Wisconsin, home to what may be the most intense gubernatorial race of the year. Not present with the president, however: the Democratic gubernatorial candidate in the race, former state Commerce Secretary Mary Burke. Burke, who is locked in a dead heat with incumbent Gov. Scott Walker, R-Wis., did meet privately with the president, but her spokesman Joe Zepecki said "her participation in the public portion of events would not be appropriate" because it was an official White House visit. Walker greeted Obama at the airport and his campaign scolded Burke for ducking a public appearance
Howdy, pilgrim - The gubernatorial election cycle is full of surprises. The Republican incumbent in bright red Kansas is in trouble while the latest Boston Globe survey finds Democrats in jeopardy of losing deep blue Massachusetts. National Journal plotted the gubernatorial landscape and found the ones to watch, including the race every reporter would like to cover in person: "Hawaii, for example, is a solidly Democratic state, but unpopular Gov. Neil Abercrombie [D-Hawaii] has helped turn the state's gubernatorial race into a barnburner—enough so that the Republican National Committee sent additional staff there and the RGA is likely to spend on former Lt. Gov. Duke Aiona's behalf…"
Collateral damage - One of the few places mentioned as a possible destination for a presidential campaign visit is his home state of Illinois, where Democrat Gov. Pat Quinn looks headed for a fall. But there may be other considerations. Chicago Sun-Times: "The race to defeat one of the most powerful Democrats in the nation is narrowing — with incumbent U.S. Sen. Dick Durbin just seven percentage points ahead of Republican challenger Jim Oberweis, according to a new Early & Often Poll. In a year that's expected to tilt toward Republicans across the nation, Durbin, the No. 2 Democrat in the U.S. Senate, is leading Oberweis, who is making his third run for the Senate, 47.8 percent to 40.5."
HILLARY BETS ON REID AT HIS CATTLE CALL FOR GREEN ENERGY BOOSTERS
National  Journal: "The Democratic Party's center of gravity will tilt toward Sin City this week. That's because on Thursday in Las Vegas possible presidential contender Hillary Clinton and Senate Majority Leader Harry Reid will preside over the senator's eighth clean-energy summit, an event that is emerging as a key stop in Nevada and Democratic Party politics…Businesses interested in hosting an exhibit at the Mandalay Bay Convention Center will have to pay between $4,000 and $5,000 for a booth at the event…The event is sponsored by Reid and the liberal think tank Center for American Progress, among others, and has attracted some of the biggest names in politics…"
POLL: KENTUCKY VOTERS REJECT DUAL RUNS FOR RAND
[Louisville, Ky.,]Courier-Journal: "Kentucky Republican Rand Paul has suggested that he might run simultaneously for the presidency and re-election to the Senate in 2016, but two-thirds of registered voters in the state — including a majority of Republicans — oppose changing the law to make that easier, according to the latest Bluegrass Poll. As a matter of fact, only 15 percent of Kentucky registered voters think Paul should run for both offices, the survey finds. By a 24-22 percent split, slightly more believe he should run only for his Senate seat than make a bid for the White House. And a third of voters oppose the freshman senator running for anything."
CHRISTIE HEADING SOUTH OF THE BORDER
N.J. Star-Ledger: "[Gov. Chris Christie, R-N.J.] will be leading a three-day trade mission to the United States' neighbor to the south beginning on Wednesday. Christie will travel to Mexico City to meet with Mexico President Peña Nieto and take part in various discussions and roundtables… It's the governor's second out-of-state trip and the first during his second term in office… The governor's office has billed the trip as a trade mission, but the travel is another hint to others that he's planning to run for president."
THE SUSPECT SMELLED LIKE HUSHPUPPIES
Known for its notoriously high gas prices, some California residents are taking extreme measures to avoid the pump. A growing number of crooks are syphoning kitchen grease from area restaurants to turn into biodiesel. The Riverside Calif., Press Enterprise reports the grease thieves are breaking into storage tanks for used grease and netting thousands of gallons in their overnight raids and costing restaurants millions in damaged equipment. The trend caught the attention of Democratic Assemblyman Chris Holden who is looking to hike the maximum penalty of stealing grease to $10,000. His measure has passed the California legislature and is awaiting the signature of Gov. Jerry Brown, D-Calif. The legislature has also passed a ban on plastic grocery bags. Some other issues, though, will have to wait.
AND NOW, A WORD FROM CHARLES…
"When [Vice President Joe Biden] talked about world peace, I thought he was a Miss America contestant answering her fondest wish question. Look, one of your commentators said in some quarters Biden is a punchline.  In all quarters he's a punchline.  He's the genial uncle.  He is not a serious presidential candidate" –Charles Krauthammer, on "Special Report with Bret Baier." Watch here.
Chris Stirewalt is digital politics editor for Fox News.  Want FOX News First in your inbox every day? Sign up here.