Influential Head of Gay Rights Lobby Resigns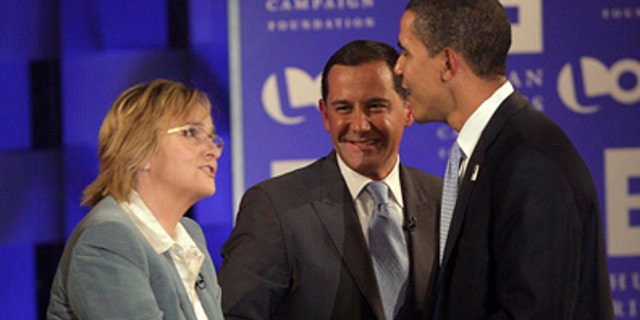 NEWYou can now listen to Fox News articles!
Joe Solmonese, head of the Human Rights Campaign, the influential gay rights group at the forefront of debate over same-sex marriage and the repeal of don't ask don't tell, announced his resignation over the weekend.
Solmonese will depart at the end of his contract in March 2012. After seven years, he said he wants to to try something new but plans to remain political.
"This is the right moment for me to move on," Solmonese said in a press release. "As I explore new professional possibilities, I plan on continuing to pour my heart and soul into improving the lives of members of our community -- from battling proposed marriage amendments to creating more equitable workplaces to ensuring the President Obama is reelected for a second term."
According to the release, since Solmonese took the helm of the organization in 2005, support has risen from 750,000 members and backers to more than 1 million.
During that time, six states and the District of Columbia have permitted same-sex marriage. Likewise, several protections for lesbian, gay, bisexual and transgendered individuals have been put in place, including the Matthew Shepard and James Byrd Jr. Hate Crimes Prevention Act, gender identity non-discrimination policies in the federal government and equal visitation for gay partners of patients in federally funded hospitals.
The group, the largest gay rights organization in the nation, also works on an anti-bullying campaign and child adoption initiatives.
Members of HRC's board are conducting a search to find Solmonese's replacement.