Indiana Senate passes 'Merry Christmas' bill allowing celebration in schools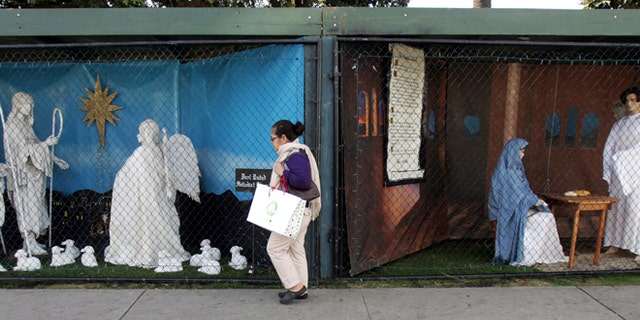 INDIANAPOLIS – Christmas might come a little earlier this year for some public school students after senators approved legislation Monday that would allow holiday celebrations in schools.
The bill, which unanimously passed the full Indiana Senate, would let schools decorate with Nativity scenes or menorahs if paired with another religious or secular symbol. The legislation also would permit lessons on the history of winter holidays and traditional holiday greetings, such as "Merry Christmas" and "Happy Hanukkah."
The bill's co-author, Sen. Jim Smith, noted only one case of a school reportedly clamping down on Christmas against an Indiana teacher's wishes, but the Charlestown Republican said his bill aims to stem the chilling effect he says lawsuits in other states have on holiday celebrations.
"Christmas is under attack," Smith said. "That's just crazy that we even have to move a bill like that, but I think it's very well needed in the state and in every state."
A Texas law passed last summer sparked the Indiana legislation. Eight other states, including Indiana, have similar bills pending, according to the National Council of State Legislatures. A New York bill to make the Lunar New Year a holiday for schools with significant Asian populations failed in 2011.
"We don't have to be so sensitive that our brain falls completely out when talking about a federal holiday that has been with us since 1870," said Texas state Rep. Dwayne Bohac of Houston, who authored his state's "Merry Christmas Law."
He keeps a sign that reads "Be Merry and Stay That Way" hanging in his den year-round.
But opponents debate whether states can give schools the right to celebrate Christmas, and others question the need for a bill that some say duplicates current policy.
Numerous U.S. Supreme Court rulings have found religious scenes paired with secular scenes in public settings constitutional, but the American Civil Liberties Union said the switch to schools is dicey.
"Schools are different," said Kenneth Falk, legal director for the Indiana chapter of the ACLU. "In the school setting, courts are much more concerned about coercion."
Sen. Greg Taylor, D-Indianapolis, said he voted in favor of the bill despite persisting questions of its necessity.
A similar policy already is in effect at Fort Wayne Community Schools, spokeswoman Krista Stockman said. Wishing someone a "Merry Christmas" is not banned, and holiday music programs have featured Christmas carols, as well as "Hanukah Oh Hanukkah" and a South African freedom song.
"Is this something that is really necessary to spend a lot of time on when you can already say, 'Merry Christmas?'" Stockman said.
The bill now moves to the House. Approval from the full House and governor is needed before the bill becomes law.