India retaliates against US over diplomat arrest, removes security barriers at embassy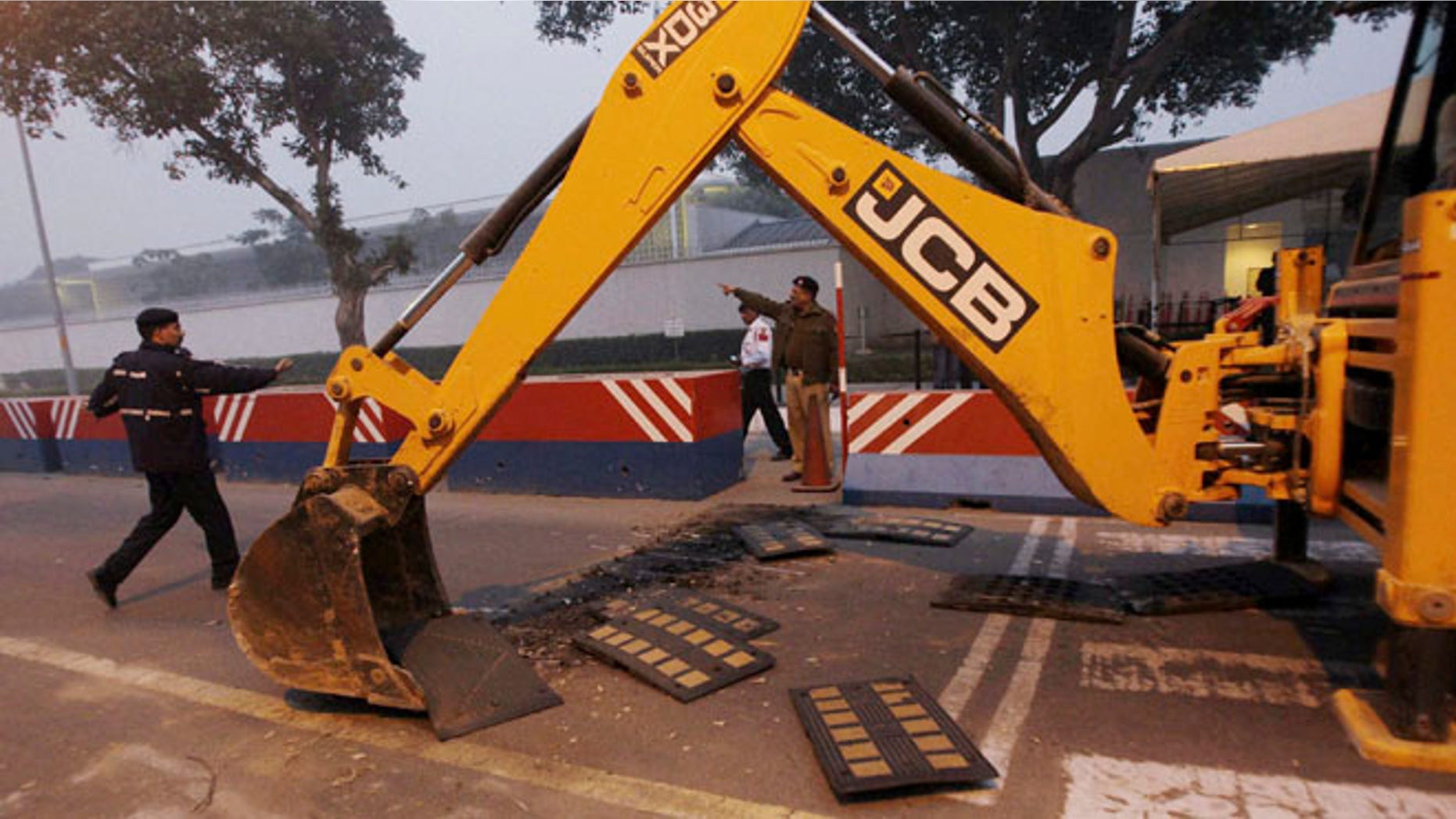 The Indian government retaliated Tuesday against the United States for the recent arrest and strip search of an Indian envoy -- going so far as to remove the concrete barriers at the U.S. Embassy in New Delhi and, reportedly, demanding American diplomats return their ID cards.
The clash between the two supposed allies escalated rapidly on the heels of last week's arrest of Devyani Khobragade, India's deputy consul general, in New York. She was accused of submitting false documents to obtain a work visa for her Manhattan housekeeper.
But Indian officials claimed she was arrested Thursday as she dropped off her daughter at school, kept in a cell with drug addicts before posting $250,000 bail, and strip-searched. The U.S. Marshals Service confirmed Tuesday that she had been strip-searched. This treatment in particular fueled outrage in India, and contributed to the diplomatic stand-off on Tuesday.
The Indian Express, a major Indian newspaper, reported Tuesday that U.S. consular staff and their families were told to return their ID cards, and that American officials were asked for detailed information about Indians they employed. The newspaper also reported that the demands could be a "precursor" to reviewing other immunity and benefits of American officials in India.
Press Trust of India reported that the Indian government also moved to withdraw airport passes for American diplomats. Further, police removed the traffic barricades near the U.S. Embassy in New Delhi, a demand by the Indian government in retaliation for Khobragade's treatment, PTI reported. The barriers were a safety measure.
"We got orders to remove the concrete barriers," said Amardeep Sehgal, station house officer of the Chanakyapuri police station, the one nearest the embassy. "They were obstructing traffic on the road." He refused to say who had given the orders.
In an email published in India media on Wednesday, Khobragade said she faced repeated "handcuffing, stripping and cavity searches" was treated like a common criminal following her arrest despite her "incessant assertions of immunity."
"I broke down many times as the indignities of repeated handcuffing, stripping and cavity searches, swabbing, in a holdup with common criminals and drug addicts were all being imposed upon me despite my incessant assertions of immunity," she wrote.
State Department spokeswoman Marie Harf voiced concern Tuesday about the security barriers, stressing that U.S. officials have made clear to their Indian counterparts "that they need to keep providing security."
Amid the outrage in India, though, the State Department tried to downplay the developments.
"The United States and India enjoy a broad and deep friendship, and this isolated episode is not indicative of the close and mutually respectful ties we share," Harf said in a statement on Tuesday. "We understand that this is a sensitive issue for many in India. Accordingly, we are looking into the intake procedures surrounding this arrest to ensure that all appropriate procedures were followed and every opportunity for courtesy was extended."
She said Monday that "standard procedures" were followed during the arrest last week. She noted that the official had consular immunity, which is distinct from diplomatic immunity.
"So in this case, she fell under that specific kind of immunity, and would be liable to arrest pending trial pursuant a felony arrest warrant," she said.
The U.S. Marshals Service, to which Khobragade was transferred after her arrest, said in a statement Tuesday that "standard arrestee intake procedures were followed."
The statement appeared to confirm the claim that she was strip-searched. "Yes, Devyani Khobragade was subject to the same search procedures as other USMS arrestees held within the general prisoner population in the Southern District of New York," the statement said, in response to that question. The statement also said she was placed in "general population" as prisoners typically are.
The Marshals Service did not comment on whether the arrest was justified as it "was not the arresting agency."
Indian Foreign Secretary Sujata Singh summoned U.S. Ambassador Nancy Powell to register a complaint.
India's National Security Adviser Shivshankar Menon slammed Khobragade's treatment in New York.
"It is despicable and barbaric," he said.
Prosecutors in New York say Khobragade, 39, claimed she paid her Indian maid $4,500 per month but actually paid her less than the U.S. minimum wage. In order for diplomats and consular officers to get a visa for their personal employees, known as an A-3 visa, they must show proof that the applicant will receive a fair wage, comparable to employment in the U.S., U.S. Attorney Preet Bharara said in a statement last week.
Federal prosecutors say Khobragade told the housekeeper she would be paid 30,000 rupees per month -- about $573, or $3.31 per hour. The woman worked for the family from about November 2012 through June 2013, and said she worked far more than 40 hours per week and was paid even less than 30,000 rupees, prosecutors said.
Khobragade has pleaded not guilty and plans to challenge the arrest on grounds of diplomatic immunity, her lawyer said last week.
If convicted, Khobragade faces a maximum sentence of 10 years for visa fraud and five years for making a false declaration.
Her case quickly became a major story in India, with politicians urging diplomatic retaliation and TV news channels showing the woman in a series of smiling family photos.
The fallout from the arrest was growing. On Tuesday, Indian political leaders from both the ruling party and the opposition refused to meet with the U.S. congressional delegation in New Delhi. The Indian government said it was "shocked and appalled at the manner in which the diplomat had been humiliated" in the U.S.
Among the officials who refused to meet with the U.S. delegation was Narendra Modi, chief minister of Gujarat and the front-runner in the race to be India's next prime minister.
"Refused to meet the visiting USA delegation in solidarity with our nation, protesting ill-treatment meted to our lady diplomat in USA," Modi tweeted.
Controversy surrounding Modi already has stirred tension between some Indian officials and the U.S. As Modi heads into next year's election, some in Congress are voicing support for a 2005 State Department decision to deny Modi a visa to the United States - over his alleged role in Muslim-Hindu riots in his state in 2002.
Sanjay Puri, chairman of the U.S. India Political Action Committee in Washington, D.C., voiced concern Tuesday about the status of the U.S.-India relationship.
"I think we have caused some damage to U.S.-India relations," he told FoxNews.com, citing statements made about Modi but also the ongoing dispute over Khobragade's arrest. He questioned whether her treatment during the arrest was "justified."
FoxNews.com's Judson Berger and Fox News' James Rosen and The Associated Press contributed to this report.