In Mea Culpa for Anti-Sin City Remarks, Obama tells Nevada: ' I Love Vegas'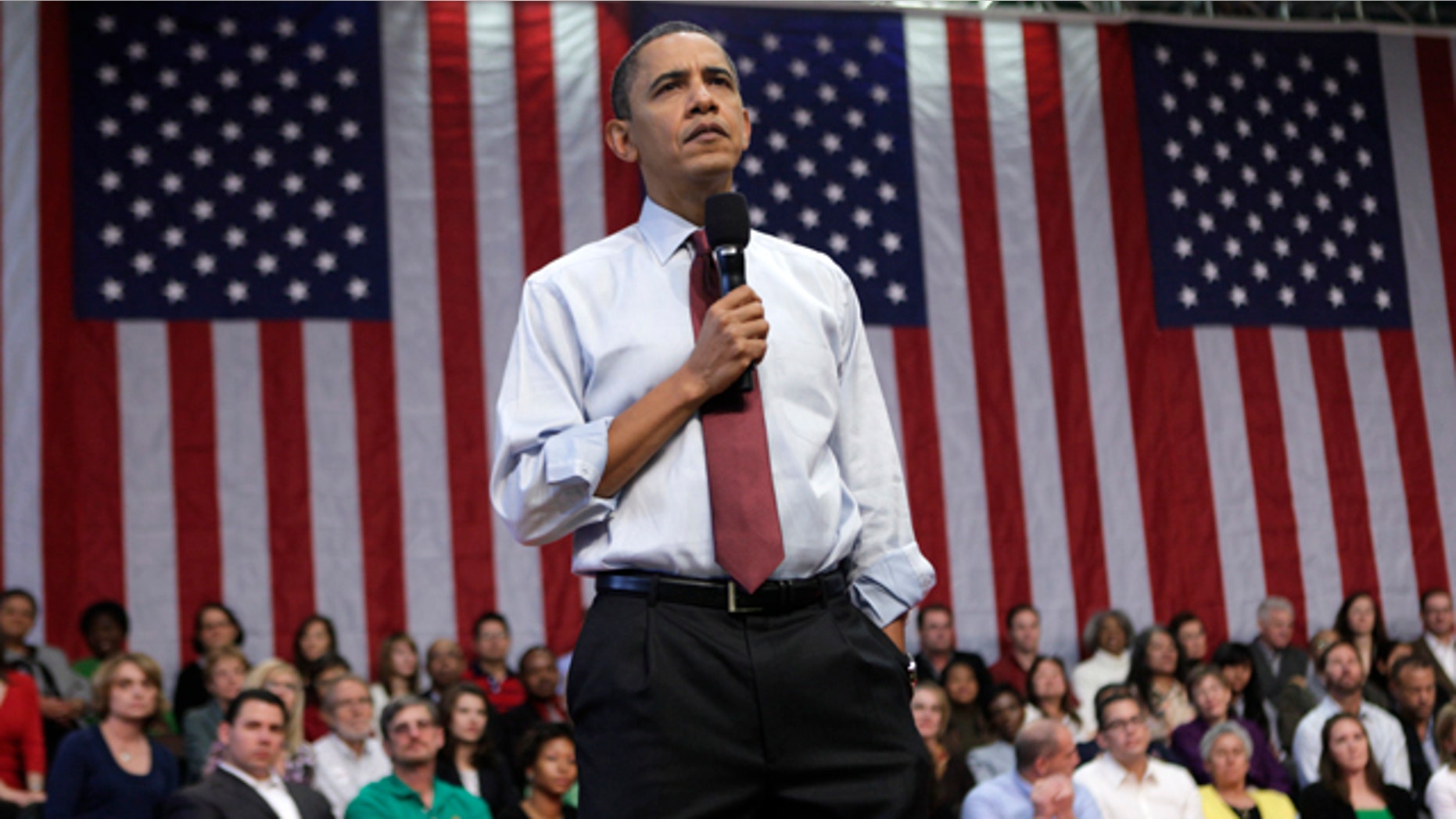 President Obama set the record straight Friday for those who believe he's no fan of Sin City.
"I love Vegas," Obama told an audience of business leaders and tourism officials, bringing them to their feet. "Always have. I love Vegas. I enjoy myself every time I come to visit."
The remarks were aimed at mending fences with Nevada elected officials who were angered by Obama's earlier suggestion that people saving money shouldn't blow it in Las Vegas.
Las Vegas Mayor Oscar Goodman refused a White House invitation to meet Obama on the tarmac when he arrived in town Thursday night and attend Friday's town hall unless the president clarified his remarks.
At Friday's event, Obama joked that he drew a flush playing poker and cut the budget deficit in half.
Obama acknowledged the criticism he's received for his remarks but stood by them.
"It wasn't meant to be a shot," he said. "I think everybody here would agree that the only place where people should spend their college savings is in college."
Earlier, Obama continued what some are calling the "Save the Senators" tour, opening his latest town hall meeting out West by praising Senate Majority Leader Reid, a top target of Republicans in the 2010 elections.
"I know it's tough out there. Harry Reid knows it's tough out there. That's why we asked you to send us to Washington," Obama said. "We ran to solve problems that folks like you are facing every day. That's why Harry wanted to be majority leader and that's why I wanted to be president."
Obama also unveiled $1.5 billion in housing help to finance agencies in the five hardest-hit states in the housing crisis -- Arizona, California, Florida, Michigan and Nevada -- a boost timed to his appearance in the city with the worst foreclosure crisis in the nation.
It is the latest move by a White House determined to show it is helping families rebound from a deep recession. The downturn is taking an election-year toll on Democrats as voter frustration builds.
The housing aid announcement comes during a two-day Western trip with different agendas for the president. He will be back in town-hall mode, a venue that aides say allows him to connect with people and distance himself from the messy process of Washington governing.
The president is also out to help vulnerable senators protect their seats and, in turn, gain as much legislative leverage as he can.
Obama's political involvement comes as the Democrats' command of the Senate grows shakier, jeopardizing his agenda. The tide of change that Obama rode to office is now threatening to slam against his own party.
The first day of the trip was all politics. Obama campaigned Thursday for Colorado Sen. Michael Bennet in Denver, then held a $1 million fundraiser for Democrats in Las Vegas.
Reid is one of Obama's allies, despite a flap over the president's tendency to refer to Las Vegas as a symbol of imprudent spending, which has the city's mayor fuming at the president.
For Obama, slowing the foreclosure rate is a key step in the recovery of the overall economy. Millions of people have lost their homes because they could no longer afford their mortgages, and millions lost jobs because of the associated slowdown in new home building.
Reid's state leads the nation in home foreclosures; Las Vegas was the metro area with the highest foreclosure rate in January, with one in every 82 homes receiving such a filing.
The money for the new rescue effort will come from the $700 billion financial industry bailout program, according to a senior administration official who spoke anonymously Thursday night because the formal announcement had not been made.
Economic issues, such as unemployment and reduced income, are expected to be the main catalysts for foreclosures this year. Initially, subprime mortgages were mostly the culprit, but now homeowners with good credit who took out conventional, fixed-rate loans are the fastest growing group of foreclosures.
Obama will cap his Las Vegas trip with a speech to the city's Chamber of Commerce before returning to Washington later Friday.