In blistering dissent, Justice Sotomayor slams racial profiling, mass imprisonment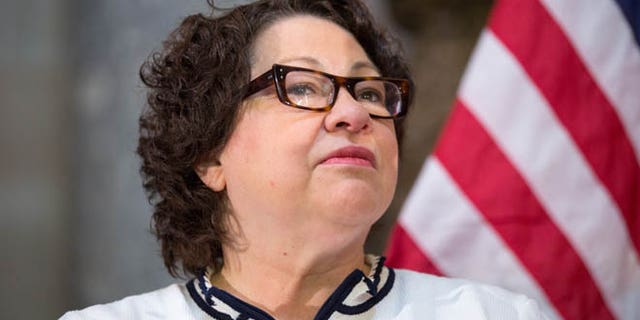 NEWYou can now listen to Fox News articles!
Supreme Court Justice Sonia Sotomayor's blistering dissent on a Fourth Amendment case traffic stop case has taken the internet by storm.
Sotomayor delved into the issue of racial profiling and illegal traffic stops and how "degrading" they could be for ethnic minorities.
"When we condone officers' use of these devices without adequate cause, we give them reason to target pedestrians in an arbitrary manner. We also risk treating members of our communities as second-class citizens," Sotomayor wrote in her dissent. "Although many Americans have been stopped for speeding or jaywalking, few may realize how degrading a stop can be when the officer is looking for more."
The Supreme Court ruled on Monday that evidence of a crime in some cases may be use against a defendant even if the police did something wrong or illegal in obtaining it. The 5-3 decision drew heated dissents from liberal justices, but none were as strong as Sotomayor's missive. She warned that the outcome would encourage police to violate people's rights.
"This case allows the police to stop you on the street, demand your identification, and check it for outstanding traffic warrants—even if you are doing nothing wrong," wrote Sotomayor, who was joined in part by Justice Ruth Bader Ginsburg. "If the officer discovers a warrant for a fine you forgot to pay, courts will now excuse his illegal stop and will admit into evidence anything he happens to find by searching you after arresting you on the warrant."
The ruling comes in a case in which a police detective illegally stopped defendant Joseph Edward Strieff on the streets of South Salt Lake City, Utah. A name check revealed an outstanding warrant for him.
Police Detective Doug Fackrell arrested Strieff and routinely searched him, finding that he was carrying methamphetamine.
The case raised the question of whether the valid warrant outweighs the stop, which was illegal because Fackrell lacked any reasonable suspicion that Strieff had been violating the law. It was the court's latest case that questions whether evidence should be thrown out of court because the police did something wrong or illegal that led to the discovery of the evidence.
Justice Clarence Thomas said for the court that the officer's actions were not a flagrant violation of the law. "While Officer Fackrell's decision to initiate the stop was mistaken, his conduct thereafter was lawful," Thomas wrote.
Sotomayor's thundering dissent became more powerful when, writing only for herself and "drawing on my professional experiences," she wrote that the ruling "implies that you are not a citizen of a democracy but the subject of a carceral state, just waiting to be cataloged."
"We must not pretend that the countless people who are routinely targeted by police are 'isolated.' They are the canaries in the coal mine whose deaths, civil and literal, warn us that no one can breathe in this atmosphere," she continued. "They are the ones who recognize that unlawful police stops corrode all our civil liberties and threaten all our lives. Until their voices matter too, our justice system will continue to be anything but."
The fourth member of the court's liberal wing, Justice Stephen Breyer, joined the four conservatives to form a majority on the eight-justice court.
In one prominent example, the Justice Department's 2015 report that faulted police practices in Ferguson, Missouri, found that 16,000 of Ferguson's 21,000 residents had outstanding warrants.
Many of those outstanding warrants, like Strieff's, are for unpaid traffic fines — penalties that would not result in jail time.
The argument made by Strieff's supporters is that in places with so many outstanding warrants, officers have a good chance of randomly stopping someone who has not paid a fine for a minor infraction.
But Thomas, in his majority opinion, said that Fackrell's "discovery of the arrest warrant attenuated the connection between the unlawful stop and the evidence seized incident to arrest."
Based on reporting by the Associated Press.