House votes to resume deporting young DREAM Act immigrants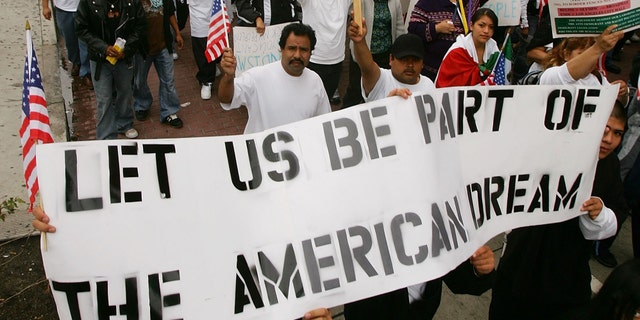 WASHINGTON – The Republican-controlled House voted Thursday to resume the deportation of hundreds of thousands of immigrants brought illegally to the United States as children, the first immigration-related vote in either chamber of Congress this year and a measure of the daunting challenge facing supporters of a sweeping overhaul of existing law on the subject.
The party-line vote of 224-201 was aimed at blocking implementation of President Barack Obama's 2012 election-year order to stop deportations of many so-called DREAM Act individuals. Democrats on the House floor reacted with boos when the provision was added to a routine spending bill for the Department of Homeland Security.
The vote was largely symbolic, since the administration has threatened to veto the overall legislation on budgetary grounds. It nevertheless stood as a stark warning from conservatives who dominate the ranks of the Republican House majority about attempts in the Senate to grant a chance at citizenship to an estimated 11 million immigrants residing in the country illegally.
And the White House reacted sharply, saying the House-passed measure would affect "Dreamers" who are "productive members of society who were brought here as young children, grew up in our communities, and became American in every way but on paper."
Rep. Steve King, R-Iowa, said in a statement that the vote prohibits the administration "from implementing executive amnesty" without congressional action. "Bipartisan support for my amendment is the first test of the 113th Congress in the House of Representatives on immigration. My amendment blocks many of the provisions that are mirrored in the Senate's `Gang of Eight' bill. If this position holds, no amnesty will reach the President's desk," he said.
The vote took place as Senate leaders set Friday for the opening of debate on White House-backed legislation that would create a chance at citizenship for those in the country unlawfully, at the same time it takes steps to assure the borders are secure against future illegal immigration.
The measure was drafted by a bipartisan group of eight senators, then approved by the Senate Judiciary Committee last month on a vote of 13-8. It also creates a new low-skilled guest-worker program, expands the number of visas available for high-tech industry workers and reorders the system for legal immigration that has been in place for decades.
Debate is expected to consume weeks on the Senate floor as lawmakers of differing views try to change it more to their liking. Notably, Sen. Marco Rubio, a Florida Republican who was part of the group that drafted the legislation, is saying he wants changes before he will support it on final passage. His office did not respond to a request for reaction to the House vote.
In the House, 221 Republicans and three Democrats voted for King's proposal, while 195 Democrats and six Republicans opposed it.
"I can't believe they just did that," said Sen. Dick Durbin, D-Ill., a leading supporter of the DREAM Act. Ana Avendano of the AFL-CIO, said in a statement that King and his allies are playing to "a dwindling base of anti-immigrant Republican primary voters. We hope and expect that the leadership of the Republican party will understand that this is not only abhorrent policy but suicidal politics."
Speaking to a group of reporters, a White House official, Cecilia Munoz, said, "If part of what is driving this debate is a recognition, particularly on the Republican side, that they need to do better with the Latino community, this is really not the right way."
Obama announced a new policy in June 2012 that puts off deportation for two years for many of those brought to the United States as children, specifically if they were under 16 at the time and are no older than 31 now. They also must be in school, graduated from high school or have served in the military and have no criminal record. The order offers relief from deportation from many young immigrants who would be covered by the so-called DREAM Act, which has repeatedly failed in Congress.
Democrats argued vociferously against King's proposal when it was debated Wednesday evening. "We should not hold children responsible for the actions of adults and their parents. We should give them an opportunity," said Rep. Luis Gutierrez, an Illinois Democrat who has been involved in a sputtering attempt to produce a compromise immigration bill in the House.
Those efforts were dealt a potentially fatal blow on Wednesday, when Rep. Raul Labrador, R-Idaho, announced he was leaving the group because of a dispute over health care.
House GOP leaders have not yet announced a plan for considering immigration legislation, although it appears likely that several smaller bills will be considered rather than a comprehensive measure that covers the elements that are combined into one in the Senate.
One of them, introduced during the day by Rep. Trey Gowdy, R-S.C., permits state and local authorities to enforce federal immigration laws.
There is little, if any, support among the GOP rank and file for a pathway to citizenship for the 11 million or so immigrants estimated to be living in the United States illegally, although there appears to be some sentiment to allow many such individuals to remain in the country.
Speaker John Boehner has said privately he hopes to have committee action complete by the end of June, with a vote in the House by the end of July.