House Republicans Try to Regroup After String of Setbacks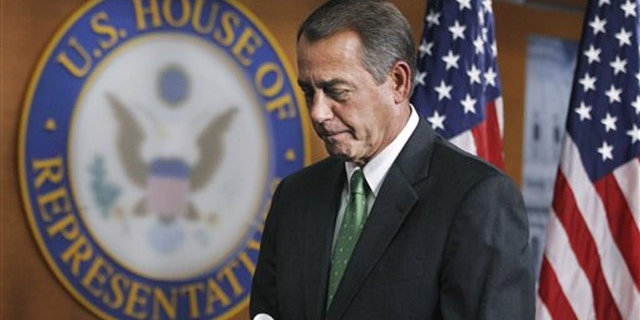 NEWYou can now listen to Fox News articles!
As weeks go, House Speaker John Boehner's had better.
First Republicans failed to extend parts of the Patriot Act. Then they fell short on a bid to claw back millions of dollars in excess U.N. funding. And then they started squabbling over the scope of their own budget cuts.
To top things off, a GOP congressman -- who is married -- resigned Wednesday after being accused just hours earlier of sending a topless photo of himself to a woman on Craigslist.
Democrats, while staying mostly quiet on the latter scandal, have seized on the other misfires.
House Democratic Leader Nancy Pelosi accused Republicans Thursday of being in "disarray."
"So far life in the majority doesn't appear to be getting any easier," House Democratic Whip Steny Hoyer's office said in an e-mail needling the GOP.
Now Republicans are trying to regroup. Acknowledging that floor votes sometimes go off-script and members of the same party sometimes have disagreements, they've bounced back with a new agreement to cut spending by what they claim is $100 billion. They say the party is still laser-focused on reducing the size of government and spurring economic growth as they promised during the campaign season.
"We're not going to be perfect every day," Boehner said earlier in the week. "We've been in the majority four weeks."
Looking to put the discord behind them, Republican leaders on Thursday outlined $26 billion in additional spending cuts after an earlier proposal was decried as too timid by more conservative members of the caucus. The latest proposal pushes spending down to 2008 levels, which Republicans had vowed to reach.
Rep. Mike Pence, R-Ind., who wants to hit the $100 billion mark, downplayed the internal friction Thursday.
"There's that old saying that, you know, if you like sausage, don't go where they make it. I know the press likes to, you know, report on ... different aspects and iterations of this but I think what's going on right now is very healthy. It's a debate among Republicans," Pence told Fox News.
Mark Meckler, co-founder of the Tea Party Patriots, said he expects the party to, in the end, identify $100 billion worth of cuts.
"It's not that difficult," he said.
Responding to some of the chatter about the party's public performance, House Republican Leader Eric Cantor urged lawmakers in a memo Thursday to "step back to see the forest through the trees." He said Democrats still have offered "no credible plan" for dealing with the deficit, while Republicans are pursuing an historic budget cut.
But Democrats are hammering them all the same, claiming the target number keeps changing and that the cuts they're proposing are too severe.
Pelosi, who warns that Republicans' proposed cuts go too far, mocked the party leadership for the trouble it was having with its rank-and-file.
"Now because of their disarray in the Republican Party, and this is only one manifestation of it, they will be taking another day," Pelosi said Thursday. "I think what they are finding out it that it is easier to talk about cutting than it is to actually do it."
Republicans also endured some ribbing over a pair of botched floor votes this week. On Tuesday, the House voted 277-148 in favor of extending three provisions of the Patriot Act. However, because Republicans brought up the bill under a fast-track procedure that happens to require a two-thirds majority, it didn't pass. They lost 26 of their own lawmakers and fell seven votes short of the two-thirds threshold. The GOP had expected little trouble with the bill, so brought it up under what's known as "suspension" rules.
After the vote imploded, Republicans still blamed Democrats -- they also plan to bring back the Patriot Act bill for a new vote, this time requiring just a simple majority.
However, the party suffered the same sort of embarrassment Wednesday on a bill requiring the United Nations to repay the U.S. government nearly $180 million in overpaid funds. Like the earlier vote, Republicans reached the simple majority but failed to attain the two-thirds majority required under the special rules they used for the bill.
To make matters worse, now ex-Rep. Christopher Lee, R-N.Y. got caught up in a bizarre and short-lived scandal the same day. He resigned promptly Wednesday after an article was published on the website Gawker claiming he sent a shirtless photo of himself to a woman on Craigslist.
Boehner said Thursday that he did not speak to Lee about the incident Wednesday or persuade him to step down, but he backed his decision.
"I think he made the right decision for himself and his family," Boehner said.
And possibly the party. Lee's quick exit undoubtedly kept the incident from distracting attention while Republicans prepare for battle with Democrats over their yet-to-be-unveiled spending cuts.
As Democrats taunt, they showed a little empathy as well.
"Been there, done that," Hoyer, the former majority leader, said after the Patriot Act vote went down Tuesday.