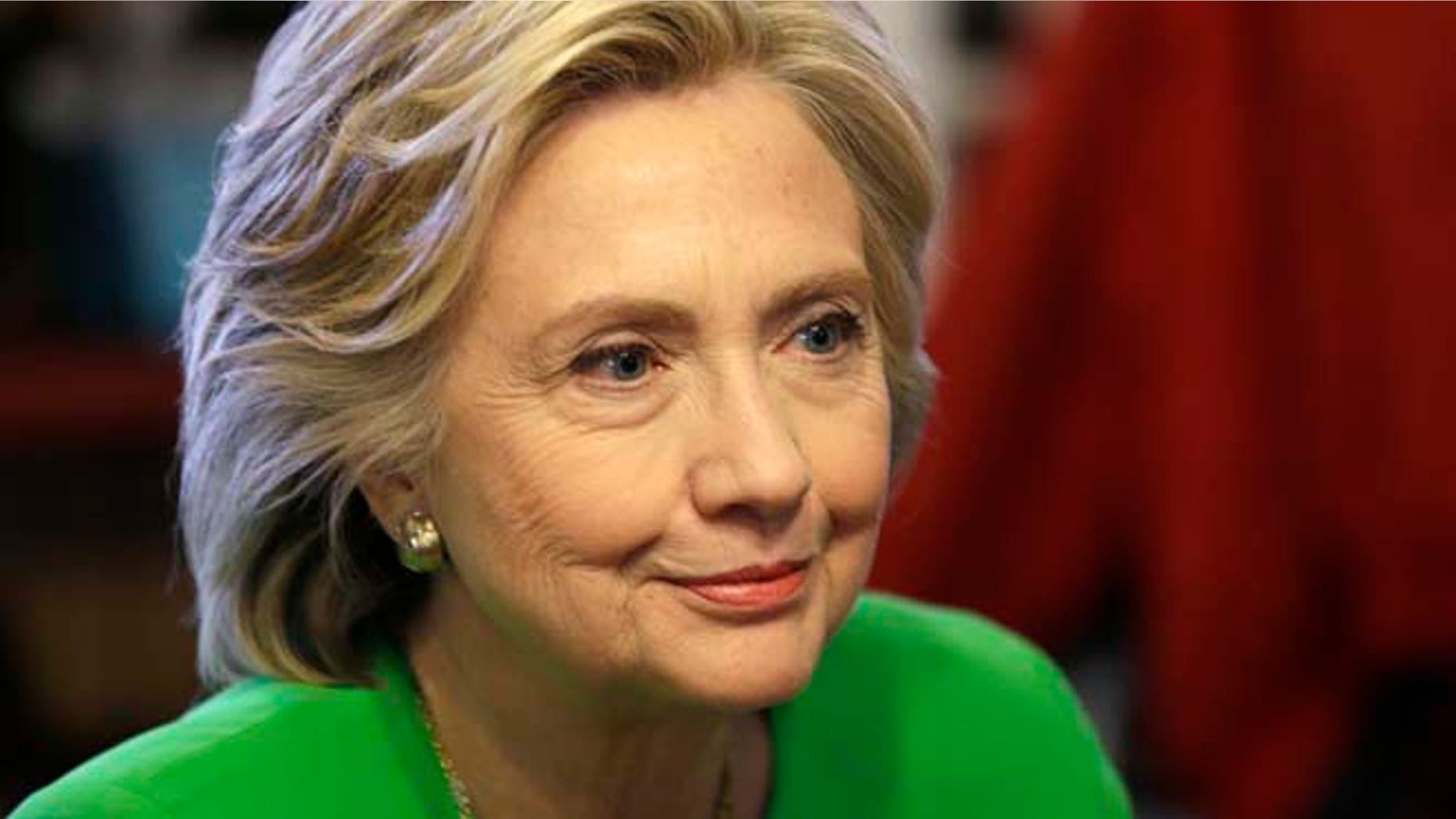 **Want FOX News Halftime Report in your inbox every day? Sign up here.**
On the roster:  Hillary's hauteur - Power Play: Foundering Foundation - Time Out: Traditions of our imagination - Manafort, nyet - But at least the horse was sober

HILLARY'S HAUTEUR
There's hubris and then there's the Clintons.

The news is that former President Bill Clinton and daughter Chelsea will stop raising money for the family's foundation and that the organization would stop accepting foreign contributions if Hillary Clinton gets elected.

Think about that one for a second.

If Clinton's critics are right and her family's foundation was little more than a legalized form of bribing the woman who stands poised to become president of the United States, then what would the significance be of the foundation vowing to stop accepting foreign contributions if Clinton is elected?

Why a gold rush of influence buying between now and Election Day, of course! Hurry, hurry everybody, this is a last chance to get in good with the next commander in chief.

If Clinton and her supporters were right that the foundation is a unique and essential global charity that does essential work, why would one change course? Would Jonas Salk have ditched the polio vaccine because people complained about his funding? Would Marie Curie have dropped the radium just because she was getting cash from some unsavory sources?

The answer from Team Clinton would be that the ban on foreign funds and diminished role for the family would avoid the "appearance of impropriety."

But if it appears that there might be an impropriety on Nov. 8, why not now?

The pressure is growing on Clintons on the left to unwind their massive buckraking efforts. Former Pennsylvania Gov. Ed Rendell and the Boston Globe editorial page both added to the weight this week.  Rather than swift response though, we get what has been the hallmark of Clinton's second White House run: caution imbued with arrogance.

Clinton's slow-walked response to her email scandal, her refusal to give press conferences and her tapioca-bland policy positions are all reflective of a candidate who is just kicking the can. Unworried about defeat, Clinton is simply refusing to engage and happy to keep the focus on her foe, Donald Trump.

Whether or not that works will depend on whether Trump can ever shift the focus back to her. If he can go even a week without campaign drama or a distracting controversy, scrutiny on Clinton would intensify.

If the race does tighten in the home stretch, that could prove to be a problem. If the race doesn't get more competitive and Clinton doesn't face additional calls for accountability, one can only imagine how these tendencies would play out to disastrous ends inside her White House.

POWER PLAY: FOUNDERING FOUNDATION
Hillary Clinton's family foundation raises questions that won't go away and now the family has said they would scale back if she's elected president. Chris Stirewalt asks: Should any president have an active family foundation? Republican strategist Kevin Sheridan and Democratic strategist Douglas Smith weigh in. WATCH HERE.

TIME OUT: TRADITIONS OF OUR IMAGINATION
New Yorker: "The French photographer Charles Fréger has travelled the world in pursuit of people in costume. He has devoted projects to both imagined characters and real-life figures—road sweepers, water-polo players, practitioners of Mardi Gras rituals in New Orleans and pagan traditions in Europe—interested, always, in how people 'look the part.' In his latest series, 'YOKAINOSHIMA,' Fréger catalogues the monsters, or Yokai, of Japanese folklore. Made between 2013 and 2015, and collected in a book published this month by Thames & Hudson, the pictures in the project form a colorful encyclopedia that displays figures of Japanese custom strangely removed from the world of their origin."

Flag on the play? - Email us at HALFTIMEREPORT@FOXNEWS.COM with your tips, comments or questions

SCOREBOARD
Average of national head-to-head presidential polls: Clinton vs. Trump: Clinton +9 points
Average of national four-way presidential polls: Clinton vs. Trump vs. Johnson vs. Stein: Clinton + 6.6 points
Generic congressional vote: Democrats +2.8

[Ed. note: Given the consistent vote share for Libertarian Gary Johnson and Green Party nominee Jill Stein, the Halftime Report Scoreboard will, for the time being, offer national averages of polls with and without the minor party candidates included.]

MANAFORT, NYET
Fox News: "Donald Trump's outspoken campaign chairman, Paul Manafort, resigned Friday -- days after he was pushed aside for conservative media executive Steven Bannon -- and also amid growing speculation about his ties to Ukrainian politics. 'This morning Paul Manafort offered, and I accepted, his resignation from the campaign," Trump said in a written statement to FoxNews.com. "I am very appreciative for his great work in helping to get us where we are today, and in particular his work guiding us through the delegate and convention process. Paul is a true professional and I wish him the greatest success.' Manafort… he came under fire following a New York Times article over the weekend claimed handwritten ledgers show $12.7 million in undisclosed cash payments to him from ex-Ukrainian President Viktor Yanukovych's pro-Russian party between 2007 and 2012."

Power Play: Trump's campaign shakeup certainly shakes things up - Lagging in the polls, Trump shakes up his campaign staff … again. Trump's hiring of Breitbart News Chairman Stephen Bannon may portend his homestretch strategy: Trump do Trump. Can that get him elected? Republican strategist Kevin Sheridan and Democratic strategist Douglas Smith sound off. WATCH HERE.

PLAY-BY-PLAY
Clinton reportedly told FBI Colin Powell advised her to use private email - Fox News

Buuut… Powell has 'no recollection' of Clinton email conversation - Politico

Charlie Cook explains why a big presidential win doesn't guarantee down ballot victories - National Journal

Trump spends $4 million in first general election ad airing in swing states - Time

Former Breitbart spokesman accuses Bannon of racist, sexist talk - ABC News

Matthew Continetti describes the state of the race - Washington Free Beacon

Trump's doctor in hot water over bloated resume - WashEx

Mike Pence's financial disclosure report shows modest income - WSJ

Clinton to spend the rest of August buck raking - Washington Free Beacon

New poll shows Clinton, Trump in near tie in Nevada - USA Today

Ted Cruz's favorability among Republicans takes a dive post-RNC - Gallup

AUDIBLE: THAT'S NOT AN ANSWER…
"Nobody wants the job." -- Sen. Marco Rubio on whether he'd support Senate Majority Leader Mitch McConnell keeping his title if Republicans maintain the Senate majority.

ANY GIVEN SUNDAY
Shannon Bream hosts newly appointed Trump campaign manager Kellyanne Conway, and Clinton supporter Sen. Ben Cardin, D-M.D on the state of 2016 race. Join "Fox News Sunday with Chris Wallace." Check local listings for broadcast times in your area.

[#mediabuzz - Host Howard Kurtz has the latest take on the week's media coverage. Watch #mediabuzz Sundays at 11 a.m. and a re-airing at 5 p.m. ET.]

FROM THE BLEACHERS
"HAPPY DAY-- Thank you so much for my new word of the day 'aristeias.' Life is extra good when I get to expand my vocabulary with my regular reading! A dedicated reader." – M. Frederickson, Canyon, Texas

[Ed. note: That's why we love our Time Outs. We learn things, too! Thanks for reading.]

"THE STIREWALT THEOREM. We don't need no stinking election, just take a poll." – Phil Carter, Port Orange, Fla.

[Ed. note: If this election was a baseball game, we'd be in about the sixth inning. Some fans try to ignore the scoreboard until the ninth inning. But most folks – particularly the players, coaches and managers –want to know how many runs they need to win so they can determine their strategies.]

"C'mon, Chris!! The sky isn't falling!! If you take the most recent 6 national polls in Real Clear Politics, the average is exactly 4.5%. The bounce is over. I hear that they got some medication for Trump's Tourette's, so clear sailing from here…" – Chuck Tebbetts, San Diego, Calif.

[Ed. note: Whether or not the sky is falling probably depends on which flock of chickens you roost with. For Democrats, the race looks good. For Republicans, the race needs reset. But I'd suggest that the shape of the race changed much less from before and after the conventions than conventional wisdom would hold. Looking at an average of reliable polls, there was about a 5-point swing against Trump in head-to-head matchups. That's not chicken feed, but neither was it a change in the trajectory of the race or the overall contour – she's led consistently. There's also the issue of the availability of data. As more and more polls, especially on the state level, come out and more voters make up their minds, we might be tempted to mistake a clearer picture of the same scene for a different scene altogether.]

"Chris, although I don't always agree, I enjoy reading your Half Time.  However, sometimes you fall into the trap of many of your fellow political savants at Fox News.  Thursday, for example, 42.5% of the total of 1,795 words in your Report were about poll worship.  You may recall the wizards were of a near-universal view that Donald Trump could not possibly win the GOP nomination.  After a couple of days of applying extra makeup to hide their red faces, they got back to business, but are now hiding in the poll data weeds to preserve their anonymity, just in case they go oh-fer two.  As they say in sports, if the outcome is so certain, then why bother to play the game?" – Bill Zebedee, Medford, Ore.

[Ed. note: Thanks much, Mr. Zebedee. History tells us that the losing side usually condemns the polls while the winning team touts their majesty. In the primaries, supporters of Trumps rivals explained why the polls that showed Trump consistently ahead from August until May were misleading. Trump, meanwhile, tweeted and repeated the same polls for month after month. He was right and they were wrong. Now, reputable polls all agree that Trump is losing and he says the polls are rigged. When politicians talk about public opinion surveys, always keep the salt shaker at the ready.]

Share your color commentary: Email us at HALFTIMEREPORT@FOXNEWS.COM and please make sure to include your name and hometown.

BUT AT LEAST THE HORSE WAS SOBER
AP: "State police have charged a Pennsylvania Amish man with driving his buggy while drunk as two of his four passengers rode on the roof. Police also have cited 18-year-old Robert Miller, of Punxsutawney, and his four friends who were riding with him with underage drinking. The four ranged in age from 16 to 20. The legal drinking age in Pennsylvania is 21. The charges, announced Wednesday, stem from the police stop July 8 in Canoe Township, Indiana County. Police say all five had been drinking and had alcoholic beverages with them. In Pennsylvania, it's illegal to drive if one's blood-alcohol content is 0.08 percent or greater. For underage drinkers, the threshold is just 0.02 percent. Online court records didn't list attorneys for the suspects."

AND NOW, A WORD FROM CHARLES…
"It's that [the Obama administration] lied and they lie shamelessly and they lie when the lie is uncovered." -- Charles Krauthammer on "Special Report with Bret Baier" talking about the revelation that the $400 million given to Iran was withheld until the American hostages were released, which the administration previously denied.

Chris Stirewalt is digital politics editor for Fox News. Sally Persons contributed to this report. Want FOX News Halftime Report in your inbox every day? Sign up here.