Hillary looks rusty at her coming out party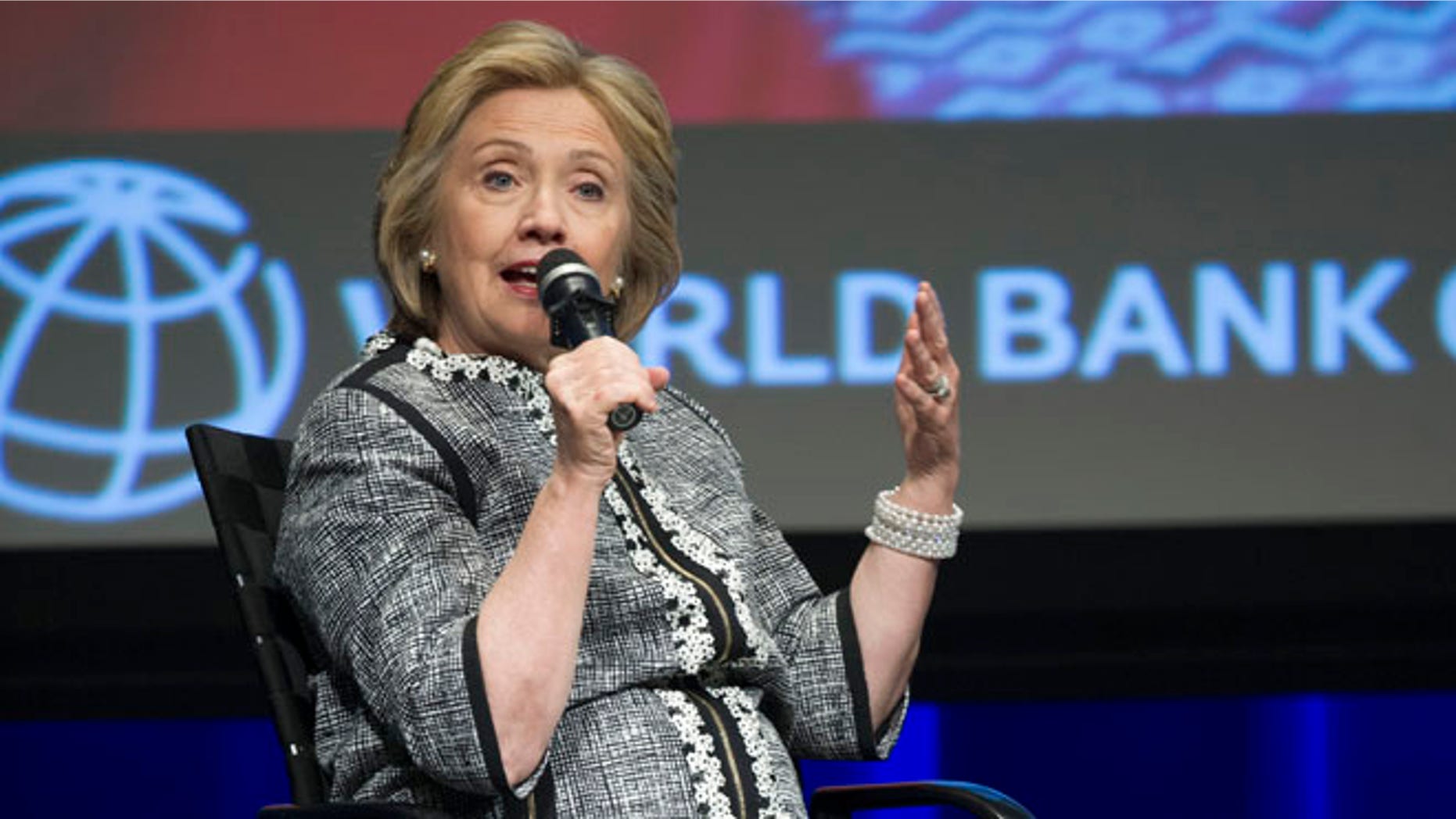 **Want FOX News First in your inbox every day? Sign up here.**
Buzz Cut:
• Hillary looks rusty at her coming out party
• Pence takes 2016 risk with ObamaCare alternative
• Reid's new plan to intensify Koch use
• Steyer starts 2016 attacks with Rubio
• Kimmy gets pixelated
HILLARY LOOKS RUSTY AT HER COMING OUT PARTY
Hillary Clinton will appear tonight at her first official campaign event of this cycle – and perhaps her first since 2008 – and it's a doozy. Hillary will appear at the home of the most famous bitter ender from her failed 2008 bid, uber-rich Lynn Forester de Rothschild, who was a principle PUMA and notorious Barack Obama trash talker. Other wealthy satellites of Planet Hillary, including Barbaralee Diamonstein-Spielvogel and Jill Iscol, will also reportedly make the scene. The beneficiary of the big event is former Rep. Marjorie Margolies D-Pa., who lost her Pennsylvania House seat in 1994, mostly a martyr for her defense of unpopular Clinton polices. She remained a Clinton intimate thereafter, including during the fraud conviction of her then-husband, former Rep. Edward Mezvinsky, D-Iowa. The couple's son, Marc, a Wall Street banker, would go on to marry the Clintons' only child, Chelsea. The younger Mezvinskys are expecting their first child this fall and Hillary tonight will be raising money for her fellow expectant grandmother, Margolies. But this isn't two nannas-to-be getting together to knit booties.
[Bubba: Hey, we're no Einsteins - "Let's do what sensible people would do. We had a problem we had to deal with, Albert Einstein couldn't have done it perfectly the first time, now let's set a long-term repair process." – Former President Bill Clinton at a debt-reduction forum when asked what Democrats ought to say about ObamaCare. Clinton, though, said some Democratic candidates "have to" simply attack the law.]
Bye-bye, Marjorie? - Margolies has watched her bid to return to the House after 20 years go from shoo-in to stumble, including money and ethics woes. The primary is on Tuesday, and Margolies looks plenty shaky. Hillary and her husband are going all in to rescue Margolies' candidacy. With echoes of Hillary's own 2008 defeat, voters have thrown over the once seemingly prohibitive frontrunner Margolies in favor of a younger, more dynamic, populist candidate, state Rep. Brendan Boyle. He's taken heat for having supported abortion regulations in the wake of the discovery of a horrifying Philadelphia abortion clinic, the proprietor of which was later convicted of murder. But Boyle has big blue collar backing from unions and a geographic advantage. Margolies and the other candidates are from the socially liberal but elite lanes of Montgomery County, while Boyle hails from the part of the district in Philadelphia. Race watchers are calling Tuesday's vote a jump ball.
["First they said she faked her concussion and now they say she's auditioning for a part on 'The Walking Dead.''' – Former President Bill Clinton chiding recent comments from Karl Rove questioning Hillary Clinton's health during an economic forum Wednesday. He said it took her six months to recover from the concussion.]

Out to sea - Family ties excuse a lot in politics, especially for the loyalty-prizing Clintons. But this event for this candidate doesn't seem like a smart choice for the 2016 Democratic frontrunner. Her main weakness is her status as the preferred candidate of Wall Street in a party that is increasingly returning to its populist roots – please check your pitchforks at the door if you stop by the Rothschilds, dears. As is the case with concerns about Hillary's health, her part in the Benghazi debacle, her refusal to include Islamist militia Boko Haram on the State Department's terror list, this kind of tin-ear campaigning will be dismissed by Democrats desperate to protect their frontrunner. But tonight's event does not show the signs of a political operation that has supposedly learned its lessons from 2008. Hillary appearing at the Fifth Avenue home of the most famous 2008 Obama basher to buck rake from the richest of the rich on behalf of a candidate who is failing in her bid to return to power is no way to debut in 2014. Maybe Mike McCurry is right. Maybe Hillary is going to drop out of the running. But if all external signs are correct and she is already at sea with the Bismarck of presidential campaigns, Hillary doesn't seem to have turned the rudder from the last voyage.
[Bubba revises on Benghazi - "We did – In my opinion Hillary did what she should have done." – Former President Bill Clinton defending his wife's handling of questions about the deadly attack on a diplomatic outpost in Benghazi, Libya. Clinton also seemed to allege that the Bush administration had kept secret the killings of top diplomatic officials. He also claimed Benghazi was now "booming again with commercial life." Well, business is good for some sectors.]
VA HEAD TO FACE SKEWERING FROM SENATE PANEL
Veterans Affairs Secretary Eric Shinseki will face questions for the first time since an ever-expanding list of alleged misconduct – some of it deadly – at VA hospitals has exploded into the national news. But don't expect too many bombshells to be dropped at today's Veterans Affairs Committee hearing. While several members of Congress and veterans groups have called for Shinseki's resignation, he still has the support of Chairman Bernie Sanders, I-Vt. Sanders has said that overall, the agency is still providing "excellent" care for veterans, and President Obama has expressed his support for Shinseki. Read more. – Watch Fox: Chief Congressional Correspondent Mike Emanuel has the latest.
[Washington Examiner has a roster of the scandals Shinseki is expected to address during today's hearing.]
Office space - The Washington Free Beacon reports the VA has spent nearly $500 million on office furniture upgrades in recent years.
The Judge's Ruling: High-pitched noise - New Today at Fox News Opinion Judge Andrew Napolitano looks at why celebrities get away with less on lying than government officials: "Perhaps because the president needed some dog whistles to the left…"
WITH YOUR SECOND CUP OF COFFEE...
Daily Mail's Mark Prigg asks Could measles cure cancer?: "Researchers have revealed a proof of principle clinical trial that used a high dose 'blast' of a specially engineered version of the measles virus to cure cancer… Mayo Clinic researchers say the result demonstrated that virotherapy, destroying cancer with a virus that infects and kills cancer cells but spares normal tissues, can be effective against the deadly cancer multiple myeloma… 'it's a very simple concept,' said Stephen Russel of Mayo Clinic Molecular Medicine, who led the study. 'Viruses naturally come into the body and they destroy tissue.' He hopes the idea could eventually lead to a new treatment, and the team are also testing the measles virus's effectiveness at fighting ovarian, brain, head and neck cancers and mesothelioma."
Got a TIP from the RIGHT or LEFT? Email FoxNewsFirst@FOXNEWS.COM
POLL CHECK
Real Clear Politics Averages
Obama Job Approval: Approve –  44.5 percent//Disapprove – 51.1 percent
Direction of Country: Right Direction – 28.1 percent//Wrong Track – 62.7 percent
Generic Congressional Ballot:  Democrats – 43.3 percent// Republicans 43.8 percent
[Poll Watch: New Fox News polls on the interest in the midterm race, generic ballot, how each party is faring on specific issues, trust in government, and the transparency of the Obama administration will be released during "Special Report with Bret Baier" in the 6 p.m. ET hour. ]
PENCE TAKES 2016 RISK WITH OBAMACARE ALTERNATIVE
Indiana Gov. Mike Pence is taking a chance today as he rolls out a plan to cover uninsured Indiana residents through the state-run Healthy Indiana Plan, rather than expanding the welfare program of Medicaid under ObamaCare. Pence, a potential 2016 GOP contender, will debut the plan with events in Indianapolis and Fort Wayne. Most of the potential GOP field is not offering much on specifics for an ObamaCare replacement, but Pence is doing just that. These details would surely come under scrutiny down the line. It's similar to a move by Republican Gov. Scott Walker in Wisconsin, but potentially riskier since Pence's plan sounds more ambitious.
The details -  AP: "Low-income Indiana residents would have more health-insurance options, including some with no cost, under [the] two-tiered plan…Pence's proposal appears to be an attempt to address some of the federal government's concerns about HIP, including a requirement that recipients under the poverty line contribute the first $1,100 of their care….Those briefed on Pence's proposal say participation could rise as high as 500,000 people if the federal government approves the plan."
[Attn: Jim Angle - Indianapolis Business Journal: "'Pence's plan involves a combination of the Healthy Indiana Plan, employer-sponsored health plans and health savings accounts'…[according to an invitation to today's Indianapolis rollout]  Pence 'plans to use private market-based reforms, employer-based plans, and HSAs to transform health care in a fiscally responsible manner for the Medicaid-eligible population in Indiana.'"]
YOU COULD ALMOST CALL IT WATER UNDER THE BRIDGE…
"If I decide to do something more, it's going to be how the people in the country feel about me. But I think this will be a footnote by the time any of those decisions need to be made." – Gov. Chris Christie, R-N.J., in an appearance at a debt-reduction conference in Washington, when asked how a dirty tricks scandal from his re-election campaign would affect a potential 2016 campaign.
STEYER STARTS 2016 ATTACKS WITH RUBIO 
The Hill: "Billionaire Tom Steyer's environmental group is using its social media prowess to hit Sen. Marco Rubio (R-Fla.) on his recent climate change comments. NextGen Climate, which Steyer founded in 2013, released a Web video on Wednesday chiding Rubio for getting caught 'on the wrong side of the numbers'… The video challenges all potential 2016 presidential hopefuls, including Sen. Rand Paul (R-Ky.), former Gov. Jeb Bush (R-Fla.), Rep. Paul Ryan (R-Wis.), Gov. Bobby Jindal (R-La.) and others to answer where they stand on climate change. 'If you are thinking about running for president, answer this: Do you stand with the facts, or do you stand with Sen. Rubio? The pressure's on,' the video states, ending with footage of Rubio's infamous GOP rebuttal to President Obama's 2013 State of the Union address where he awkwardly reaches for a drink of water."
CRUZ DEPLOYS DAD TO COURT IOWA CONSERVATIVES
Des Moines Register: "U.S. Sen. Ted Cruz's [R-Texas] father – and maybe the senator himself – will return to Iowa this summer for a summit of politically active social conservatives. The third annual Family Leadership Summit will be held Aug. 9 at Stephens Auditorium in Ames, the Family Leader advocacy group announced Wednesday. While Pastor Rafael Cruz and evangelical Christian novelist Joel Rosenberg are confirmed speakers, a long list of potential 2016 Republican presidential candidates have also been invited, including Ted Cruz, Texas [Republican] Gov. Rick Perry, former Arkansas [Republican] Gov. Mike Huckabee and Louisiana  [Republican] Gov. Bobby Jindal. The Family Leader has asked conservative political celebrities Ben Carson, Star Parker and [Former Gov. Sarah Palin, R-Alaska,]  and author Eric Metaxas to speak as well."
FOR BRANSTAD IT PAYS TO BE FIRST
Republican Gov. Terry Branstad has a whopping $4.5 million cash-on-hand, the largest amount ever for an Iowa gubernatorial race. Branstad's campaign says more than 15,000 total donors contributed this reporting period, 98 percent of them from Iowa. Branstad, who is running for a sixth non-consecutive term will likely face Democratic state Sen. Jack Hatch in November.
[George Will looks at how corruption may turn Illinois gubernatorial race. Quite so, Mr. Will.]
Pass the hat, y'all - Washington Examiner: "Democratic Texas gubernatorial candidate Wendy Davis is crisscrossing the country this month to collect cash from members of Hollywood and New York's 1-percenters."
REID'S NEW PLAN TO INTENSIFY KOCH USE
BuzzFeed: "Frustrated by the 'sewer' of modern American political campaigns, Senate Majority Leader Harry Reid Wednesday said that he would bring a constitutional amendment to the floor granting Congress the ability to set strict new limits on campaign contributions, warning he will force multiple votes if necessary to pass the measure… Although a number of Democrats, most notably New Mexico Sen. Tom Udall, have talked about passing a constitutional amendment to re-impose campaign finance restrictions, Reid had not been one of them — until now… Reid also rejected concerns from many Democrats that his focus on the Kochs has done nothing to help the party."
[Gallup's latest survey finds 72 percent of respondents feel most members of Congress should not be re-elected.]
That's probably the only way to beat Ben Sasse - The Hill: "President Obama told attendees at a high-dollar Manhattan fundraiser Wednesday night that the Democratic Party would be in better shape if he 'could just get a million surplus votes in Brooklyn' and move them to Nebraska, where Tea Party conservatives scored a major win in Tuesday's primary."
LAND SLAMS WASHINGTON'S WAR ON MICHIGAN IN NEW AD
In her latest ad, Michigan Republican Senate candidate Terri Lynn Land slams ObamaCare for turning full-time jobs into part-time jobs.  Land appears on-camera saying, "Because of Washington's big bureaucracy, red tape regulation, we have fewer jobs. I'll downsize big government, cut the red tape, so Michiganders can create, invest, hire and grow again."

Pocketbook issue - Despite 51 Senators, including 36 Democrats, urging the Obama administration not to, it imposed the highest possible cuts on the home health care industry. A consulting firm warned that the cuts would jeopardize 398,000 jobs, nearly 90 percent of which are held by women. ­­– Watch Fox: Chief National Correspondent Jim Angle looks at how ObamaCare may actually be harming women, including a new report from the Kaiser Family Foundation that considers how the health law is affecting women's health.
[Watch Fox: Sen. Roy Blunt, R-Mo., discusses ObamaCare processors that are being paid to do nothing in the 2 p.m. hour.]
UH OH: PURDUE ON DEFENSE OVER TAX COMMENTS
AP: "Georgia's GOP Senate scramble erupted Wednesday into an intense round of attacks over taxes, gay rights and who's a real Republican, all in the shadow of a key vote that could help determine congressional control. The top dispute in the seven-candidate field centered on remarks by the perceived front-runner, former Dollar General CEO David Perdue, during an editorial board meeting with The Telegraph newspaper in Macon, Ga. During the meeting, Perdue was asked about the nation's debt and whether it would be best to curb the growth of spending or increase revenue. Perdue interjected, saying 'both,' and the questioner added the latter would be 'a euphemism for some kind of tax increase, of course.' Perdue laughed and referenced his business experience…Rep. Paul Broun [R-Ga.] condemned Perdue's 'arrogance' in thinking so many senators wouldn't understand what he was saying. Rep. Jack Kingston [R-Ga.], who has led in fundraising and has the backing of the U.S. Chamber of Commerce, said Perdue's tax increases would 'only hurt our economy.' But Karen Handel struck perhaps the harshest tone, saying Perdue's remarks 'should raise a question in everyone's mind.' 'Exactly who is this guy? He's not a conservative and I question whether he's even a Republican,' she said. Perdue's campaign called the attacks 'deceitful' and said Perdue was talking about increasing revenues by cutting spending and promoting pro-growth policies. 'He never said the phrase 'tax increase,''' said campaign spokesman Derrick Dickey. 'David believes that tax increases hinder economic growth and destroy jobs.'''
JACOBS FIRES BACK AT ERNST IN NEW AD
The Hill: "Businessman Mark Jacobs's (R) campaign is going after Iowa state Sen. Joni Ernst (R) in their crowded Senate primary. In a new ad, Jacobs mocks Ernst's latest ad, which was shot at a gun range, saying she's 'firing blanks' when she says she's looking out for Iowans. 'In politics people do strange things to get elected, especially when they've got something to hide," the ad's narrator says as images from Ernst's ad appear. 'In the state Senate, Ernst voted to raise the gas tax and tax Internet purchases. Ernst skipped votes dealing with elderly abuse and human trafficking and missed 103 more votes this year when she didn't show up for work.'''
UDALL THRASHED OVER KEYSTONE
Sen. Mark Udall, D-Colo., is being hit over his opposition to the Keystone Pipeline XL. Americans for Prosperity has launched a $100,000 ad buy thanking Rep. Cory Gardner, R-Colo., for his support of the oil pipeline, while the American Energy Alliance is spending $400,000 on ad saying, "Sen. Mark Udall is siding with Washington lobbyists and special interests to kill it."
Pick six: Can Gardner grow a win? - Which six Democrat-held Senate seats present the most likely path for the GOP to win control of the upper chamber?  The current consensus among readers: Arkansas, Montana, Louisiana, South Dakota, North Carolina and West Virginia. But FNF reader Scarlett says Colorado should have a place on the list writing, "[Rep. Cory Gardner, R-Colo.] has a strong chance of beating [ Sen. Mark Udall, D-Colo.]"
Share your top six picks. Email them – just your top six, please – to FOXNEWSFIRST@FOXNEWS.COM or tweet @cstirewalt.
SHE SHOWS UP HER OLD MAN, AND HE COULDN'T BE PROUDER
Saira Blair would seem to be pretty well suited to her family business. Blair, the 17-year-old daughter of West Virginia state Sen. Craig Blair, defeated incumbent Del. Larry Kump 872 votes to 728 votes in the Republican primary. It took her dad until age 44 to win the district, which he held until moving up to the Senate in 2010. Saira will be able to vote for herself this fall. She turns 18 in July. If she wins, as expected, in the heavily Republican district, Saira said she is willing to miss some classes at WVU, where she will matriculate this fall, if there are conflicting votes at the state house.
[New on Fox News Radio - The Balance Of Power: Voting From The Comfort Of Your Own Home? Check out the podcast.]
KIMMY GETS PIXELATED
North Korea's dorky despot, Kim Jong-un, will soon be the star of the new video game, The Glorious Leader. The Daily Dot reports, "In a side-scrolling indie game developed by Moneyhorse Games, Kim Jong-un saves the world. Riding his steed of illustrious victory, the tyrannical dictator brings totalitarianism to pixel art graphics. While the App Store is still not available in Pyongyang, users will soon be able to download the seven-level game after it's first released on PC. While new to developing small indie games, Moneyhorse informed the Daily Dot their team is well experienced in game development. They claim in their email that they were entrusted 'with the great honour of creating such an important game.' Absolutely insisting this is not a PR stunt, the anonymous spokesperson confirmed they 'did not choose to make a project about North Korea, we were chosen…'"
AND NOW, A WORD FROM CHARLES…
"This is a major abuse of power. They covered up for two years and now they say, 'Hey, dude, two-year-old story so it's old news.' Let's see if the mainstream media will treat it as old news or what it really is: new news of misleading America and covering it up." – Charles Krauthammer discussing new IRS e-mails uncovered by a watchdog group revealing active direction by the agencies federal headquarters in targeting conservative groups, on "Special Report with Bret Baier."
Chris Stirewalt is digital politics editor for Fox News. Want FOX News First in your inbox every day? Sign up here.