Hill leaders push dueling budget plans, seek 'sweet spot' to break impasse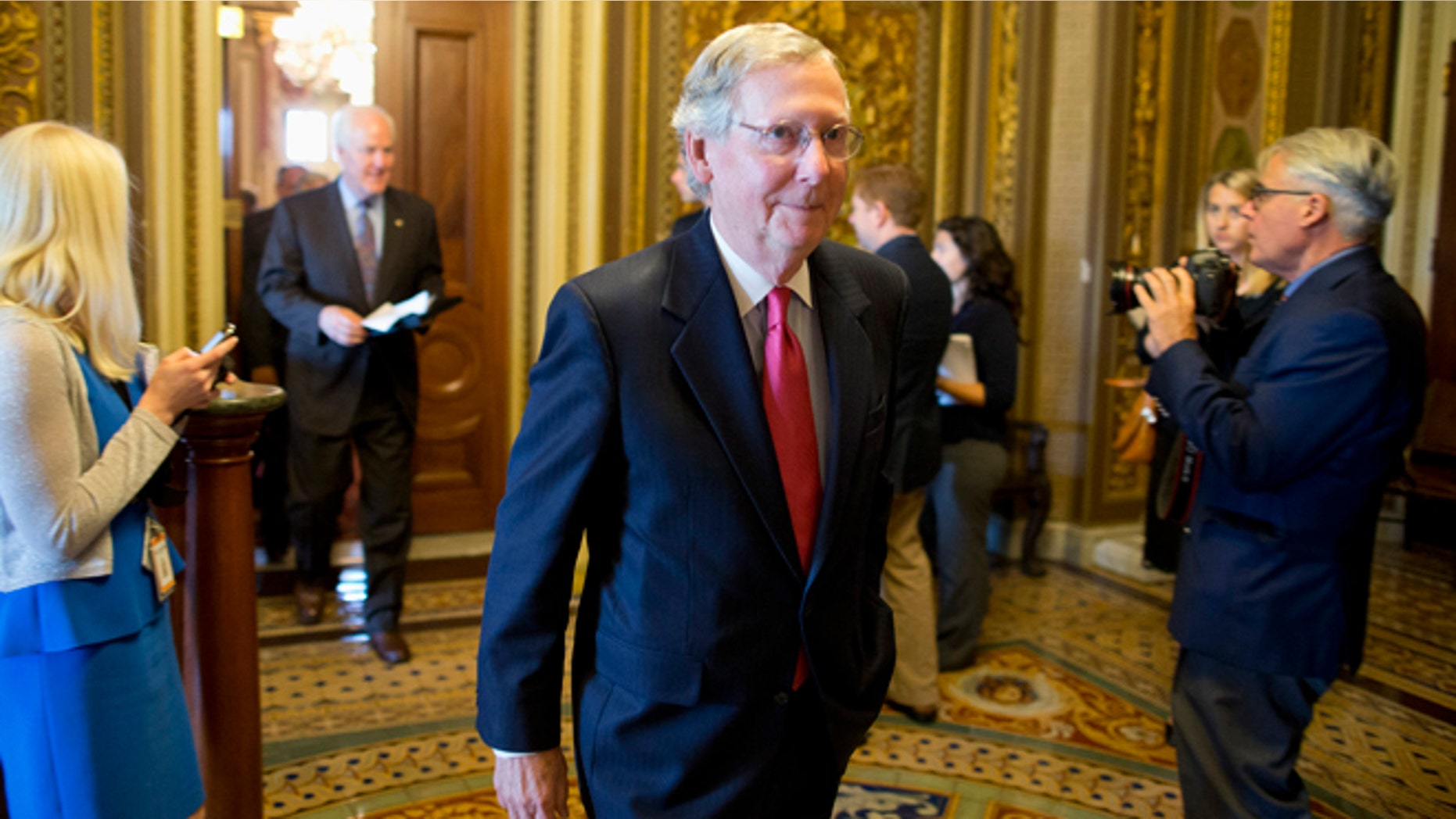 House and Senate lawmakers pushed dueling proposals to address the budget impasse, as they prepared to take private talks with the White House into the weekend -- with both sides at last appearing to work toward a possible compromise, despite no deal emerging Friday.
While both parties remained at odds over how to proceed, the talks Friday were notable for the relative lack of vitriol, after weeks of hyper-charged accusations between Democrats and Republicans.
The suddenly restrained tone in Washington was a signal that, while talks could derail at any moment, lawmakers and White House officials were at least trying to reach common ground.
"I've never seen the president, quite frankly, more open to the idea of meaningful reforms to address why we're in debt in terms of entitlement reform," Sen. Lindsey Graham, R-S.C., told Fox News, while calling on his own party to consider the prickly issue of taxes.
The Senate on Saturday plans to take up a one-year extension of the debt limit. Democratic sponsors, though, may have difficulty advancing the measure given the ongoing negotiations.
Though President Obama pledged all along he would not negotiate with Republicans over the partial government shutdown or the debt ceiling, it became clear by the end of the day that negotiations of some sort were underway.
White House Press Secretary Jay Carney delayed his daily press briefing by hours, as back-channel talks escalated. Later addressing reporters, Carney said Obama and House Speaker John Boehner spoke by phone Friday afternoon, and had a "good conversation."
No details were released.
Though progress was slow, lawmakers said the fact both sides are talking was a good thing. Some pointed to indications that Obama might even be open to modest changes to ObamaCare, despite fighting them for months.
House GOP leaders said they would continue to push a six-week extension of the debt ceiling, amid some resistance from the White House.
Earlier, Senate Republicans described a high-stakes White House meeting with Obama as positive. Sen. Susan Collins, R-Maine, who is helping lead the effort on the Senate side to craft an alternative proposal, said she presented a plan to the White House that would fund the government for six months and raise the debt ceiling through the end of January.
She said Obama did not say, "that's a great idea." But Collins said there were discussions about both short- and long-term approaches. She called on Obama to put out a debt-ceiling plan of his own.
Sen. Thad Cochran, R-Miss., said he was optimistic, though there were no deadlines or specifics discussed. Sen. Bob Corker, R-Tenn., called the meeting "constructive," and said lawmakers were trying to find the "sweet spot."
Sen. Tom Coburn, R-Okla., was less hopeful about the state of play. He said the meeting was not very encouraging. Though Coburn said talking is better than the alternative, the senator said he "didn't think" it helped address the debt-ceiling crisis.
Sen. John Cornyn, R-Texas, also blasted the president, describing the meeting as a "lecture."
The meeting was the last of four formal sessions Obama has held this week with leaders around the Hill. Fox News has learned that one detail being discussed is the possibility of replacing some "sequester" budget cuts with cuts to entitlements.
Both chambers are cooking up possible plans.
House GOP leaders first made a personal pitch to the president on Thursday, seeking a short-term increase in the debt ceiling. But after Obama pushed back, Senate Republicans came forward with a plan that would address both the debt ceiling and the partial government shutdown.
The Collins plan would, aside from dealing with those two issues, also delay the medical device tax -- an unpopular and costly provision of ObamaCare that the industry decries as crippling -- and include anti-fraud measures as part of the ObamaCare insurance subsidies.
Graham indicated Obama might be open to addressing that tax. Graham said he's now looking to the House side to produce a piece of legislation.
He predicted it would have changes to ObamaCare, though not a one-year delay which some were initially seeking.
"Twenty-four hours ago I thought the House was locked down and incapable, quite frankly, of producing product and we had to go first. Now I'm of the opinion the House is ready to go first and it would be better for the country if the product came out of the House," he said.
The Senate plan would ease off conservatives' original demand that the health care law be defunded or delayed. One House Republican aide indicated Obama would probably evaluate proposals from Senate and House Republicans, and proceed with a plan in the Senate that could garner a large majority of votes.
"We'll get jammed again," the House aide cautioned, suggesting that the House would have to "eat" whatever the Senate brokers.
The thought is that the Republican-led House may have to pass the final bill with some Republicans and a lot of Democrats. This could put Boehner in a perilous position, as he's tried to cater so far to the wishes of his Republican rank-and-file.
On the sidelines, conservatives continued to push for unraveling the health care law -- now, or in the future.
At the Values Voter Summit in Washington on Friday morning, Sen. Ted Cruz rallied conservatives against ObamaCare.
The Texas Republican senator, who along with Sen. Mike Lee, R-Utah, helped drive the showdown with the White House over ObamaCare, urged the House of Representatives to keep "standing strong."
Rep. Paul Ryan, R-Wis., in a video message at the same event, also said "we can never give up on repealing and replacing ObamaCare."
Ryan, though, appeared to be entering a key role in helping drive a possible compromise with Democrats.
"It's been slow going, but I want to make the most of this moment. We have an opportunity here to pay down our national debt and jump-start our economy," he explained. "You know, divided government is frustrating. But our country is worth the effort. We have to make it work."
Senate Republican Leader Mitch McConnell, R-Ky., who often waits until other Washington players have had their turn before stepping into tense negotiations, also began to enter the fray, true to form.
McConnell, speaking on the floor before heading to the White House, said the discussions could be a "great opportunity."
He added: "But if all the president wants is to just drag us over there to say he won't negotiate -- well that won't be particularly productive."
Fox News' Chad Pergram and Mike Emanuel contributed to this report.