Haley Just Shy of Margin to Avoid Runoff for South Carolina GOP Gubernatorial Nomination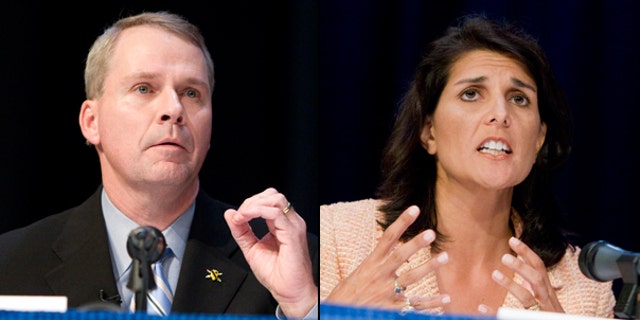 South Carolina state Rep. Nikki Haley was forced into a runoff Tuesday with Rep. Gresham Barrett after just missing the 50-percent threshold to take the gubernatorial nomination in a four-way race.
Haley secured 49 percent of the vote with 95 percent of precincts reporting. Barrett, who represents South Carolina's 3rd Congressional District, won 22 percent of the vote in a race that was peppered with scandal.
"We said 'no' to spending. We said 'no' to bailout in Washington...And this last two or three weeks, we said 'no' to the dark side of politics," Haley told a cheering crowd following Tuesday's election results.
"I'm a legislator that knows what good government is and I want the people of this state to know what that feels like," she boomed. "What we get done in November is going to be phenomenal."
Haley and Barrett are set to compete in a runoff election on June 22 for the chance to face Democrat Vincent Sheheen in November, though Barrett is reportedly likely to drop out Wednesday rather than face a long-shot runoff.
Republican opponent Lt. Gov Andre Bauer had 17 percent of the vote while Attorney General Henry McMaster received 12 percent.
Haley had been polling at the back of the pack until she picked up an endorsement by former Alaska Gov. Sarah Palin last month. But she was forced to face accusations of not one, but two, trysts with men heavily involved in state GOP politics.
First, blogger and former Haley communications consultant Will Folks claimed he had a relationship with the 38-year-old mother of two. Then, consultant Larry Marchant, who was working for Bauer until last week, claimed he had a one-night stand with Haley. Neither offered evidence of an affair.
Bauer had challenged Haley, who denies all the allegations, to take a lie detector test. When she did not, Bauer took the test himself. He released results on Monday that he said shows he wasn't behind Marchant's claims.
Also in South Carolina, U.S. Sen. Jim DeMint has easily won the Republican primary over a little-known former Democrat. The 58-year-old conservative, who is seeking a second Senate term, trounced 47-year-old Charleston lawyer Susan Gaddy. Little-known Alvin Greene, a 32-year-old unemployed Army veteran came from nowhere to win the Democratic primary to challenge DeMint.
Republican Rep. Bob Inglis was also forced into a runoff against prosecutor Trey Gowdy.
Officials said that voter turnout in South Carolina's primary elections has been mostly moderate across the state but heavier in traditional Republican strongholds, like Greenville and Lexington counties.
Haley and Barrett are competing for the job that Gov. Mark Sanford is leaving behind. Sanford, unable to run for re-election because of term limits, admitted last year to having an extramarital affair with a woman in Argentina. The scandal led to his divorce, but he kept his job.
The Associated Press contributed to this report