Graham plays elder statesmen, Jindal lashes out at congressional GOP, in second tier debate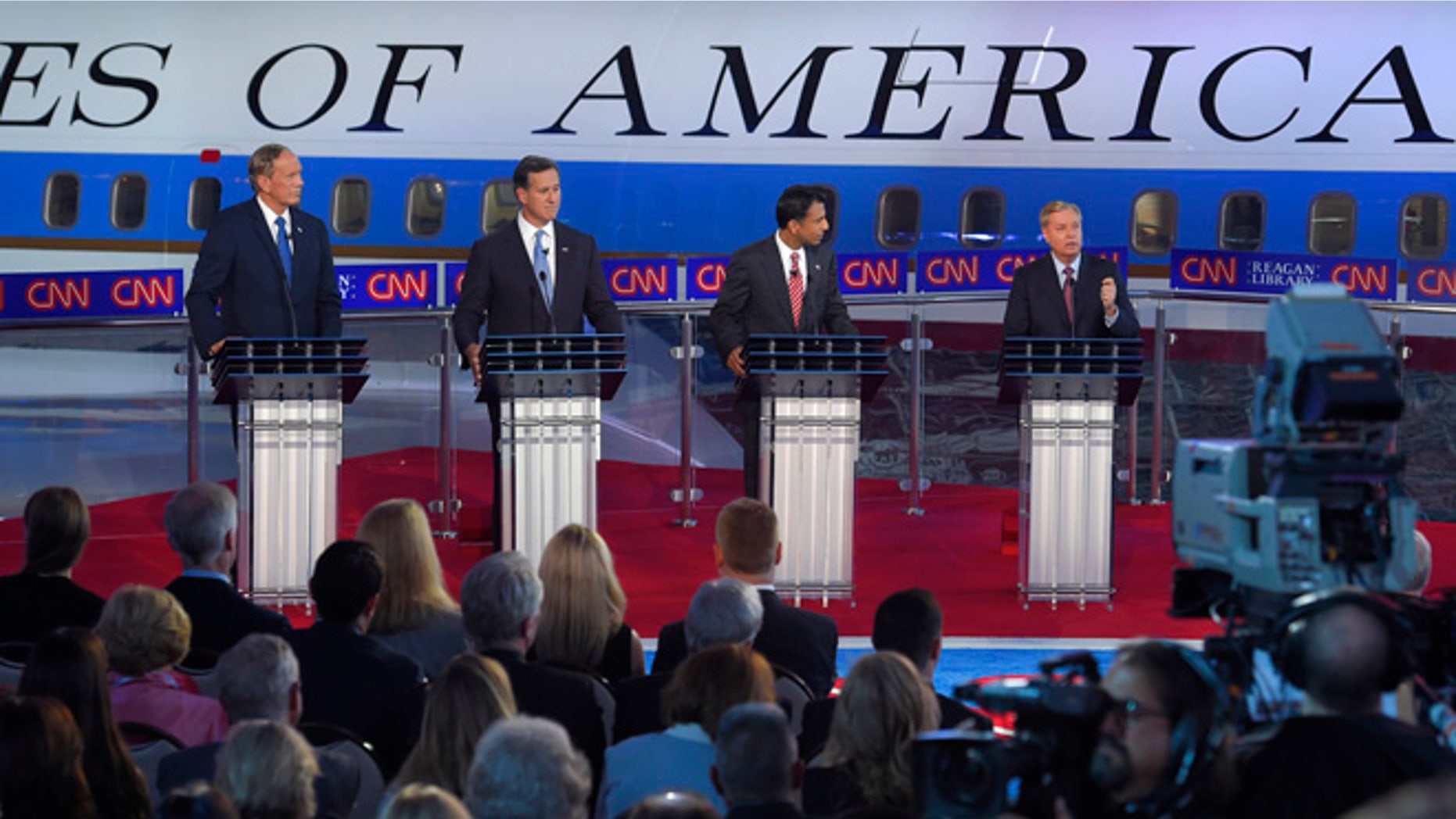 Struggling to break out of the pack, the second tier candidates did not shy away from testy exchanges during the undercard GOP debate Wednesday, including Sen. Lindsey Graham, who positioned himself as the elder statesmen, often chiding his fellow candidates for taking unrealistic positions on domestic policy.
In an exchange with Louisiana Gov. Bobby Jindal over whether congressional Republicans should shut down the government if Democrats refused to defund Planned Parenthood, the South Carolina senator said they needed to be "honest" with the American people.
"One thing I'm not going to do is shut down the government, like what you are saying and what (candidate and Senator) Ted Cruz is saying, and I'm sick of it," Graham said.
Graham, while maintaining his strong stance on the issues of Iran, Syria, Russia and Islamic extremism, appeared to take a more pragmatic tone on immigration and working with Democrats, often delivering frank one-liners and looking comfortable in his role as an experienced senator who has been there, done that, in Washington. At one point he suggested more drinking with each other, and less sniping, would move things further in Washington. "Absolutely I want to work with (Democrats),"he said.
Aware that this might be the last time they will be able to make a national impression, the four were not afraid to argue among themselves on the finer points of the issues of immigration, whether or not county clerk Kim Davis should be fired for not providing marriage licenses for same sex marriages, minimum wage, and front runner Donald Trump.
Former Pennsylvania Sen. Rick Santorum compared Davis to a martyr Wednesday night at the CNN sponsored debate at the Ronald Reagan Library in Simi Valley, California. "People have the fundamental right of the first amendment," he said. "How many clerks are we going to throw in jail because (they say) 'I am not going to violate my faith?'"
He responded to an earlier charge by former New York Gov. Pataki that Davis, a Kentucky county clerk, should have been fired for not upholding the rule of law because she did not agree with it.
"We doing to have a president who defies the Supreme Court?" he said.
"If they're wrong," Santorum shot back. "I would argue that what the Supreme Court is against God's law, it's against natural law," and therefore an unjust law.
The four also sparred on dealing with the 11 million illegal immigrants in the country today. In a testy exchange, Graham said that sending them all back to their home country was unrealistic, and challenged Santorum's assertion that he introduced tough legislation to curb illegal immigration when he was in office.
"It went nowhere," charged Graham, suggesting that immigration reform should start with deporting criminals and assimilating the rest. He stopped short of supporting allowing babies born in the U.S. to become automatic citizen. He did say that the country will need workers in the future – legal ones.
"We're going to need more legal immigration, so let's just make it logical. Let's do it logically," he said.
Even though he was not in the room, billionaire Donald Trump still got full attention in the first five minutes of the debate.
When asked if Jindal has broken Ronald Reagan's commandment of not attacking other Republicans by attacking GOP frontrunner Trump in the press, he said simply, Let stop treating Donald trump like a republican –he's not a conservative," he said. He doesn't believe in anything, he said. "He believes in Donald Trump."
Santorum said it was wrong to continue the infighting.
"I think these attacks please one person – Hillary Clinton," said "I don't think it helps when Republicans attack Republicans personally."
Santorum emerged holding the mantle for working people, supporting a hike in the minimum wage, which Graham said would kill jobs in his own state. Santorum, taking the opposite stand than most in his party, said it would only lift working people, and in the end, the economy. "They work for a living, they are wage earners," he said. "How are we going to win if 90 percent of American people don't think we care for them?"
Where there was little disagreement is on the Iran nuclear deal, with all four believe should be killed. They accused President Obama of falling down on the job in the fight against ISIS and against radicalization at home. Jindal blamed Obama for the refugee crisis. "We cannot draw a line between this refugee crisis and the president's failed foreign policy. The way to solve this problem is, to be clear, replace (Syrian president Bashar) Assad and to destroy ISIS."
While Graham capitalized on his role of senior senator, other embraced the role as outsider. Jindal said he was more disappointed in congressional Republicans than in Obama and the democrats, "who actually fight for what they believe in."
"I wish the Senate Republicans had half the fight in them as the House does," he said regarding the debate over Planned Parenthood. "If we cant defund Planned Parenthood now after these barbaric videos, it is time to get rid of the Republican Party."
Missing from the August stage are former Hewlett-Packard CEO Carly Fiorina, who is the only second-tier veteran to poll well enough to move up to the main event; ex-Texas Gov. Rick Perry, who has since dropped out of the race, and Jim Gilmore, who isn't even registering in the polls and didn't qualify for either debate.
All four GOP candidates are polling at less than 1 percent in the latest Real Clear politics average. Of them, Santorum is doing the best with 0.8, followed by Jindal with 0.5 and Graham with 0.3 percent.
This is a make or break situation for these men, said Sean Evans, politics professor at Union University in Tennessee. "This is the last best chance they have and I think this will be the last undercard debate," he told Foxnews.com before the debate began. The goal is to be the Carly Fiorina, the one who can get everyone talking, so they get more media coverage and increase their fundraising so they can get into the next (primetime) debate. If not, their campaign is basically over."
It's not as if these candidates weren't trying on their own to get noticed. In a recent appearance at the National Press Club, Jindal lashed out a front runner Donald Trump, calling him a narcissist and egomanic. He later wrote in a CNN op-ed that Trump is "a madman who must be stopped." Trump responded by saying he only "responds to "people that register more than 1 percent in the polls."
Trump, who analysts predict will be the man to beat at the later debate, is leading all of the national polls, followed closely by surgeon Ben Carson.
While the undercard debate might be constructive, Evans warned that these men were against 15 other candidates who were just as qualified, but who have the advantage of being a few points or more up in the polls.
"It only makes sense that these numbers will winnow down over time," he said. "The undercard people don't really have a place to move forward."
"Their campaigns might move forward," he predicted, "but they will be dead men walking."