Government shutdown fight leaves Congress few good options: 'It is a complete mess'
"A crap sandwich."
Those were the words of former House Speaker John Boehner, R-Ohio, in the fall of 2008.
The global economy teetered on the brink. Lawmakers from both parties realized they had to approve a $700 billion financial rescue package to salvage the nation's financial system with a measure called TARP – the Troubled Assets Relief Program. No one wanted to vote for it. But they had to.
Boehner – then the House minority leader – characterized TARP as a "crap sandwich." It was an offensive, unappetizing piece of legislation. Yet Boehner said he'd back it.
The pickings' are slim in the legislative delicatessen this week. No pastrami on rye. No croque-monsieur. No piping hot patty melts.
If congressional Republicans avoid a government shutdown this week, they may very well have to heed the advice of a legislative gourmand like John Boehner. A crap sandwich may be the best blue plate special they can do.
Order up!
The government is funded through 11:59:59 p.m. Friday. Congressional Republicans will likely move their tax reform package through both the House and Senate Tuesday. Yet Republicans risk corrupting that message if the government runs out of money Friday night, colliding with Christmas.
One knowledgeable GOP source told Fox News that no Republican wanted any part of a government shutdown, lest that sully their holiday tax reform narrative.
"But you never know," said the source. "We can always screw this up."
'There seems to be no fallback position.'
When asked about the plan to avoid a government shutdown, one senior House Republican source conceded "I really wish I knew. It's all up in the air."
This is why a Christmastime shutdown remains a possibility. They're running out of track.
"There seems to be no fallback position," said Rep. Adam Smith, D-Wash., the top Democrat on the House Armed Services Committee. "It is a complete mess."
Don't expect any action right away.
"Nothing serious will happen until we get tax reform done," said one congressional source.
House Republicans are preparing a temporary spending bill to avoid a government shutdown. It would fund all areas of the federal government at current levels through mid-January. The plan would bust mandatory spending caps imposed on the Pentagon called "sequestration." The House Republican gambit would fund the military through Sept. 30. Bolstering defense spending would court defense hawks to vote yes on the measure.
But there are a lot of skeptics on the other side of Capitol Hill.
"That dog isn't going to hunt in the Senate," observed Sen. John Kennedy, R-La.
"You're not going to increase defense spending without increasing non-defense spending," said Sen. Lindsey Graham R-S.C.
If the House approves its plan and sends it across the Capitol, senators will likely strip the defense provision and attach other provisions which can pass that body. One possibility is a restoration of cost-sharing reduction (CSR) payments to assist lower-income people with health care. President Trump canceled the payments in October. Senate Health Committee Chairman Lamar Alexander, R-Tenn., and the top Democrat on the panel, Sen. Patty Murray, D-Wash., authored a new CSR plan.
But an exasperated Murray threw up her hands when asked if CSR's would wind up on the interim spending plan.
"I'm asking the Republicans and they don't know," said Murray.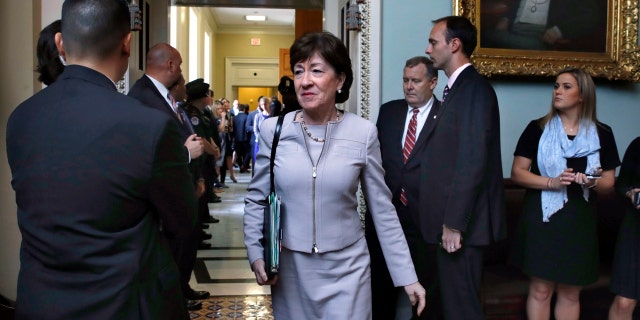 Sen. Susan Collins, R-Maine, announced her support for the tax bill, which repeals ObamaCare's mandate that individuals purchase health coverage. CSR assistance is imperative to Collins.
"I have always believed that Alexander/Murray (the bipartisan CSR plan) would be addressed at the end of the day," said Collins.
But House conservatives may balk if the Senate attaches that provision to the bill.
The House Appropriations Committee released its third emergency spending bill to cover the cost of hurricanes and wildfires late Monday to the tune of $81 billion. Congress has already coughed up $52 billion in disaster relief. Congressional leaders could persuade bipartisan lawmakers to support an overall spending plan if the supplemental disaster assistance is merged with the temporary bill government funding bill. That strategy could lure lawmakers from hurricane devastated states like Florida and Texas. They've now heaped relief for those stricken by wildfires onto the package, too. That will lure California lawmakers to vote yes.
Lawmakers of both parties want to help those in need. But they'll wince at such an eye-popping price tag.
Congressional Democrats contend Republicans haven't really consulted with them about what they would need to vote for an interim spending plan. House Democrats aren't expected to vote yes on anything – unless Republicans can't approve a bill on their own and come on bended knee. Many Democrats would require Republicans to latch a permanent fix to the Obama-era DACA program to the spending package. Hooking DACA to a spending bill to attract Democratic votes doesn't appear to be in the cards – yet.
It's a red line for Sen. Kennedy.
"I will vote to shut down the government if they try to stuff something in the bill that shouldn't be there," said Kennedy. "If they wanted to add immigration -- such as DACA -- I wouldn't vote for the bill."
The government closes if conservatives dig in or go to the mat with the Senate. Republicans could then snatch defeat from the jaws of victory, trampling all over their tax reform win.
This is why House Republicans may have to accept a "crap sandwich" if they want to avoid a government shutdown – in this case, a stopgap spending bill which no one wants but Congress may have to eat.
Capitol Attitude is a weekly column written by members of the Fox News Capitol Hill team. Their articles take you inside the halls of Congress, and cover the spectrum of policy issues being introduced, debated and voted on there.