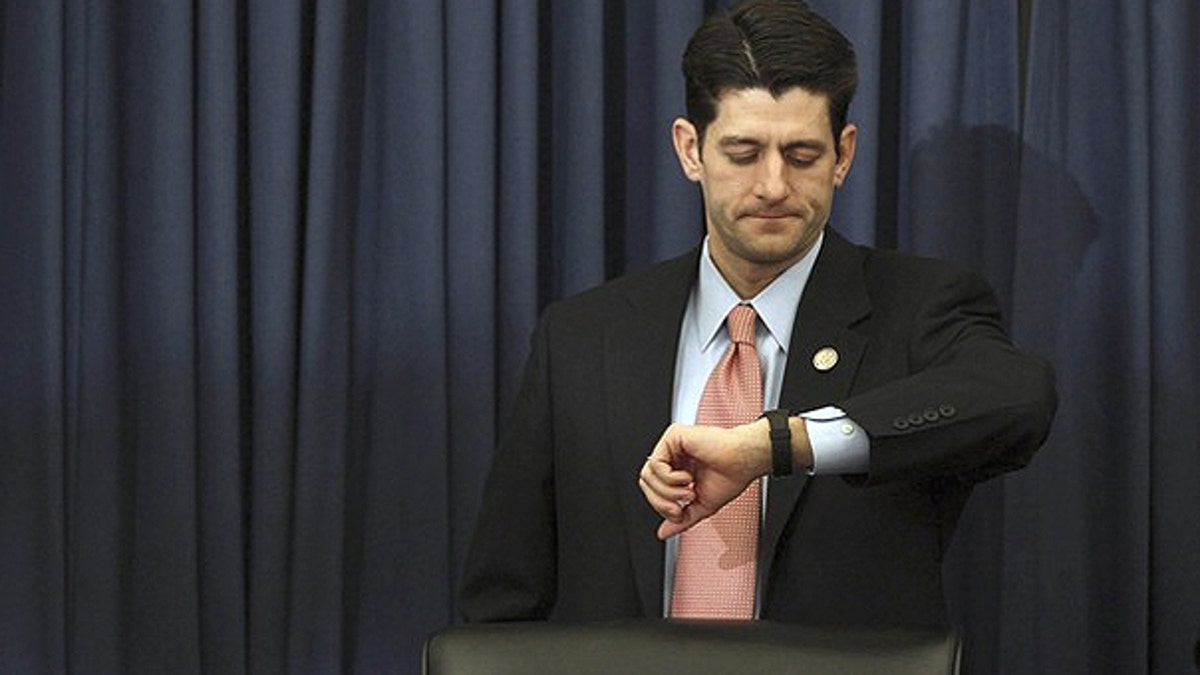 House Republicans unveiled a budget proposal Tuesday that they claimed would avert a debt-driven "economic collapse" by cutting more than $6 trillion over the next decade.
The proposal, unveiled by House Budget Committee Chairman Paul Ryan, R-Wis., would overhaul two major entitlement programs and impose caps on government spending, with the goal of stabilizing and eventually paying down the debt. It is literally trillions of dollars apart from the budget President Obama released earlier in the year, and its release marks the start of what is expected to be a drag-out budget fight in Congress.
"Our goal here is to leave our children and our grandchildren with a debt-free nation," Ryan said Tuesday. The congressman had tough words for Obama's 10-year budget plan, accusing the White House of speeding up the country's "descent into a debt crisis" by growing government.
He also defended what is arguably his most controversial proposal -- an overhaul of Medicare which would subsidize private insurance policies for seniors.
"The open-ended, blank-check nature of Medicare's subsidy mechanism is threatening the solvency of this critical program, and it is creating inexcusable levels of waste," Ryan said Tuesday afternoon, in a speech at the American Enterprise Institute.
White House Press Secretary Jay Carney said that while the president shares Ryan's goal of tackling entitlements and balancing the budget, "We strongly disagree with his approach." He said the plan would put a "greater burden" on seniors and others in need.
Rep. Chris Van Hollen, D-Md., Ryan's Democratic counterpart on the Budget Committee, accused Ryan of leaning too heavily on spending cuts to make up for tax breaks to corporations.
"It is not courageous to protect tax breaks for millionaires, oil companies, and other big money special interests while slashing our investments in education, ending the current health care guarantees for seniors on Medicare and denying health care coverage to tens of millions of Americans," he said. "That's not courageous. It's wrong."
But Republicans claim the tax code changes will spur economic growth, and that the changes to Medicare will ultimately save the program.
Obama's 10-year budget proposal would cut deficits by $1.1 trillion, according to the White House. Compared against Obama's plan, the GOP counterproposal claims to cut deficits by $4.4 trillion. Republicans say they would cut spending by $6.2 trillion compared with the president's budget.
Ryan says the "Path to Prosperity" plan will bring federal spending to below 20 percent of gross domestic product, less than Obama's 23 percent and consistent with the postwar average. Though it contains trillions in spending cuts, it still would not come close to paying down the nation's currently $14 trillion debt by the end of the decade. However, a chart released by House Republicans projects that happening by about 2050 under the GOP plan.
In a Wall Street Journal column, Ryan cited a study released by the conservative Heritage Center for Data Analysis projecting his plan will create nearly 1 million new private-sector jobs next year, reduce the unemployment rate to 4 percent by 2015 and add 2.5 million more private-sector jobs in the last year of the decade.
The plan, which Ryan outlines in a video made available on YouTube, also proposes welfare reforms in the way of Medicaid block grants, a consolidation of job-training programs and changes to food-stamp distribution.
On the Medicaid proposal, 17 governors wrote to Congress this week claiming the plan would "shift costs and risk to states."
The GOP plan also calls for reforms to the nation's "outdated tax code, consolidating brackets, lowering tax rates, and assuming top individual and corporate rates of 25 percent," Ryan wrote. "It maintains a revenue-neutral approach by clearing out a burdensome tangle of deductions and loopholes that distort economic activity and leave some corporations paying no income taxes at all."
Among some of the likely more controversial plans are efforts to end the conservatorship of mortgage giants, an elimination of Wall Street bailout authority and a rollback of "expensive handouts for uncompetitive sources of energy."
The GOP proposal coincides with the ongoing debate over the remainder of the fiscal 2011 budget. Both parties are trying to hammer out a half-year budget before the deadline for a partial government shutdown Friday. Obama invited Speaker of the House John Boehner to the White House Tuesday for a meeting with Vice President Joe Biden, Senate Majority Leader Harry Reid and top negotiators on the appropriation committees in the hope of fostering a solution for the rest of the year.
As for the GOP proposal for 2012, Ryan knows that it is ambitious and expects Democrats to attack the plan, including revisions to Medicare's entitlement system. Social Security would largely remain untouched.
For Medicare, Ryan says the GOP proposal will be modeled after the "premium support" system outlined in an earlier proposal co-authored by him and former White House Budget Director Alice Rivlin. Such a proposal would provide a fixed amount of government assistance toward premiums in the private health plan of seniors' choosing. The program would go into effect for new beneficiaries starting in 2022 and, according to Republicans, offer more money for low-income seniors and less for the wealthy.
"Our social safety net is fraying at the seams," Ryan said Tuesday.
Democrats have been quick to pounce on Ryan's budget, accusing him of sparing oil and gas subsidies at the expense of seniors.
"Paul Ryan made clear that the Republican budget will protect Big Oil companies subsidies over seniors health care," Jesse Ferguson, spokesman for the Democratic Congressional Campaign Committee, said in a statement over the weekend. "It's already becoming clear who will be the priority in the House Republican budget -- special interests, not middle-class families."
Fox News' Chad Pergram contributed to this report.