GOP Forces Senate to Delay Vote on $410B Spending Bill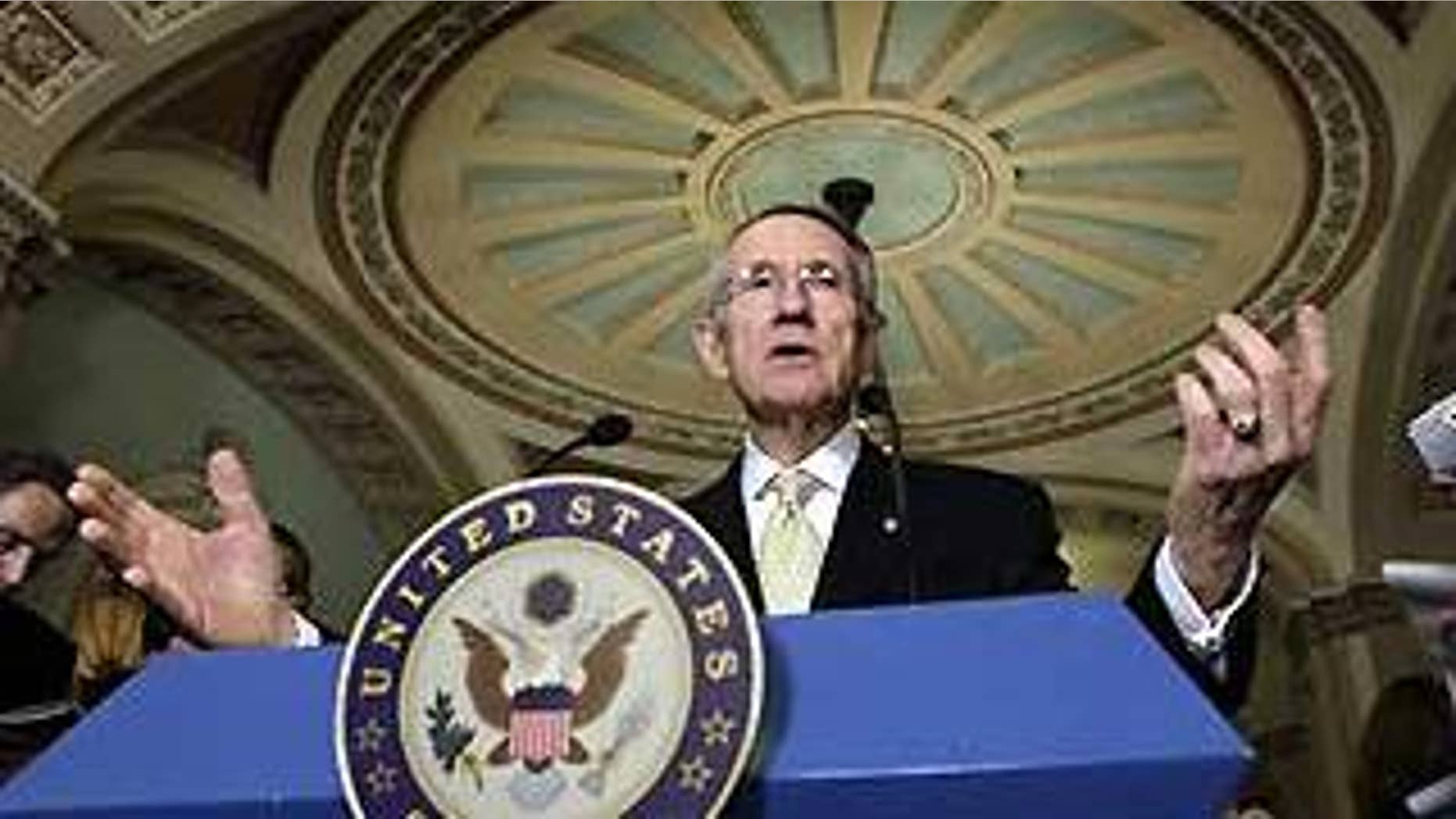 Senate Democratic leaders are still coming up short as they work furiously behind the scenes to gather up 60 votes to pass a $410 billion spending bill that funds the government through September.
Senate Democratic Leader Harry Reid of Nevada said Thursday night that he was one vote short of the votes needed despite calling Senate Appropriations Committee Republicans to try to secure support from about six of them. A vote had been scheduled for Thursday evening, but now the bill is on hold at least until Monday, meaning that for now most government departments will have to continue operating at 2008 spending levels.
Earlier Thursday, Reid said he had only three solid "yes" votes from the GOP: Sens. Thad Cochran of Mississippi, Richard Shelby of Alabama and Olympia Snowe of Maine.
Concern is high enough that the leadership team canceled a weekly background briefing with reporters in order to shore up the vote.
Among the targeted committee Republicans: Sens. Arlen Specter of Pennsylvania, Lamar Alexander of Tennessee, Bob Bennett of Utah, Lisa Murkowski of Arkansas and Kit Bond of Missouri.
Specter and Alexander have both complained that not enough Republican amendments are being considered. Specter, in a floor speech, said, "I'm inclined to vote against cloture."
Cloture is a tactic used by the majority to shut off a filibuster. It takes 60 votes to shut off debate and move to final passage.
Alexander says he's especially concerned about amendments to deal with the District of Columbia school vouchers program and another concerning Cuba.
Murkowski has introduced an amendment that would strip language returning the polar bear to the nation's protected species list. The senator says that studies have shown the bear is not threatened and that any protections of the animal would endanger infrastructure projects much needed in these depressed economic times.
If her amendment does not pass, the senator is considering voting against the bill. "I haven't been told how anyone intends to reconcile the issue, and if it's left hanging, not only is my state threatened but others are, too...This is a very serious issue," Murkowski said.
The omnibus spending bill, which wraps in a number of spending bills not passed in 2008, opens up trade and travel to Cuba, a move that incited the ire of Cuban-born Sen. Bob Menendez, D-N.J., and Sen. Bill Nelson, D-Fla., whose state contains a large number of Cuban-born Americans opposed to lifting the embargo.
Menendez, who favors the current embargo, as well, said in a floor speech on Monday that the provisions are "so deeply offensive to me and so deeply undemocratic that it puts the omnibus appropriation package in jeopardy despite of all of the other important funding that this bill would provide."
A Senate Democratic leadership aide told FOX News the Treasury Department is expected to put out a document soon that would quell the concerns of the two Democrats, clearing the way for them to support the omnibus.
Reid cannot afford to lose their votes, as he has already lost the votes of Democratic Sens Evan Bayh of Indiana and Russ Feingold of Wisconsin.
The omnibus changes current U.S. government policy in another way that is also ruffling the feathers of many members, possibly even some Democrats. The experimental District of Columbia school vouchers program, which expires without Congressional reauthorization at the end of this school year, is eliminated in the spending bill after 2010, extending the program by one year. The problem is, the bill also stipulates that that any reauthorization must also be approved by the D.C. City Council, known to be opposed to the program.
And the Obama administration waded into the fray against ending the program on Wednesday. Education Secretary Arne Duncan said that D.C. kids now receiving vouchers should stay in the schools they are now in, though he is opposed to vouchers more broadly.
The program, which provides up to $7,500 a year in tuition for low-income children to attend participating private schools, has some pretty powerful spokesman. Three were brought to the Capitol today by Republicans senators to make their case.
Young Richard Holassie stood bravely before reporters and TV cameras to announce, "The school I am in is getting more and more high grades" because of the D.C. Opportunity Scholarship Program.
"What we need is right here," he said.
Sen. John Ensign, R-Nev., said he is working to get support for an amendment to strip out the voucher language, but it is unclear if he'll get a chance for a vote.
"There will be no changes to this bill," said one senior Senate Democratic leadership aide, indicating that Ensign is not likely to get a vote.
House Speaker Nancy Pelosi, D-Calif., has held strong to her position that no changes would be supported by the other chamber, but this ironically leaves Reid and other Senate Democratic leaders in a bind, making it easier for Republicans to defeat the bill.
Another senior Democratic leadership aide confirmed to FOX News that the voucher issue is causing problems. It is unclear how this will be resolved. It is a program that most Democrats, and the Obama administration, do not want to continue. But no one is anxious to toss kids out of their schools, especially when two students hurt by the changes would be removed from the private school attended by Malia and Sasha Obama.