GOP Debate Features Brawl over Immigration and Health Care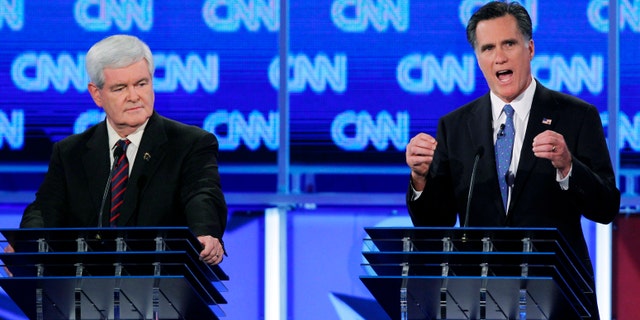 In the last debate before Florida Republicans cast ballots in Tuesday's primary, the remaining four candidates--Newt Gingrich, Ron Paul, Mitt Romney, and Rick Santorum--vying for the GOP presidential nomination, attacked each other as much as President Obama on immigration, housing, foreign policy, trade with Latin America, health care, and job creation.
"Our problem isn't 11 million grandmothers."
The first shot fired in Jacksonville was over immigration which should come as no surprise given that the Sunshine State is the first primary where Latino voters' participation is significant. The field's top contenders, Mitt Romney and Newt Gingrich, went mano a mano in the CNN-sponsored debate over how to deal with the estimated 11 million undocumented immigrants in the U.S. The former Speaker of the House, who was the first candidate to outline a "compassionate" approach in the Fall, continued advocating for a guest worker program, insisting English be the official language of the U.S. government, and offering residency--not citizenship--to undocumented immigrants who have been in the country for decades and have citizen children and grandchildren.
On immigration, rival Mitt Romney – once thought to be the GOP frontrunner but who lost South Carolina to Gingrich, Iowa to Santorum in a recount, and in some recent polls is locked in a dead heat in Florida with the former Speaker – deflected his hardline by focusing on legal immigration, continuing to push for "self-deportation," demanding Gingrich pull a Spanish language radio ad calling him "anti-immigrant" which junior Florida Senator Marco Rubio denounced, even claiming his father was born in Mexico. To the Former Speaker's depiction of Romney as a leader who would deport abuelitas, the former Massachusetts governor shot back to loud cheers from the audience, "our problem isn't 11 million grandmothers."
"Right"
A question on the continuing housing crisis--a particularly raw issue in Florida, the state with the highest rate of delinquent home loans or in foreclosure--provoked some of the most heated exchanges between Romney and Gingrich. At issue is the role of government-backed loan giants Freddie Mac and Fannie Mae in the mortgage mess that touched off the global financial crisis and Freddie/Fannie profits earned by both men. After Romney attacked Gingrich's lucrative consulting--to not say lobbying--contracts with Freddie Mac, the former Speaker fought back, accusing Romney of making money from investments in these entities. The former Massachusetts governor's defense of his gains as coming indirectly from investments in mutual funds turned into offense when he reminded Gingrich that he also profitted from mutual funds invested in these companies, stunning the former Speaker into sheepishly answering, "Right." Romney had delivered a knockout punch.
"Romney-care"
Latina Forced to Withdraw Candidacy over English Proficiency
Rick Santorum also landed some strong jabs, playing to Latinos watching with hardline answers on Cuba which drew applause and cheers (as did Ron Paul's opposite response advocating a stop to the cold war "red meat" thrown to the powerful Cuban-American community and an opening of a dialogue with a nation that he stated no longer posed a threat of invasion). The former Pennsylvania Senator launched fierce criticisms of President Obama's foreign and trade policies which he characterized as deplorable, neglectful, and contributing to the "pinking" of Latin America as demonstrated by the election of left-leaning governments such as Venezuela, Nicaragua, Bolivia, Ecuador, and Argentina.
But Santorum saved his most ferocious attack for the former governor of Massachusetts, who he slammed for "Romney-care," the universal health care legislation passed in the Bay State which served as a template for President Obama's federal version. Romney defended himself on grounds that he heeded to the desires of his constituents but vowed to repeal the federal law if elected President.
With the debate behind them, the GOP candidates are now in the final stretch, criss-crossing Florida as they try to secure votes for Tuesday's primary. The stakes are high for Mitt Romney who needs a decisive win to reclaim his frontrunner status; for Gingrich to deny this to Romney; for Santorum to finish strong to secure funding to hire the staff needed to continue; and for Paul to also stay in the race, either as a Republican or third party candidate.
Where Rick Santorum Stands on Latino Issues
Where Mitt Romney Stands on Latino Issues
Where Ron Paul Stands on Latino Issues
Where Newt Gingrich Stands on Latino Issues
Viviana Hurtado's blog The Wise Latina Club has won "Best Politics Blogger" awards by LATISM and Blogs by Latinas. She is a regular columnist for Fox News Latino. You can follow her on twitter at: @vivianahurtado
Follow us on twitter.com/foxnewslatino
Like us at facebook.com/foxnewslatino