GOP Blocks Controversial Obama Nominee Dawn Johnsen Before Recessing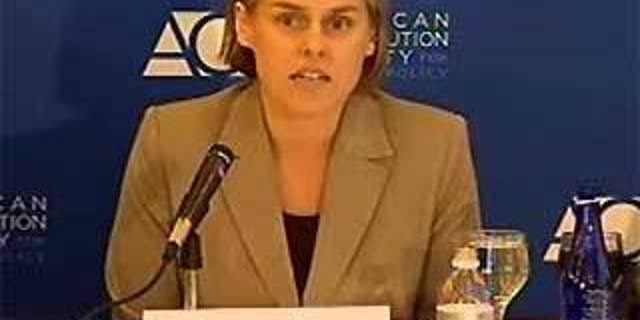 President Obama's controversial choice to head the Justice Department's Office of Legal Counsel is spending the holidays in limbo after Senate Republicans -- in a last jab at Democrats for passing a massive health insurance bill -- blocked her nomination and five others.
If confirmed, Dawn Johnsen, a law professor at Indiana University, would be in charge of the office that formulates the attorney general's formal opinions and provides counsel on the diciest legal questions, particularly the handling of Guantanamo Bay detainees and their impending move to the Thomson Correctional Center in Thomson, Ill.
On Dec. 15, Obama issued a directive for Attorney General Eric Holder to "acquire and activate the TCC as a United States penitentiary" and ordered Holder to "provide to the Department of Defense a sufficient portion of the TCC to serve as a detention facility" for detainees at Guantanamo Bay "who have been or will be designated for relocation."
That move angered GOP lawmakers like Sen. John Cornyn of Texas, who called the coming acquisition of Thomson fulfillment of "misguided campaign pledges made to appease his left-wing base."
Cornyn was also a critic of Johnsen when she came up before the Senate Judiciary Committee for confirmation in March. A former Texas state Supreme Court judge and now ranking Republican of the Senate Judiciary's Terrorism and Homeland Security Subcommittee, Cornyn took issue with Johnsen's criticism of the Bush administration's interrogation policies, much of which has been rescinded by Obama since he took office.
Johnson "has not demonstrated the seriousness and necessary resolve to address the national security challenges we face," Cornyn, echoed by other Republicans, said at her confirmation hearing.
During the hearing, other lawmakers expressed dismay at 20-year-old comments by Johnson comparing "forced pregnancy" with slavery.
In a brief filed when she was a lawyer with the National Abortion Rights Action League, Johnsen cited a footnote that said forcing women to bear children was "disturbingly suggestive of involuntary servitude, prohibited by the 13th Amendment, in that forced pregnancy requires a woman to provide continuous physical service to the fetus in order to further the state's asserted interest."
Johnsen told lawmakers at her hearing that she merely suggested an analogy in the footnote and "never believed the 13th Amendment had any role" in the abortion issue.
Before leaving for Christmas, Sen. Patrick Leahy, the head of the Senate Judiciary Committee, pounded Republicans for stalling on Obama's nominees, including Johnsen, Mary Smith for the Justice Department's tax department, and Christopher Schroeder, who would head to the legal policy office, among others.
"We promptly reported the president's nominees to head the Office of Legal Counsel, the Office of Legal Policy, and the Tax Division, and they each received Senate consideration in a matter of days or weeks after they were reported by the committee," Leahy said in a lengthy statement issued Wednesday.
"As with the judicial nominations, the Republicans have employed new standards of demanding a supermajority and floor time and delays to consider even nominations that could be confirmed easily, grinding our progress to a halt," he added.
Obama could give Johnsen a recess appointment, which would be good until the end of the 111th Congress in January 2011 or until she is confirmed, whichever comes first. Procedurally, Obama will need to renominate the nominees held over the recess.