Gingrich to leave presidential race next Tuesday, sources say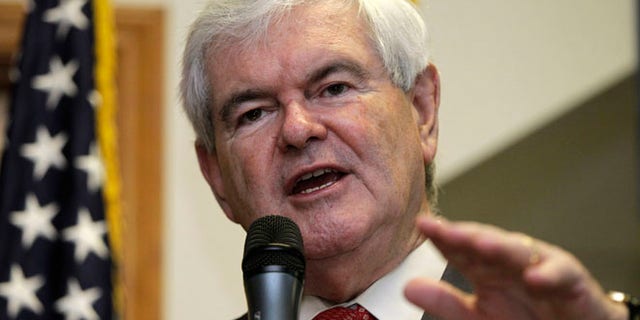 Newt Gingrich plans to formally leave the Republican presidential race next Tuesday, senior campaign aides told Fox News, after struggling for months to turn around his sagging bid for the White House.
The former House speaker will "more than likely" endorse Mitt Romney when he makes his announcement to either suspend or end the campaign, a source said.
The decision comes after Gingrich huddled with senior advisers following the five primaries Romney swept on Tuesday night. Romney's victories made it virtually impossible for Gingrich to secure the 1,144 delegates needed for the Republican nomination.
Gingrich's exit is a stark turnaround from his public posture just a few months back, when in December he confidently declared following his rise in national polls that he's "going to be the nominee." His campaign then flagged until his blockbuster victory in the South Carolina primary in late January -- Gingrich failed to follow that up with any victories save for a win in his home state of Georgia, as Romney marched steadily toward the nomination.
Gingrich and Ron Paul were the only Romney rivals remaining after Rick Santorum bowed out earlier this month. Meanwhile, Gingrich continues to receive protection from a scaled-back Secret Service detail, though it's unclear whether that will change before his announcement. Bloomberg/Business Week recently estimated that the detail is costing taxpayers at least $40,000 a day.
For several weeks, Gingrich staffers have been reviewing accounts and making preparations. Gingrich had been holding out hope for a strong performance at least in Delaware Tuesday night. Absent that, Gingrich decided to plan for his exit next week.
He will complete his North Carolina schedule this week, making it something of a goodbye tour while supporters, friends and family arrive from across the country for his departure from the race.
Earlier on the trail, Gingrich signaled Wednesday morning that he was preparing to drop out. Telling a breakfast gathering of county Republicans in North Carolina that it's clear Romney will be the nominee, Gingrich said the campaign is "working out the details of our transition" and will have more information in the coming days.
"I think you have to be honest at some point about what's happening in the real world as opposed to what you'd have like to have happened," Gingrich said, praising the front-runner's primary performances Tuesday night.
"This guy has worked for six years, put together a big machine, and has put together a serious campaign," he said. "I think obviously that I would be a better candidate, but the objective fact is that the voters didn't think that."
Gingrich said he plans to complete his campaign schedule in North Carolina, which runs through Friday, but "I want you to know that I've been coming here a long time as a citizen, I'm going to keep coming as a citizen, I have a schedule through the rest of the week as a citizen."
Gingrich said that he and Callista are still committed to going to Tampa, but made it clear that they would be attending as Romney supporters and not as spoilers for the nomination.
"I do think it's pretty clear that Gov. Romney is ultimately going to be the nominee and we're going to do everything we can to make sure that he is, in fact, effective and that we as a team are effective both in winning this fall and then, frankly, in governing," he said.
Fox News' Carl Cameron and Joy Lin contributed to this report.