'Gift' to Mnuchin was 'act of political theater,' says man claiming responsibility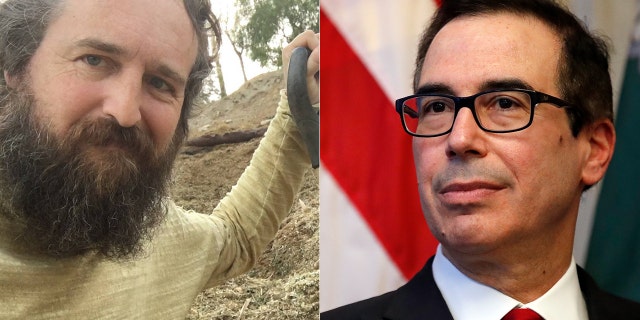 A man who claims responsibility for leaving a gift-wrapped box of horse manure outside the Los Angeles home of U.S. Treasury Secretary Steve Mnuchin reportedly defended the act Sunday.
Robby Strong, a Los Angeles psychologist, told AL.com that he was behind the prank that shut down streets in L.A.'s affluent Bel-Air neighborhood as a police bomb squad responded to a report of a suspicious package.
Strong called the stunt an "act of political theater" that was intended as a jab at Republicans.
"The thing I live by is a rule of transparency and I was exercising my First Amendment rights," he said. "A few years ago when [a Supreme Court ruling] said that corporations are persons and money equals free speech, that is so absurd and my rule of thumb is now that if corporations are free speech, then so is horse---t."
Strong posted three photos to Facebook on Saturday afternoon that appear to confirm he was behind the prank, AL.com reported. One photo shows him posing with a shovel next to a box, while another shows the manure inside the box.
The package was addressed to Mnuchin from "the American people" and was removed a short time after a Los Angeles Police Department bomb squad arrived at the scene.
The LAPD said the U.S. Secret Service was taking over the investigation. The Secret Service told the Washington Post on Sunday it was "aware of this matter," but referred all questions back to the LAPD.
Strong said he was interviewed by Secret Service agents, but was not arrested.
He told the newspaper that he hopes his stunt inspires more people to be aggressive with their activism.
"The fact that [Republicans] can be so brazen and act with such impunity tells me that we have to be more brazen with our activism and maybe a bit more aggressive," he said.