George H.W. Bush's heartfelt letter to Bill Clinton goes viral after his death
A heartfelt letter George H.W. Bush left for Bill Clinton after he won the presidency in 1992 has gone viral after the announcement of the 41st president's passing on Friday.
Family spokesman Jim McGrath said the former president of the United States died shortly after 10 p.m. Friday, about eight months after the death of his wife, Barbara Bush. He was 94.
Following the news of his death, tributes poured in for the former president from dozens of officials, including Presidents Trump, Obama, Clinton, Carter and his son George W Bush. However, a letter Bush wrote to Clinton in 1993 was making the rounds on the internet by people noting the former president's sincerity.
GEORGE H.W. BUSH, 41ST PRESIDENT OF THE UNITED STATES, DEAD AT 94
"When I walked into this office just now I felt the same sense of wonder and respect that I felt four years ago," the letter read. "I know you will feel that, too."
Bush informed Clinton there would be difficult times ahead but wanted him to know that he was on his side.
"I wish you great happiness here. I never felt the loneliness some presidents have described," the letter continued. "There will be very times, made even more difficult by criticism you may not think is fair. I'm not a very good one to give advice; but just don't let the critics discourage you or push you off course. You will be our president when you read this note. I wish you well. I wish your family well."
He concluded the letter saying he would be "rooting hard" for Clinton to succeed.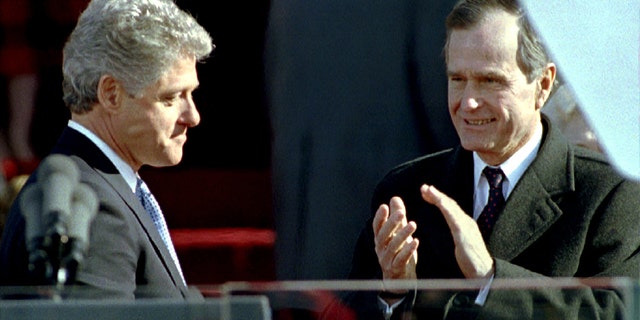 "Your success now is our country's success. I am rooting hard for you. Good luck," he concluded.
The letter was dated Jan. 20, 1993, the day of Clinton's inauguration.
GEORGE H.W. BUSH LOVED TO SKYDIVE, TOOK LAST JUMP FOR 90TH BIRTHDAY
Clinton released a statement following the death of Bush.
"Few Americans have been—or will ever be—able to match President Bush's record of service to the United States and the joy he took every day from it; from his military service in World War II, to his work in Congress, the United Nations, China, the Central Intelligence Agency, the Vice Presidency and the Presidency, where he worked to move the post-Cold War world toward greater unity, peace, and freedom," Clinton said in a statement.
Clinton and Bush had a strong relationship that continued to the former president's death. In June, Bush even donned a pair of socks with Clinton's face on them during a visit with the former commander in chief. 

Bush is survived by five children, including former President George W. Bush and former Florida Gov. Jeb Bush. A sixth child died in early childhood. The late former president also is survived by 17 grandchildren.