From reset button to Nazi talk, Hillary the hawk returns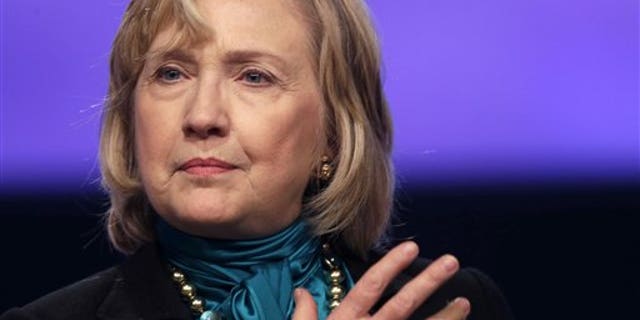 **Want FOX News First in your inbox every day? Sign up here.**
Buzz Cut:
• From reset button to Nazi talk, Hillary the hawk returns
• Organizing for access: Controversial donor got face time
• Obama projects $5.5 billion bailout for insurers
• Pryor disses Cotton's military service
• Are they high in D.C. or something?
FROM RESET BUTTON TO NAZI TALK, HILLARY THE HAWK RETURNS
Former Secretary of State Hillary Clinton put some distance between herself and the Obama administration on Russia's strong-arm tactics in Ukraine. Clinton, the 2016 Democratic frontrunner, compared recent Russian troop deployments in the region to policies implemented by Adolf Hitler's Nazi regime. "[This is like] what Hitler did back in the 30s," Clinton told donors at a charity event in California, according to the Long Beach Press-Telegram. "All the Germans that were ... the ethnic Germans, the Germans by ancestry who were in places like Czechoslovakia and Romania and other places, Hitler kept saying they're not being treated right. I must go and protect my people and that's what's gotten everybody so nervous.'" Later in her remarks, Clinton described Russian ruler Vladimir Putin as a man "who believes his mission is to restore Russian greatness ... When he looks at Ukraine, he sees a place that he believes is by its very nature part of Mother Russia." More
[A New Pew-USA TODAY poll shows 15 percent of respondent cite Benghazi as Former Secretary of State Hillary Clinton's most negative point in her career.]
Reset yourself - Clinton lost her last presidential bid in part because of liberal concerns over her hawkishness on Iraq and Afghanistan. That left the door open to then-Sen. Barack Obama who depicted her as a handmaiden of Bush-era aggression. When Clinton took her post as Obama's Secretary of State, she seemingly took on much of his geo-political view, including the belief that Russia is more of an ally than adversary. That most painfully revealed itself when Clinton presented her Russian counterpart with a "reset" button (albeit mistranslated). With sharp eyes on her next White House run, Hawkish Hillary has returned to the roost.
["There are moments when I look down, shake my head and say 'I can't believe we lost to these guys.' [Mitt Romney] was right, I think the President was incredibly naïve on his Russia policy. I think this is what happens when a superpower fills the vacuum." – Rep. Paul Ryan, R-Wis., on "The Kelly File"]
Putin plays Nazi card too - Fox News: "In the propaganda war raging over Ukraine's revolution, Russia is playing up claims of neo-Nazi involvement in the protests that toppled Viktor Yanukovych, alleging the far right is on the rise in the former Soviet republic and was crucial in the Ukrainian president's downfall…'We've seen lots of people, you know, with those signs -- armbands with swastikas,' Putin said Tuesday.
Is Hillary getting ready for a libertarian? - Sen. Rand Paul made his clearest sign yet that he's preparing a 2016 run, as he asked state officials in Kentucky to clear him for a dual Senate re-election while seeking another federal office. He's part of a growing non-interventionist wing of the GOP, a movement that has many establishment Republicans alarmed. With Clinton soaring above potential Democratic challengers and her turn seemingly having arrived, a more hawkish stance would give her a chance to peel off more moderate Republican voters concerned about the libertarian direction of the party. It might de-motivate the Democratic base, so she will have to use sparingly.
Baier Tracks: Historical 'Iron'-y…
A little historical irony today: On this day 68 years ago at Westminster College in Fulton, Mo. former British Prime Minister Winston Churchill delivered one of the most famous speeches of the 20th century, now considered one of the opening rhetorical shots of the Cold War. In his 'Iron Curtain' speech, Churchill condemned the Soviet Union's policies in Europe and declared, 'From Stettin in the Baltic to Trieste in the Adriatic, an iron curtain has descended across the continent.' Specifically, Churchill warned against the expansionistic policies of the Soviet Union and advised that in dealing with the Soviets there was 'nothing which they admire so much as strength, and there is nothing for which they have less respect than for military weakness.' The speech was warmly received by then-President Harry Truman, a Missourian, who was on stage with Churchill. The question is, 68 years later, could Churchill's warnings apply to a former KGB agent named Vladimir Putin. And how would Churchill's speech be received by the Obama administration, which at least so far, insists Putin wants an 'off-ramp' to the situation and a communication strategy that seems to center around making sure everyone understands that this is not 'Rocky IV.'" – Bret Baier.
ORGANIZING FOR ACCESS: CONTROVERSIAL DONOR GOT FACE TIME
Organizing for Action, the continuation of President Obama's 2012 campaign as a no-limits fundraising machine is in hot water. The NYT reports OFA "…acknowledged Tuesday that its executive director had set up a White House meeting for a New Jersey businessman entangled in a lawsuit with a federal agency, who then pledged to raise $100,000 for the group one day after the meeting. The group… also said that on three occasions its fund-raisers or other employees had tried to steer potentially controversial donations to allied liberal groups that did not disclose their donors. The contributions include the check promised by the businessman, written by an acquaintance reportedly seeking a presidential pardon for a 1991 Medicare fraud conviction. Organizing for Action did not accept the contribution, and no evidence has emerged that the administration took action to help either man. Last week, the group fired the fund-raiser involved in soliciting the $100,000 contribution, Samantha Maltzman. But the revelations…thrust into controversy an organization that had hoped to play a major role in advancing Mr. Obama's second-term agenda but has faced criticism since its inception for providing big donors with access to the president and some of his closest aides." Headed by Obama's former campaign manager Jim Messina, OFA is the first permanent campaign apparatus operated for a re-elected president, a move that caused considerable anxiety among watchdogs left, right and center.
OBAMA PROJECTS $5.5 BILLION BAILOUT FOR INSURERS
President Obama has given his first estimate for how big the initial bailout for insurers will be under his signature health law: $5.5 billion. Democrats prefer the name "risk-corridor," but the taxpayer-funded pool to keep private insurers afloat amid ObamaCare upheavals will surely sound to voters like a bailout. And based on prior experience, we can expect that number to be a low estimate. More from The Hill.
[Fox News: "President Obama's budget pushes Health and Human Services spending over $1 trillion for the first time, reflecting an aging population adding to the Medicare rolls, as well as expanded coverage for younger people through the new health law.]
E-mails show White House knew about Sebelius buck raking - Washington Examiner: "White House officials have said they did not sign off on calls made by [Health Secretary Kathleen Sebelius] to solicit donations from private entities for Enroll America, an outside nonprofit with close White House ties that promotes enrollment in [ObamaCare]. Officials say they were only generally aware Sebelius would be seeking support from outside groups. …emails show that White House Office of Public Engagement staffers participated in weekly conference calls with HHS and Enroll America. The emails also show that the agenda of these phone meetings included Sebelius' calls to outside entities, high-level operational planning and more focused outreach with private partners through senior White House aides."
They weren't Sooners this time - Oklahoma, like many states, is falling far short of its ObamaCare targets. With 26 days to go before the March 31 deadline, Tulsa's KTUL says just 24,000 Oklahomans have signed up – just 24,000 of the 575,000 enrollees needed to meet the state's ObamaCare quote.
[A law so important, it can't be enacted - From a new Power Play column: "As vulnerable Democrats press for another unilateral delay of a key provision of ObamaCare, surely many in the party have come to wonder if the law is really worth all of this trouble. If it's not worth enacting, is it really worth losing the Senate over?"]
WE'RE NOT LERNER-ING ANYTHING
Former IRS official Lois Lerner is still not talking. She appeared again today in front of House investigators probing the targeting of conservative groups by the tax agency. House Oversight Committee Chairman Darrell Issa, R-Calif., asked multiple questions of Lerner, who repeatedly replied that she wouldn't be responding, invoking instead her constitutional right against self-incrimination.
[New Today at Fox News Opinion: Jay Sekulow offers four questions Lois Lerner must answer.]
WITH YOUR SECOND CUP OF COFFEE...
John Stossel slices up budget baloney for Fox News Opinion: "Do voters not know that government has no money of its own, so when politicians 'create' jobs, they take money from the private sector, the only group that creates real jobs? I emphasize 'real' because, of course, politicians can create jobs by funding companies like Solyndra, hiring more staff or paying people to dig holes and fill them up. But those jobs don't last or create real wealth. Politicians can't create real employment by taxing people and giving the money to others."
Got a TIP from the RIGHT or LEFT? Email FoxNewsFirst@FOXNEWS.COM
POLL CHECK
Real Clear Politics Averages
Obama Job Approval: Approve – 43.1 percent//Disapprove – 52.7 percent
Direction of Country: Right Direction – 29.8 percent//Wrong Track – 63.2 percent
Generic Congressional Ballot: Democrats – 42 percent// Republicans 41.8 percent
[Poll Watch: The latest Fox News Polls on President Obama's approval, direction of the country, and which 2016 presidential contenders would make a good president, will be released during "Special Report with Bret Baier in the 6 p.m. ET hour]
PRYOR DISSES COTTON'S MILITARY SERVICE
Sen. Mark Pryor, D-Ark., took a swipe at the military service of his likely challenger, Rep. Tom Cotton, R-Ark., a veteran of Iraq and Afghanistan. In an interview with NBC News, Pryor said "I think that's part of that sense of entitlement that he gives off – is that, almost like, 'I served my country, let me into the Senate.' But that's not how it works in Arkansas.'" Pryor, the son of a former senator and governor who holds what once his father's seat, is likely the most vulnerable Senate Democrat this cycle. Pryor said Cotton's "blind ambition" will turn off voters. "There's a lot of people in the Senate that didn't serve in the military," Pryor observed.
THE RACE IN 90 SECONDS: HAGAN'S HARD HAUL
In the latest video from "Power Play with Chris Stirewalt," Chris tries to break down North Carolina's Senate race in just 90 seconds. See if he can beat the clock while you get up to speed on the latest on what is shaping up to be a tough slog for Sen. Kay Hagan, D-N.C. Watch it here.
CANCER PATIENT PRESSES PETERS ON OBAMACARE ATTACKS
Julie Boonstra, a leukemia patient who lost her health coverage because of ObamaCare, is defying a threatened lawsuit from Rep. Gary Peters, D-Mich., the presumptive Democratic Senate nominee in the race to replace retiring Sen. Carl Levin, D-Mich. Peters says that ads featuring Boonstra's story are false and should be banned from the airwaves. Boonstra, who has appeared in two spots for the conservative group Americans for Prosperity attacking the law, told Martha MacCallum on "The Kelly File" that she has tried to speak to Peters, including a visit to his home, but that he refused. "I'm reaching out trying to get answers and people are just refusing to talk to me and call me a liar" Boonstra said. "That's disappointing and hurtful."
Reid continues Koch binge - Hill: "Senate Majority Leader Harry Reid (D-Nev.) on Tuesday accused the Koch brothers of unlawful business practices in an effort to portray the conservative billionaires as election-year bogeymen."
PICK SIX: BROWN MEANS RED?
Republicans need to gain six seats in the Senate to take control of the upper chamber. Which six Democrat-held seats are the most vulnerable? The current consensus among Fox News First readers: Arkansas, Montana, Louisiana, South Dakota, North Carolina and West Virginia. Reader Randy Johnson asks: "When will [former Massachusetts Republican Senator] Scott Brown decide? NH could easily go red if he says YES."
Share your top six picks. Email them – just your top six, please – to FOXNEWSFIRST@FOXNEWS.COM or tweet @cstirewalt.
OBAMA'S PICK FOR TOP DOJ POST PUTS DEMS IN A JAM
It's a tough time for Senate Democrats to have to consider President Obama's appointment of the former lawyer of a cop-killer who is celebrated by the far left, but a vote on the controversial nomination is scheduled for today. From the WaPo: "More than 30 years have passed since the Mumia Abu-Jamal was convicted and sentenced to death for the killing of Philadelphia Police Officer Daniel Faulkner. But the case remains an internationally-known political lightning rod. And, this week, lightning is striking in D.C. The latest incarnation of the Abu-Jamal trial comes as it threatens to derail the nomination of Debo P. Adegbile, President Obama's nominee to head the Justice Department's Civil Rights Division. He previously worked as legal counsel to the NAACP's Legal Defense Fund, which helped Abu-Jamal get his death sentence overturned and has represented him at various points since… Faulkner's widow, the Fraternal Order of Police, and Sen. Pat Toomey (R-Pa.) have mounted a crusade to block the nomination. And recent developments suggest they might prevail. … The first sign that the Adegbile nomination could be in real trouble came last week, when Sen. Bob Casey (D-Pa.) said he would not vote in favor of confirmation… Senators facing a difficult vote include: Mark Begich (D-Alaska), Kay Hagan (D- N.C.), Mary Landrieu (D-La.), Mark Pryor (D-Ark.), Jeanne Shaheen (D-N.H.), and Mark Warner (D-Va.)." – Watch Fox: Correspondent Shannon Bream is following the hearing.
OBAMA ON MIDTERMS: 'WE GET A LITTLE SLEEPY'
Washington Examiner: "President Obama on Tuesday warned [donors that] 'Democrats are really good at presidential elections these days, if I do say so myself,' said Obama at a fundraiser for the Democratic Senatorial Campaign Committee in McLean, Va. 'But there's something about midterms. We get a little sleepy," he continued. "We don't turn out the vote. That has to change.'"
[Wake up and give me a check! -President Obama heads to Boston today for a pair of small fundraisers for the Democratic National Committee. One will include just 25 donors, and another has a guest list of only 70.]
AND THEY'RE OFF: PRIMARY SEASON STARTS WITH TEXAS VOTE
AP: "Incumbent [Sen.] John Cornyn, [R-Texas,] has crushed Tea Party-backed U.S. Rep. Steve Stockman [59 percent to 20 percent] and six lesser-known primary challengers to win Texas' Republican nomination for U.S. Senate… Cornyn has been dubbed too moderate by a small group of tea party activists. He faced a last-minute challenge from the right by Stockman, a fierce conservative and House renegade. But Stockman struggled to raise money. He did little organized campaigning, ignoring the media and alienating many top Texas grass-roots organizers."
Long-serving Hall faces runoff - AP: "Ralph Hall, seeking an 18th and final term in his Texas congressional seat, did not win 50 percent of the vote in the Republican primary in Texas' 4th Congressional District…He'll face challenger John Ratcliffe in a May 27 runoff. The 90-year-old Hall is a World War II veteran who has served in Congress since 1980, and he had declared that this year's re-election campaign would be his last."
Abbott, Davis, coast in primaries - Fox News: "Texas Republican Attorney General Greg Abbott and Democratic state senator Wendy Davis cruised to victories in their respective gubernatorial primaries Tuesday and will square off in November to replace departing [Republican] Gov. Rick Perry."
Patrick forces runoff against Dewhurst - Dallas Morning News: "…Dan Patrick, riding a wave of GOP voter frustration with establishment politicians, zoomed past incumbent David Dewhurst to a first-place finish in the Republican primary for lieutenant governor Tuesday. While he still must face Dewhurst in a May 27 runoff, Patrick's commanding performance in his statewide debut electrified staunch conservatives and surpassed U.S. Sen. Ted Cruz's first-round performance in 2012. On Tuesday, Patrick finished with a double-digit lead over Dewhurst…"
Bush rises in the ranks - Fox News: "George P. Bush, the 37-year-old son of former Florida Gov. Jeb Bush, easily defeated businessman David Watts to secure the Republican nomination for Texas land commissioner Tuesday."
GRAYSON ACCUSED OF DOMESTIC VIOLENCE
Fox News: "Authorities are investigating after the estranged wife of Florida Democratic Rep. Alan Grayson accused him of domestic violence over the weekend, a charge a spokeswoman for the congressman is blasting as a "frivolous accusation" meant to damage his reputation. A spokesman for the Orange County Sheriff's Office confirmed to Fox News Tuesday a report in The Orlando Sentinel that the office is conducting a domestic-violence battery investigation into the accusations submitted in a report Sunday by Lolita Grayson. The paper reported that Lolita Grayson, who filed from divorce from the congressman in January after nearly 24 years of marriage, claimed her husband pushed her against a door after showing up unannounced at their home. Lolita Grayson said she fell to the ground, and kneed Rep. Grayson in the stomach to defend herself. She then called 911. Lolita Grayson said that the congressman also told her in the presence of their children he planned to leave her 'in the gutter' and would give her nothing in the divorce…Grayson's spokeswoman Lauren Doney said Tuesday the congressman firmly denies the 'frivolous' allegations made by his wife, and that witnesses at the scene also have stated her version of events is an "outright lie." Doney claims Lolita Grayson was the one who attacked Rep. Grayson, and he did not respond to the assault."
DEM TRIES DO-WOP DITTY FOR MEDISCARE
Florida Democratic congressional hopeful Alex Sink announced the backing of Jon 'Bowzer' Bauman, formerly of the 1970s do-wop revival group Sha-Na-Na. Bauman will campaign for Sink at senior centers across the district ahead of next weeks' special election to fill a seat left vacant by the death of Rep. Bill Young, R-Fla. Voters will receive an automated call from Bauman: "You know, I love the music of the 50's, but that does not mean I want to go back to a time before Medicare. Alex is running on a pledge to protect and preserve Medicare …If you are a senior, the choice is clear. Bom-ba-ba-bom-ba-ba-bom-ba-ba-bom, Dang-dang-dang-dang ding-a-dong-ding….vote for Alex Sink."
FIGHT NIGHT AT AEI: TEA PARTY VS. ESTABLISHMENT
The American Enterprise Institute is hosting a debate between Chris Chocola, head of the free-market, conservative Club for Growth, and Steve LaTourette, head of the pro-business, moderate Main Street Partnership. The two political action groups are on opposite sides of a pitched battle that will play out in GOP primaries across the country this year. The two congressmen-turned-activists will debate this question: Are tea partiers hampering the conservative cause or is the GOP establishment to blame? Washington Examiner's Tim Carney, a visiting fellow at the think tank, will moderate. The event starts at 5:30 p.m. ET. You can watch live here.
ARE THEY HIGH IN D.C. OR SOMETHING?
The District of Columbia is taking a big step toward decriminalizing recreational use of marijuana, with Mayor Vincent Gray poised to sign a council-passed measure that would make possession of up to an ounce of pot the criminal equivalent of a parking ticket – a $25 fine and no charges on the offender's record. U.S. Park Police won't go so easy on the Mall and other federally patrolled areas, but the rest of the city is set to become a safer space for smoking, though public puffers will be subject to the same fine for those nailed under public intoxication statutes. As USA Today reports, cops won't be able to act on the skunky smell of pot, but would actually have to see smoke before investigating.
AND NOW, A WORD FROM CHARLES…
"That's not a blink. That's a KGB agent lying through his teeth, which is what they train to do for all of their lives. I mean, when Hitler went into the Sudetenland, he claimed it was in response to a desire on the part of the population. This is what all dictators do. The idea that somehow it's a blink, because he's waiting to see if he wants to take the rest of Ukraine, and that's a sign of weakness? I think it's delusional." – Charles Krauthammer, on "Special Report with Bret Baier"
Chris Stirewalt is digital politics editor for Fox News. Want FOX News First in your inbox every day? Sign up here.