Fox News Polls: Kansas Senate race tightens after Dem drops out, other battlegrounds remain close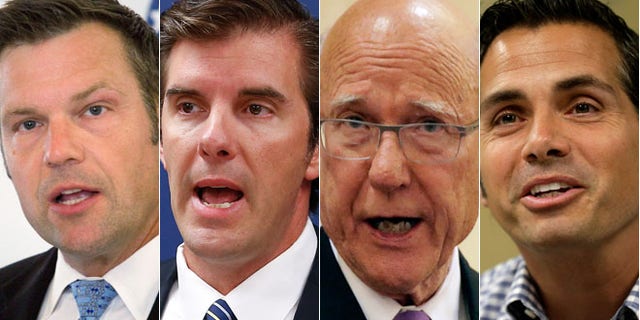 What's happening in Kansas?
After the Democratic candidate dropped out earlier this month, a new Fox News poll of Kansas likely voters shows long-time Republican Sen. Pat Roberts is in trouble.That's right.In Kansas, a state that isn't just red, it's deep red.
On another front, majorities of likely voters in four battleground states, including Kansas, are unhappy with President Obama's job performance and don't feel the country is better off since he took office. That's according to the first round of Fox News statewide likely voter polls.They were conducted in Iowa, Kansas, Louisiana and North Carolina.
The polls, released Wednesday, show control of the U.S. Senate is still up for grabs. Each of the Senate races in these states is extremely tight. No Senate candidate leads outside the poll's margin of sampling error. In addition, no Senate candidate receives the backing of 50 percent of their electorate.
Here's how the numbers breakdown state-by-state:
Kansas
The Kansas Senate race is complicated. Democrat Chad Taylor withdrew from the race Sept. 3, yet his name may still appear on the November ballot. When he's included as a candidate, the poll finds he receives 11 percent, while incumbent Republican Pat Roberts garners 40 percent and independent Greg Orman comes in at 38 percent. Another two percent would vote for Libertarian Randall Batson.
Click here for the Kansas poll results.
The Kansas State Supreme Court heard the case of whether Taylor's name can be taken off the ballot Tuesday.The court's decision is expected soon so ballots can be printed.
Among Democrats, 61 percent back independent Orman and 28 percent would still vote for Taylor. Seven in 10 Republicans support Roberts, while nearly one in five back Orman (18 percent). Over half of independents prefer Orman (56 percent), while 18 percent back Roberts and 11 percent Taylor.
Taking Democrat Taylor out of the race gives the independent the edge. If the race were between only Orman and Roberts, voters pick the independent over the three-term GOP incumbent by 48-42 percent.
The 78-year-old Roberts has served in the Senate since 1997. His seat was considered a safe Republican hold in the red state until Taylor dropped out earlier this month.
The changing nature of the race seems to have left the Kansas electorate in flux: three in 10 say they could change their mind (29 percent).About three-quarters of both Roberts' (74 percent) and Orman's voters (71 percent) feel certain they will back their candidate.
Obama's job rating in Kansas is similar to his rating nationally: 40 percent of likely voters approve, while 55 percent disapprove. Most voters who disapprove of Obama back Roberts (64 percent), but nearly one in four supports Orman (23 percent).
When asked if the country is better off than it was before Obama took office, 37 percent say yes, while a 56-percent majority disagrees.
Half of Kansas voters think the new health care law "went too far" (50 percent), while 22 percent feel it should have done more.Twenty percent say "about right."
Iowa
Democrat Bruce Braley and Republican Joni Ernst are tied among likely voters in the Iowa Senate contest at 41 percent each.
Click here for the Iowa poll results.
The candidates are vying to fill the seat being vacated by retiring Democratic Sen. Tom Harkin.
Most voters are certain of their choice, including 84 percent of those who plan to vote for Braley and 83 percent of Ernst's supporters. Still, overall about one voter in five (19 percent) says they could change their mind before November 4.
The gender gap has women backing the male Democrat Braley (44-36 percent), while men are leaning toward the female Republican Ernst (45-37 percent).
Independents split their vote as well:35 percent for Ernst vs. 34 percent for Braley. Another 22 percent is undecided.
White born-again Christians prefer Ernst by a spread of 51-28 percent.
Iowa likely voters disapprove of the job Obama is doing by 57-38 percent, and by a similar 54-37 percent margin they say the country is not better off today than it was in 2008.
While 82 percent of voters who approve of Obama back Braley, just 67 percent of voters who disapprove support Ernst. Braley captures 14 percent of Obama disapprovers. Same story on the question of whether the country is better off today:76 percent of those saying we are better off support Braley, while 64 percent of those saying we're not go for Ernst.
Fifty percent of Iowa likely voters say ObamaCare "went too far," while 19 percent say it "didn't go far enough." Under a quarter think it's "about right" (22 percent).
Louisiana
Democratic incumbent Mary Landrieu trails Republican challenger Bill Cassidy by 31-35 percent in the four-way trial heat among Louisiana likely voters. Republican Rob Maness garners the backing of seven percent and Libertarian Brannon McMorris comes in at two percent.
Click here for the Louisiana poll results.
In a two-way runoff, the Fox News poll finds Cassidy tops Landrieu by 13 points (51-38 percent).
Landrieu is staying competitive despite the poor marks Obama receives in Louisiana -- a Republican-leaning state and his worst of the four tested.The president's 34 percent job approval rating is lower and his 61 percent disapproval is higher than in the other states.Six in 10 Louisiana voters say ObamaCare "went too far" (61 percent). And just 31 percent -- fewer than anywhere else -- say the U.S. is better off today than when Obama became president.
A quarter of likely voters in the Bayou State say they could change their mind before Election Day (26 percent). Eighty-five percent of Landrieu's backers are certain they will vote for her. That's far more than the 71 percent of Cassidy's supporters who are certain.
Independents split their support 31 percent for Cassidy, 28 percent for Landrieu and 12 percent for Maness. In the runoff, independents pick Cassidy over Landrieu by 45-38 percent.
North Carolina
Incumbent Democrat Kay Hagan bests Republican Thom Tillis among North Carolina likely voters by 41-36 percent. Six percent back Libertarian Sean Haugh. Hagan won the seat in 2008 with 53 percent of the vote.
Click here for the North Carolina poll results.
Most Democrats back Hagan (81 percent), while most Republicans back Tillis (76 percent).
Independents pick Tillis over Hagan by 12 points. Hagan also lost independents to Elizabeth Dole in 2008 -- but just like then, today she benefits from the fact that more voters in North Carolina identify as Democrats than Republicans. And that's what gives her the lead in this race.
Both Hagan and Tillis supporters have a fairly high degree of vote certainty (81 percent each). Overall, one in five may change their mind (19 percent).
The poll shows that 46 percent of women support Hagan. That's down from the 55 percent she received in 2008 according to the Fox News exit poll.Men back Tillis by 44-35 percent.
Hagan tops Tillis among seniors, a group she lost to Dole six years ago.
Like in the other battleground states, Obama is under water in North Carolina: 39 percent of likely voters here approve of the job he's doing, while 55 percent disapprove.And a 53 percent majority feels he hasn't made the country better.
On ObamaCare, 49 percent say it went too far vs. 20 percent who feel it didn't go far enough. Another 23 percent say it's about right.
Governor Pollpourri
Are Kansans singing the blues? More voters there identify as Republican than Democrat by 21 points. Yet Sen. Pat Roberts isn't the only veteran GOPer in trouble. Gov. Sam Brownback trails Democratic challenger Paul Davis by 4 points: 45-41 percent. Libertarian Keen Umbehr receives 4 percent.
Brownback captures the support of just 69 percent of Republicans, as 18 percent would vote for Davis. Davis gets a huge 91 percent among his party faithful. Independents go for Davis by a wide 50-27 percent.
In the Iowa governor's race, incumbent Republican Terry Branstad has the advantage: 50 percent vs. 37 percent for Democrat Jack Hatch.
Branstad's lead comes not only from getting the support of more than 9 in 10 Republicans, but also 13 percent of Democrats and 51 percent of independents (vs. 31 percent of independents for Hatch).
The Fox News Poll is conducted under the joint direction of Anderson Robbins Research (D) and Shaw & Company Research (R). The polls were conducted September 14-16, 2014, by telephone with live interviewers with a random sample of likely voters in Iowa (600), Kansas (604), Louisiana (617) and North Carolina (605).