Fox News Poll: Voters say Supreme Court too liberal, want justices on the ballot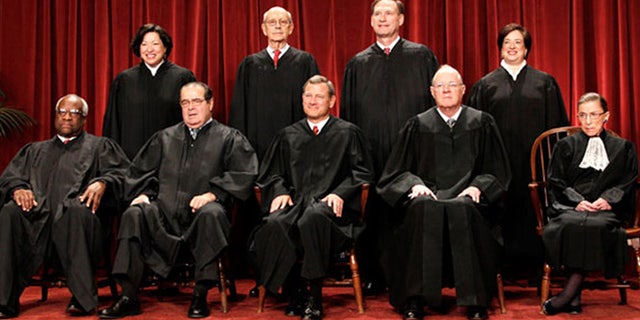 NEWYou can now listen to Fox News articles!
In the wake of two highly anticipated rulings, a Fox News poll finds a major shift in how voters feel about the U.S. Supreme Court, with a record number now saying it is too liberal.
In addition, majorities think the justices should be term limited, and Americans should be able to vote them off the high court.
For the first time in more than a decade, the largest number of voters sees the nation's high court as leaning left: a 45-percent plurality says the Supreme Court's decisions are "too liberal." That's up 19 percentage points since 2012, when 26 percent said the same.
The latest Fox national poll, released Tuesday, finds just 16 percent feel the court is "too conservative," down 5 points from 21 percent in 2012. A third of voters say the court's decisions are "about right" (34 percent). That's an 11-point drop from 45 percent in 2012.
CLICK HERE TO READ THE POLL RESULTS
When the question was first asked on a Fox poll in July 2003, 30 percent said the court's leanings were too liberal, 20 percent said too conservative and 37 percent said about right.
Much of the shift from three years ago comes from Republicans: 72 percent feel the Supreme Court's decisions are too liberal, up 33 points from 39 percent in 2012. That same sentiment is up 12 points among independents and 10 points among Democrats.
Many voters want the power to change the court. By a 62-34 percent margin, they think Americans should be able to vote justices off the Supreme Court.
Meanwhile, 72 percent of voters say Supreme Court justices should only serve for a limited time. That's nearly three times as many as agree with the existing system of lifetime appointments that leaves the decision to retire up to the individual justice (25 percent).
Most voters over age 65 favor justices serving only for a limited time (77 percent) -- in fact, they are more likely than voters under age 30 to endorse that (66 percent).
Majorities of Republicans (76 percent), independents (72 percent) and Democrats (68 percent) favor limiting the terms of justices. Views are similar across partisan lines on voting justices off the bench: most Democrats (67 percent), Republicans (62 percent) and independents (56 percent) like the idea.
In late June, a decision from the Supreme Court legalized same-sex marriage nationwide.
Voters approve of the court's decision by a 50-43 percent margin. That's almost identical to views on the issue prior to the ruling, as 48 percent favored legalizing same-sex marriage and 44 percent opposed in late April.
Democrats (65 percent) and independents (51 percent) approve of the high court's decision on gay marriage, while Republicans disapprove (62 percent). And 77 percent of voters who identify as "liberal" approve, while 75 percent of "very conservative" voters disapprove.
Most voters under age 45 approve (60 percent), while a slim majority of those ages 45 and over disapproves (51 percent).
How big a deal is the decision? Thirty-five percent of voters call it "one of the most significant" decisions by the court ever, and another 40 percent say it is significant, but not one of the most significant. Twenty-three percent think it isn't very significant.
The Supreme Court also recently issued a decision on a technical aspect of ObamaCare, which effectively upheld the health care law. This comes at a time when a majority of voters (54 percent) want all (32 percent) or parts (22 percent) of the law repealed. That's down from 60 percent who felt that way in January.
The Fox News poll is based on landline and cell phone interviews with 1,019 randomly chosen registered voters nationwide and was conducted under the joint direction of Anderson Robbins Research (D) and Shaw & Company Research (R) from July 13-15, 2015. The full poll has a margin of sampling error of plus or minus three percentage points.