Fox News Poll: Majority approves of airstrikes to punish Syria
A majority approves of President Trump ordering missile strikes on Syria in response to that country's suspected use of chemical weapons.
On April 13, the U.S. launched precision strikes at Syrian targets associated with chemical weapons capabilities.
Sixty-one percent of voters approve of the airstrikes, according to a new Fox News poll.
READ THE COMPLETE POLL RESULTS.
A year ago, 67 percent supported the U.S. launching cruise missiles at a Syrian airbase in response to a similar situation (April 2017).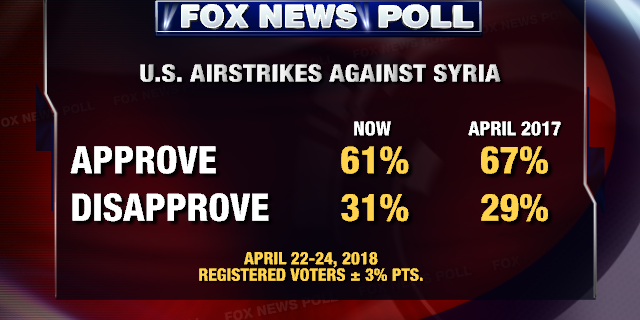 Veterans are more likely than non-veterans to approve (76 percent and 59 percent, respectively).
Despite approval of the airstrikes, voters are mixed on the president's Syria policies:  16 percent say he has been "too tough" on Syria, while nearly twice as many, 31 percent, say "not tough enough."  The largest share, 39 percent, says "about right."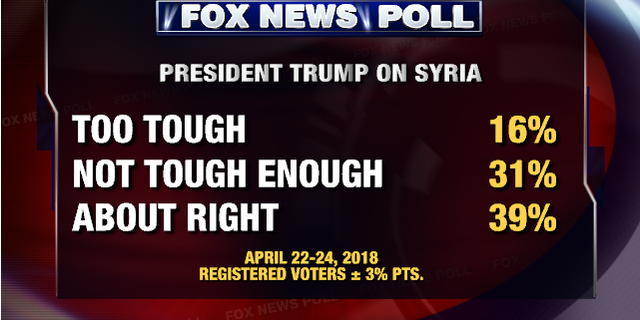 For comparison, the number saying Trump is "not tough enough" is 30 percent on North Korea, 35 percent on Iran, and 51 percent on Russia.
Overall, 39 percent of voters approve President Trump's handling of Syria, while 49 percent disapprove.  That's a net negative rating by 10 percentage points.  He received net positive ratings a year ago, when 48 percent approved and 45 percent disapproved (April 2017).  That shift has been across the board.  Approval among Democrats is down 6 points since last April, down 9 points among Republicans, and down 12 among independents.
"Now that Trump has launched two separate missile attacks against Syria, he owns the situation and can't blame former President Obama anymore," says Democratic pollster Chris Anderson, who conducts the Fox News poll with Republican Daron Shaw.  "Until things on the ground improve, sporadic missile attacks are unlikely to improve assessments of Trump's handling of the situation."
Meanwhile, 60 percent of voters say President Trump should get the consent of Congress before authorizing military action.  That's down significantly since 2013, when 78 percent said President Obama should get consent first.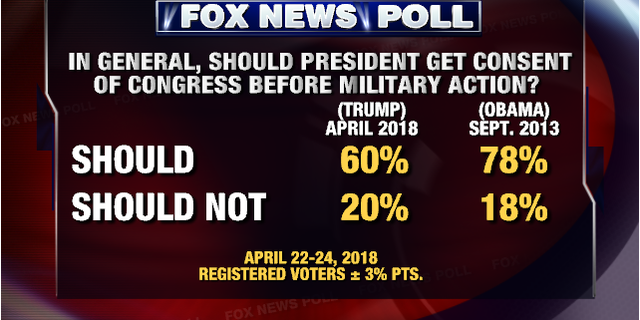 The shift between then and now comes mainly from the number of Republicans saying Congressional approval is necessary dropping 40 points (from 75 percent to 35 percent), and a 22-point decrease among independents (82 vs. 60).
Among Democrats, the portion wanting the president to get the consent of Congress mostly held steady:  76 percent in 2013 and 79 percent now.
"When it comes to dealing with foreign threats, Americans tend to be schizophrenic," says Shaw.  "They want decisive action from the president, but they also want consultation with Congress as well as friends and allies. It's a tall order sometimes."
The Fox News poll is based on landline and cellphone interviews with 1,014 randomly chosen registered voters nationwide and was conducted under the joint direction of Anderson Robbins Research (D) and Shaw & Company Research (R) from April 22-24, 2018.  The poll has a margin of sampling error of plus or minus three percentage points for all registered voters.