Fort Sumter Reenactment Could Face Shutdown Without Budget Deal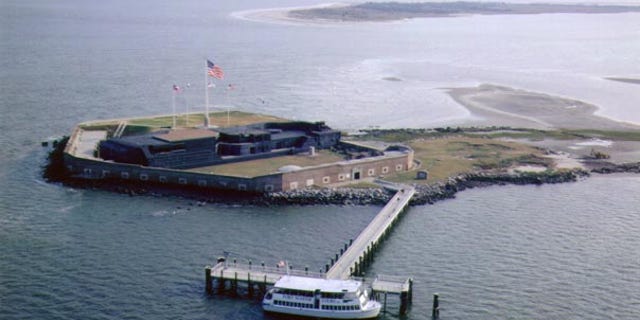 FORT SUMTER NATIONAL MONUMENT, S.C. -- The looming shutdown of the federal government includes the National Parks Service, which could mean events commemorating the start of the Civil War with a Confederate attack on Fort Sumter may have to happen without the fort itself.
A shutdown would also affect trips to the nation's capital, where the Smithsonian and the National Zoo would be among the first to close, and could cause spring break campers out West to find Yosemite and other parks closed.
If lawmakers can't reach agreement, the National Park Service ceases operations at midnight Friday, shuttering Fort Sumter in the middle of Charleston Harbor just days before events marking the 150th anniversary of the first shots of the war. The Union garrison on the island surrendered after a Confederate bombardment on April 12, 1861.
"It's a very special event and it would be very sad if something like that happened," said Chris Kimmel of Harrisburg, Pa., who visited the fort Wednesday as a chaperone with a group of high school students from another town tied to the war, Gettysburg, Pa.
Events for the anniversary have been planned for years. Hundreds of Union and Confederate re-enactors plan to stay in Forts Sumter and Moultrie, another Park Service site across the harbor, during a week of events.
If there is a shutdown, plans will move forward to re-enact the bombardment Tuesday with about 30 cannons ringing the harbor from sites not on federal land.
"I'm shocked. This is a pivotal event in the nation's history," said Jeff Antley, who is coordinating arrangements for an estimated 1,000 re-enactors coming to the city. "You can't say we're going to reschedule for May. The money has been spent. The uniforms have been bought. The travel arrangements have been made."
If the federal government shuts down, then all 394 National Park Service sites would be closed and about 20,000 park service employees would be idled, said David Barna, agency spokesman in Washington. Fifteen-thousand concession employees who run hotels, restaurants and gift shops would likely be idled as well.
In April, about 800,000 people visit national park sites each day and those visitors spend $32 million a day, giving a boost to local economies, he said.
Kate Gibbs, a spokeswoman for a group that promotes tourism in the nation's capital, said the National Mall will remain open, although the world-class Smithsonian museums would go dark.
"What we might stand to lose is the National Park Service expert who can add that ounce of magic by saying, `You're standing where Martin Luther King stood when he delivered the `I have a dream' speech,"' said Gibbs, of Destination DC.
It's a busy time for Washington. The National Cherry Blossom Festival, which draws about 1 million visitors each spring, is finishing up this weekend, though it wasn't clear how a government shutdown would affect events.
At Yosemite National Park in California, students on spring break flock to the majestic mountains this time of year to see waterfalls swollen by winter rains, park spokesman Scott Gediman said.
Any shutdown, he said, would be done in phases.
"It's such a complicated place with campgrounds, trails, hotels, tour buses," Gediman said. "It's not as simple as we close the gate and everybody goes home."
About 1,000 workers employed by a company that runs park services as well as about 800 park workers would be affected. Business outside the gates would also suffer.
"We really don't have a whole lot of industry other than tourism," said Lester Bridges, president of the Mariposa County Chamber of Commerce.
If there has to be a shutdown, April is the best time of year for Yellowstone National Park, where snow is forecast for the next several days.
For much of the month, only buffalo and a few hardcore bicyclists visit Old Faithful. The few hardy visitors are usually weekend warriors looking to spy on wolves in the Lamar Valley or ski or snowshoe.
The park had about 33,000 visitors last April. "That's about a day during our peak summer months," park spokesman Al Nash said.
A closure could set preparations back for the busy summer season. About 300 miles of road are being plowed while hotels, stores and park facilities have to be opened, and water and sewer systems have to be readied.
"If the park doesn't open on time, it's definitely going to be a financial hit for businesses that already struggle with a highly seasonal economy," said Bill Berg, president of the chamber of commerce in Gardiner, Mont., just outside the park's north entrance.
Anna Holloway runs the Tumbleweed CafDe and Bookstore in Gardiner. Holloway has a hard time believing that a government shutdown will happen, but things would be grim if it does -- and lasts into summer.
"My business would go under and I would lose it all," she said.