Former first lady Barbara Bush laid to rest in Houston
Former first Lady Barbara Bush was remembered as the "first lady of the greatest generation" and "greatest role model" during a funeral service Saturday in Houston.
Former President George H.W. Bush was helped into St. Martin's Episcopal Church in a wheelchair behind his sons, former President George W. Bush and former Florida Gov. Jeb Bush, and other Bush relatives to remember his wife of 73 years. Barbara Bush died at their home in Houston on Tuesday at age 92.
Jeb Bush, who delivered one of the eulogies, said it was a blessing to have a teacher like his mother.
"We learned not to take ourselves too seriously and that humor should be enjoyed and shared," he said during his eulogy.
He choked up at one point, saying his mother -- who was known for her self-deprecating remarks about her wrinkles and gray hair -- was "beautiful" until the very end.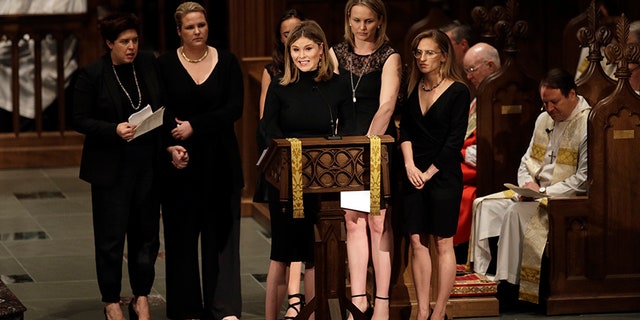 "The last time Mom went into the hospital I think Dad got sick on purpose just to be with her," he recalled.
Jeb Bush said his father appeared a bit disheveled but sat by his mother's bed and held her hand.
"My mom opened her eyes and said, 'My God, George, you are devastatingly handsome!'" he said.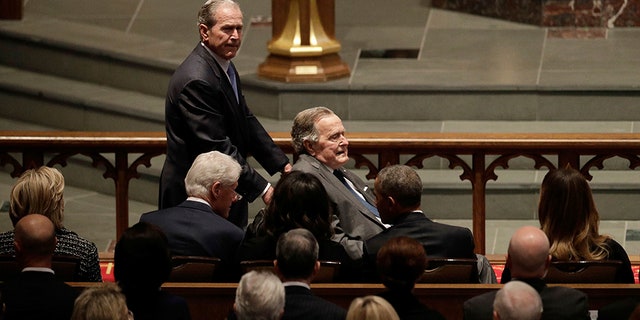 "I asked her about dying and she said 'Jeb, I believe in Jesus and I believe in his savior and I don't want to leave your dad but I'm going to a beautiful place,'" he concluded.
Former presidents Bill Clinton and Barack Obama — along with their wives and current first lady Melania Trump — joined ambassadors, sports stars and hundreds of other mourners at the nation's largest Episcopal church.
Other guests included former Rep. Gabby Giffords and her husband, retired astronaut Mark Kelly, professional golfer Phil Mickelson, Karl Rove, and other former White House staff. Many were seen embracing in the church before the service.
President Trump excused himself from attending, tweeting Saturday: 'Heading to the Southern White House to watch the Funeral Service of Barbara Bush. First Lady Melania has arrived in Houston to pay our respects. Will be a beautiful day!"
The White House said in a statement that Trump will not attend the service "to avoid disruptions due to added security, and out of respect for the Bush Family and friends attending the service.
"The president has offered his sympathies, praising Barbara Bush as 'a titan in American life.'"
Flags were flown at half-mast for the wife of the nation's 41st president and mother of the nation's 43rd as the service began. The church was adorned with sprays of yellow garden roses, yellow snap dragons, antique hydrangeas and other flowers.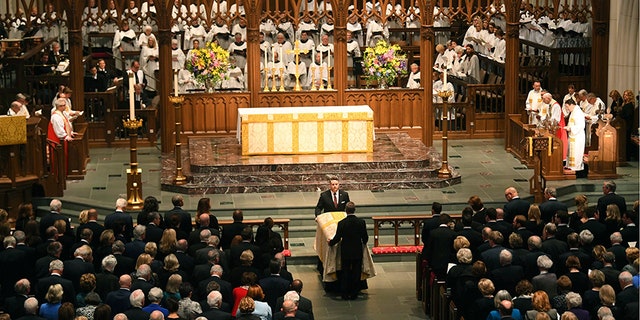 The ceremony began with songs before the former first lady's granddaughters each read a proverb. Rev. Russell Levenson Jr. led the service. The priest is a longtime friend of the Bush family. He also gave a eulogy speaking about the former first lady being a child of God.
Presidential historian Jon Meacham delivered the first eulogy speaking about Bush's life and sharing funny encounters he had with the former first lady.
Barbara Bush's longtime friend Susan Garrett Baker, the wife of former Secretary of State James Baker, called the former first lady "feisty" and hardworking.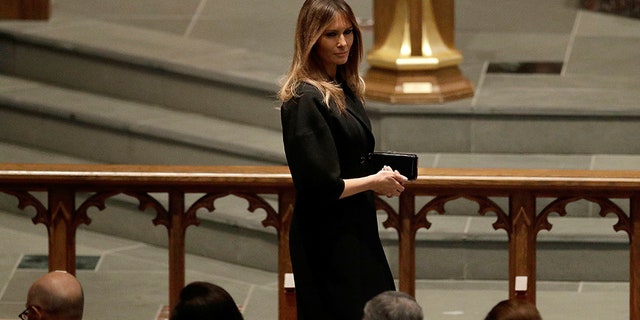 "Barbara, the tough but loving enforcer was the secret sauce to this family," Baker said.
Baker spoke about their friendship and how Bush helped her when she moved to the area.
"What the world may have not have seen was the amazing, caring and beautiful friend Barbara was to many of us," she continued. "She was the gold standard of what it meant to be a friend."
Following the service, the family gathered outside the church as Bush's grandsons carried out her casket.
First lady Melania Trump tweeted, "It was my honor to travel to Houston to give my respects to Barbara Bush and the remarkable life she led as a mother, wife, and fearless First Lady. My sincerest thoughts and prayers continue to be with George H.W., and the entire Bush family."
A burial followed at the Bush Library at Texas A&M University, about 100 miles northwest of Houston. The burial site is in a gated plot surrounded by trees and near a creek where the couple's 3-year-old daughter, Robin, who died of leukemia in 1953, is buried.
The ceremony was "a very brief but poignant and beautiful ending to a very moving and incredible day," family spokesman Jim McGrath told The Associated Press. "It would have been exactly what Barbara Bush wanted."
Thousands of people on Friday paid respects to Bush during a public viewing.
The Associated Press contributed to this report.