Former Chairman of the Joint Chiefs of Staff John Shalikashvili Dies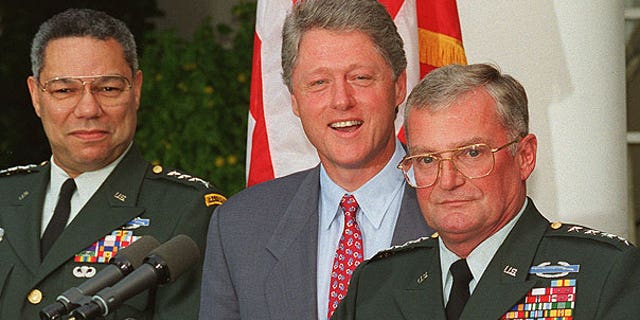 NEWYou can now listen to Fox News articles!
SEATTLE – Retired Army Gen. John Shalikashvili, the first foreign-born chairman of the Joint Chiefs of Staff, who counseled President Bill Clinton on the use of troops in Bosnia and other trouble spots, has died, according to a statement from the White House. He was 75.
Shalikashvili suffered a severe stroke on August 2004 that paralyzed his left side, and he underwent grueling physical therapy.
The native of Poland held the top military job at the Pentagon in the Clinton administration from 1993 to 1997, when the general retired from the Army. He spent his later years living in Fort Lewis, Wash.
Clinton pointed out that "Gen. Shali" made the recommendations that sent U.S. troops into harm's way in Haiti, Rwanda, Bosnia, the Persian Gulf and a host of other world hotspots that had proliferated since the end of the Cold War.
"He never minced words, he never postured or pulled punches, he never shied away from tough issues or tough calls, and most important, he never shied away from doing what he believed was the right thing," Clinton said.
In a farewell interview with The Associated Press at the time, Shalikashvili said American military and civilian authorities need to cooperate more when they decide to get involved in such trouble spots, because so much of what the military is asked to do involves humanitarian or peacekeeping operations.
For example, he said, the military might need assistance from the Justice Department to help set up police forces, or advice from the State Department on economic aid.
"We know the agencies, but who is responsible for coordinating it, bringing it all in at the right time?" he said. "Haiti, Bosnia, Rwanda, even Somalia, showed us these things go forward from the first day, and there is no coordinator."
Shalikashvili was head of the Joint Chiefs when the "Don't ask, don't tell" policy on gays in the military was adopted. He had argued that allowing homosexuals to serve openly would hurt troop morale and undermine the cohesion of combat units. Years later, though, he said that he changed his mind on the issue after meeting with gay servicemen.
"These conversations showed me just how much the military has changed, and that gays and lesbians can be accepted by their peers," Shalikashvili wrote in a January 2007 New York Times opinion piece.
Earlier in his career, under the first President George Bush, Shalikashvili served as NATO's supreme allied commander and also commander in chief of all U.S. armed forces in Europe. At the end of the first Gulf War, he was in charge of the Kurdish relief operation in Iraq.
In recent months Shalikashvili served on a senior military advisory group to the campaign of Democratic presidential candidate John Kerry, as did another former NATO commander, Gen. Wesley Clark.
Not long before his stroke, Shalikashvili spoke at the 2004 Democratic National Convention in Boston, saying, "I do not stand here as a political figure. Rather, I am here as an old soldier and a new Democrat."
Shalikashvili was born June 27, 1936, in Warsaw, the grandson of a czarist general and the son of an army officer from Soviet Georgia. He lived through the German occupation of Poland during World War II and immigrated with his family in 1952, settling in Peoria, Ill.
He learned English from watching John Wayne movies, according to his official Pentagon biography, and he retained a distinctive Eastern European accent.
Shalikashvili, who studied engineering at Bradley University in Peoria, enrolled in the Air Force Reserve ROTC, but his eyes were not good enough to be a pilot, according to a Defense Department biography.
He became a U.S. citizen in 1958 and was drafted months later. In addition to being the first foreign-born Joint Chiefs chairman, he was the first draftee to rise to the top military job at the Pentagon, the Defense Department said.
"He knows how to put combat power together, understands policy options and will also be highly regarded by the troops," retired Col. Roy Alcala, who worked with Shalikashvili in the Pentagon, said in 1993.
Shalikashvili and his wife, Joan, moved to Steilacoom, near the Army's Fort Lewis south of Tacoma, Wash., in 1998.
Shortly after Shalikashvili was tabbed by Clinton, the Simon Wiesenthal Center said documents it found indicated the general's late father, Dimitri Shalikashvili, collaborated with the Nazis during World War II. The center said it found the elder Shalikashvili's unpublished writings in the archives of Stanford University's Hoover Institution.