Foreign Aid Bill Would Make Pakistan, Other Nations Pass New Tests to Receive U.S. Funds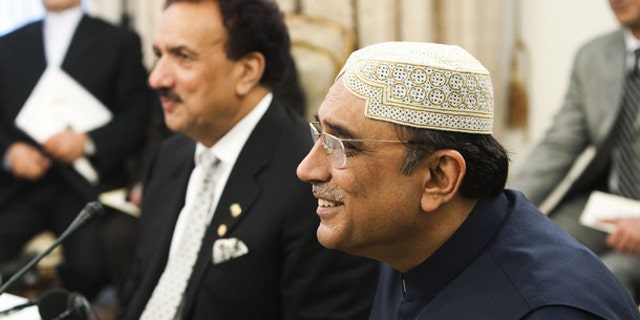 A House panel is considering a bill Wednesday that would suspend billions in foreign aid to several governments in the Middle East and beyond until the Obama administration can certify they are not controlled by groups hostile to the United States and its allies.
The bill, which provides the blueprint for U.S. foreign aid around the world, contains a big loophole -- despite the myriad requirements outlined in the draft, it would allow the president to waive them in the interest of national security.
But the provisions, if passed, would impose a new and rigorous set of standards on how U.S. aid is distributed to nations and a leading group known for hosting a thriving anti-American contingent.
The proposal would require Egypt, Pakistan, Lebanon, Yemen and the Palestinian Authority to meet specific requirements in order to receive U.S. aid.
House Foreign Affairs Committee Chairwoman Ileana Ros-Lehtinen, R-Fla., said Wednesday that she hopes the prospect of a funding cutoff will get their attention and put an end to the "games being played with our security."
"Basically, if Hamas, Hezbollah and other foreign terrorist organizations or violent extremist groups hold policy positions ... in their respective governments, they are not to receive U.S. assistance," she said. "Our goal is to promote democratic governments in these countries and ensure U.S. taxpayers are not subsidizing groups that seek to undermine U.S. policy."
The overall proposal also would reduce the total foreign relations budget by nearly $5 billion compared with 2010 levels.
Though it's unclear whether the Senate will consent to imposing country-specific standards, the Obama administration has at least indicated a willingness to suspend funding in Pakistan. Officials said recently that about $800 million from the U.S. military aid package could be suspended or canceled.
The administration is trying to assess whether that money is being well spent, amid questions about whether U.S. aid is yielding a sufficient investment return considering Usama bin Laden was hiding out in Pakistan for years.
The House bill seeks to answer those questions. It would ban security aid to Pakistan until Secretary of State Hillary Clinton can confirm Pakistani cooperation in the fight against terrorism. The legislation does not say what criteria Clinton must use to determine "demonstrable progress" for objectives outlined in a separate bill, the "Enhanced Partnership with Pakistan Act." It also restricts civilian assistance until certain conditions are met.
Rep. Howard Berman, D-Calif., ranking Democrat on the foreign affairs committee, cautioned Wednesday that holding up economic aid to Pakistan could hurt U.S. interests.
"The key to long-term stability in Pakistan and the only way we'll ever get Pakistan to change its behavior is by strengthening its civilian institutions," he said.
Restrictions for other countries pertain to the leadership in their governments. For Yemen, the president would have to certify that none of the top tiers of government are controlled by foreign terrorist groups. For Lebanon, the president would have to certify that members of Hezbollah do not hold policy positions in key agencies.
In Egypt, the country would not be allowed to receive U.S. security aid if the government is found to be directly or indirectly controlled by a terror group. The country would also have to fully implement its peace treaty with Israel and destroy smuggling tunnels leading into the Gaza Strip.
While the Obama administration welcomed, eventually, the ouster of ex-President Hosni Mubarak, some have expressed concern that new leadership in Egypt might emerge as more hostile to the United States and Israel.
Finally, the House bill would suspend aid to the Palestinian Authority, which controls the West Bank, until the U.S. can confirm Hamas does not hold policy positions in key agencies and that the Palestinian Authority is cracking down on anti-Israel incitement and extremist activity. Hamas is a U.S.-designated terror group that is in a power-sharing agreement with the PA.