Florida's Latino electorate is larger, more diverse than ever, but turnout limits its clout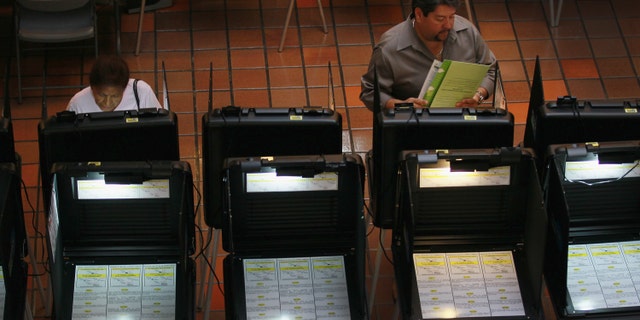 NEWYou can now listen to Fox News articles!
Since the last presidential election, the Latino population of Florida, one of the most important battleground states in presidential politics, has grown even more in size and diversity.
At the same time, Florida's senior citizen population has seen an increase.
The growth of two groups that are politically critical, and yet on many issues polar opposites, lays the groundwork for new dynamic in how Florida votes in the presidential election, the Miami Herald contends.
The elderly are more conservative and generally favor less intrusive government. Latinos, particularly younger ones, tend to be more liberal and support many government programs, according to the newspaper.
Latinos account for more than half of the 1.46 million population growth in Florida between 2010 and 2015. People 65 years old and older accounted for 46 percent, Census data shows.
In that time, the state's Latino population grew nearly 20 percent overall, which is six times the growth among non-Latino whites and two times that of blacks.
The most rapid growth happened in Central Florida, nicknamed the I-4 corridor and which has been home to a large population of Puerto Ricans, many who have thronged there in recent years, fleeing the economic crisis on their island.
"Florida is the biggest swing state in the country, therefore it is the biggest swing state with a Hispanic population," said Peter A. Brown, assistant director of the Quinnipiac University Poll, to the Herald. "It is no surprise there has been a substantial increase in the Hispanic population in the state. The question is, how many people are registered to vote, and how many of them actually show up?"
As is the case among Latinos across the country, the rate of those in Florida who show up to vote is lower than for other ethnic groups. One reason is that it remains one of the youngest populations, and young people tend to have low voter participation rates. Another is that the Latino population includes many immigrants who have not been in the county long enough to naturalize, and are therefore ineligible to vote.
Miami-Dade County is illustrative of how large Latino numbers often fail to turn into electoral clout.
The county boasts the highest percentage of Hispanics in the state with 66.7 percent of Florida's Latino population, but the county had Florida's lowest voter turnout rate in the 2014 midterm elections. Only 41 percent of all registered voters bothered to go to the polls.
"There is an exceptionally large delta between the percent of population who is Hispanic and the percent of the electorate that is Hispanic," Steve Schale, a Democratic political consultant, told the Herald.
The other increasingly significant group – the elderly – is consistently committed to casting ballots. In Florida, they constitute a higher percentage of the population – 20 percent – than in any other state.
The Latino population in Florida has changed in nature, from Republican-leaning, especially when older Cuban exiles held more sway, to more Democratic-leaning today.
In 2008, for the first time more of the state's Latino voters – who comprise 17 percent of all Florida voters – identified as Democrats than Republicans. In more recent years, a growing number of Latinos have registered as Independents.
This means that it is now more of a challenge for a Republican to win the state's Latino vote.
National polls of likely Latino voters show that the overwhelming majority – roughly 80 percent – have an unfavorable view of the presumptive Republican nominee, Donald Trump.
The Herald reports that other Republicans running in Florida are likely to feel an anti-Trump fallout.
"Folks from Puerto Rico register as [No Party Affiliation], but that doesn't mean we don't have a good idea of where they're going to vote," Max Steele, spokesperson for the Florida Democratic Party, told the Herald. "These people are not going to vote for Trump, and we're pretty sure we can make a better case for them than he can."
GOP leaders, mindful of the changes in Florida, pressed U.S. Sen. Marco Rubio to change his mind about not seeking re-election this year.
Many of the party leaders are said to have believed a run by the charismatic Cuban-American from South Florida was one way to counter Trump's negative image among Hispanics.
"It's no secret that the Hispanic vote has a lot of weight in Florida — something that we have been very committed to," said Wadi Gaitan, spokesman for the Republican Party of Florida, to the Herald.
Gaitan said the GOP has been working to build a rapport with the state's Latinos, particularly those in Central Florida.
"Here on the ground, we see that people continue to register to vote, and the conclusion I draw from that is, people want to participate in November," he said.
Like us on Facebook