Florida Officials Fight Back, Accusing Federal Authorities of Violating Laws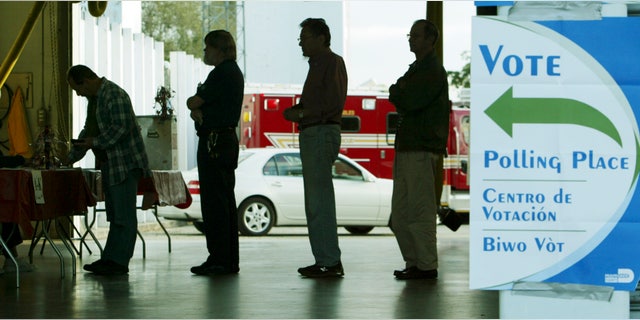 Tallahassee, Florida – The gloves are off.
Florida's top elections officials are pushing back at the federal government, which says the state's review of registered voters may be discriminatory.
The Sunshine State's elections officials are saying that it's the federal government that is wrong.
The decision by the administration of Republican Gov. Rick Scott to fight back against the administration of President Barack Obama sets the stage for a legal showdown just months before the swing stage of Florida could help determine the presidential election.
The dispute has taken a sharp partisan edge as Republican elected officials have blasted the federal government, while Democrats have criticized Scott.
Secretary of State Ken Detzner in his latest response accused the U.S. Department of Homeland Security of violating federal law by refusing to give state election officials access to an immigration database for the effort that was launched at the urging of Scott.
"This hardly seems like an approach earnestly designed to protect the integrity of elections and to ensure that `eligible" voters have their votes counted," Detzner wrote.
He also denied allegations by the Department of Justice that Florida's purge violates federal anti-discrimination and voter registration laws in a letter to the agency's voting section chief, T. Christian Herren.
Detzner's letter is in response to one Herren sent him last week demanding an end to the state's search for non-citizen voters. The legal adviser to Florida's 67 county supervisors of elections then recommended they stop the effort until state and federal officials resolve their dispute.
"Fortunately, many local election administrators have indicated they will not carry out the state's plan," said Myrna Perez, a voting rights lawyer with the Brennan Center Center for Justice at New York University.
"The opportunity for errors when conducting massive voter purges makes it imperative that purge practices be transparent, accurate, and carried out well in advance of an election."
A U.S. Department of Justice official on Wednesday evening acknowledged the department had received but the letter but said officials were "currently reviewing the letter."
Florida began looking for non-U.S. citizens on its voter rolls last year by comparing driver's license information to voter registration lists. An initial search turned up as many as 182,000 registered voters who may not be U.S. citizens.
Earlier this year the state sent out an initial list of more than 2,600 names of suspected non-citizen voters to local election supervisors and asked them to verify the information and remove ineligible voters.
Supervisors, however, responded by pointing out the list had errors on it. Miami-Dade officials say they have found nearly 500 voters who were citizens and other counties they too have found citizens on the list, but a smaller number of non-citizens have been verified.
One GOP supervisor went on Twitter to show the picture of a U.S. passport of one voter found on the list. Recently two Democratic members of Congress held a press conference with a World War II veteran whose citizenship had been questioned.
"It is absolutely insane what Gov. Scott is doing to attack Florida voters," said U.S. Rep. Alcee Hastings, D-Miramar. "We know what he is up to, we are mad as hell, and we will not allow our voting rights to be trampled on."
U.S. Rep. Tom Rooney, R-Tequesta, criticized the U.S. Department of Justice for telling Florida to stop its purge.
"The Department of Justice under President Obama has become so politicized that it consistently puts aiding the president's reelection campaign ahead of upholding justice and enforcing the rule of law," Rooney said.
Herren wrote in his letter to Detzner that the state's procedures to identify non-U.S. citizens have not been reviewed to make sure they are not discriminatory. Florida must secure approval for changes in voting procedures because five counties are still covered by the Voting Rights Act of 1965.
Detzner argued the rest of the state is not covered by that requirement and that supervisors of elections in the five affected counties "are simply administering a law that the Department of Justice has duly pre-cleared." That law outlines notification requirement and other procedures supervisors must follow before they can remove potentially ineligible voters from the rolls.
Removing voters from the rolls less than 90 days before a federal election also appears to violate the voter registration law, Herren also contended.
Detzner argued enforcing that provision in regard to non-citizens would unconstitutionally discriminate against legitimate voters by diluting their voting strength.
The secretary concluded with a list of four questions for Herren, starting with whether the Justice Department agreed Homeland Security has a legal obligation to give Florida access to its immigration database.
Detzner also asked if the department's position is that federal law bars Florida from identifying and removing non-citizens between now and the Nov. 6 general election and, if not, what steps the state may take in that regard.
Finally, he asked if Florida cannot remove non-citizens from the rolls whether it could still identify them and remove them after the election.
Detzner asked that Herren respond by Monday.
This story is based on reporting by The Associated Press.

Follow us on twitter.com/foxnewslatino
Like us at facebook.com/foxnewslatino