Fearing civil rights lawsuits, NJ jails release inmates who might be deportable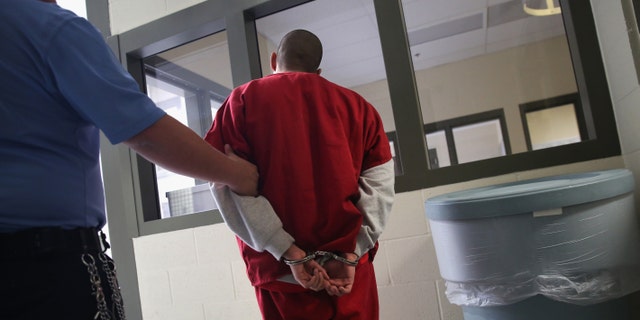 Some New Jersey jails have stopped honoring federal immigration requests asking them to hold on to inmates so that authorities can pursue deportation proceedings, according to nj.com.
The change in policy by some county jails came after the American Civil Liberties Union threatened to file costly lawsuits against those prisons who hold defendants for immigration authorities.
And so, some people who might be deportable are being released before immigration officials have a chance to begin the deportation process.
That is not sitting well with officials of Immigration and Customs Enforcement (ICE).
"When serious criminal offenders are released to the streets in a community, rather than to ICE custody, it undermines ICE's ability to protect public safety and impedes us from enforcing the nation's immigration laws," said Harold Ort, a spokesman for ICE in New Jersey. "Jurisdictions that ignore detainers bear the risk of possible public safety risks."
The catalyst for the ACLU's warning was a ruling in March by the U.S. Court of Appeals for the 3rd Circuit involving a man, Ernesto Galarza, who was a U.S. citizen with roots in Puerto Rico, and was held for three days in a Pennsylvania county jail on an ICE detainer after he posted bail.
The immigration detainer, which ICE submits to jails seeking the detention of someone the agency believes is deportable, calls for holding an immigrant for about two days after they are scheduled to be released.
Typically, ICE then assumes custody and initiates the deportation process.
ICE realized, however, that as a Puerto Rican, Galarza was a U.S. citizen, and withdrew the detainer.
An appeals court on Galarza's detention for ICE purposes determined that jails are not forced to honor immigration detainer requests.
"Essentially the federal government cannot command the government agencies of the states to imprison persons of interest to federal officials," the appeals court wrote, according to nj.com.
The ACLU then fired off a warning to county jails.
"Should an individual who has been wrongfully detained in your jail on the basis of an immigration detainer seek our assistance, the ACLU of New Jersey is prepared to pursue legal action to vindicate his or her rights," said a letter by the civil rights group, according to nj.com.
The news organization reported that the ACLU contends that ICE issued roughly 6,000 detainer requests to New Jersey county jails between October 2011 and August 2013.
The number of that total that was then put under ICE custody is unclear.
Several county jail warden have said they are no longer going to abide by ICE detainer requests.
Camden County Jail Warden David Owens said that while he will let alert ICE to the release of an inmate who could have immigration violations, his jail is no longer holding them until ICE picks them up.
Owens says he has little choice.
"We will do what the 3rd Circuit tells us to do," Owens said. "I will obey the law."
Union, Burlington and Ocean counties also are no longer honoring ICE detainers.
"It is the policy of this department that individuals shall not be housed in this facility solely on an ICE detainer or warrant," Ocean's policy reads, according to nj.com. "Nor shall they be committed to this facility by a law enforcement agency without an accompanying commitment issued by a judge."
Meanwhile, other counties in New Jersey – and elsewhere in the country – say they are not going to hold immigrants in jail to facilitate deportation because it is creating a schism between local law enforcement and immigrant communities.
Many county officials say that some federal immigration enforcement programs are targeting people who have minor infractions, such as those involving traffic violations or DUI's, instead of serious criminals.
"In the face of congressional inaction, counties across the country are responding to senseless family separations by issuing policies that prevent families from being funneled into detention and promote trust between immigrant communities and police departments," said a release by Union County officials, according to nj.com.
In New York City, Mayor Bill de Blasio signed into law Introductions 486-A and 487-A which will dramatically reduce the city's cooperation with ICE hold requests, except in cases where there are public safety concerns.
At the signing ceremony, City Council Speaker Melissa Mark-Viverito said, "This bill sends a strong message that while our nation's leaders have dragged their feet on immigration reform, New York City can and will lead. No longer will a person be unnecessarily sent through senseless immigration red tape under this new law."
Groups that favor strict immigration enforcement criticize the ACLU's actions in New Jersey.
"The ACLU has turned this into a campaign," said Jessica Vaughan, the director of policy studies for the Center for Immigration Studies in Washington, D.C., a group that advocates for lower immigration levels and tougher immigration laws. "It's trying to intimidate sheriffs into not cooperating with ICE by telling them they're going to sue them."
Follow us on twitter.com/foxnewslatino
Like us at facebook.com/foxnewslatino