FBI's anti-Trump lovebirds, Page and Strzok, used work phones to shield affair from spouses: IG report
Trump-bashing FBI agent Peter Strzok and former bureau lawyer Lisa Page used their work phones to conceal their extramarital affair from their spouses, according to the bombshell report released Thursday by the Department of Justice inspector general.
"The predominant reason that we communicated on our work phones was because we were trying to keep our affair a secret from our spouses," Page told the IG.
Page, who worked as counsel to the FBI, admitted to DOJ Inspector General Michael Horowitz that she and Strzok used the Clinton email probe as cover for their communications.
On April 1, 2016, the IG writes, Page texted Strzok, "So look, you say we text on that phone when we talk about hillary because it can't be traced, you were just venting bc you feel bad that you're gone so much but it can't be helped right now."
In explaining the text, Page told the IG the message "follows us communicating personally on our personal phones, and his wife inquiring what it is he was doing. And so my saying 'Tell her we're talking about Hillary' is not in fact because we were talking about Hillary, but coming up with an explanation for him to provide his wife with respect to why we were on that phone."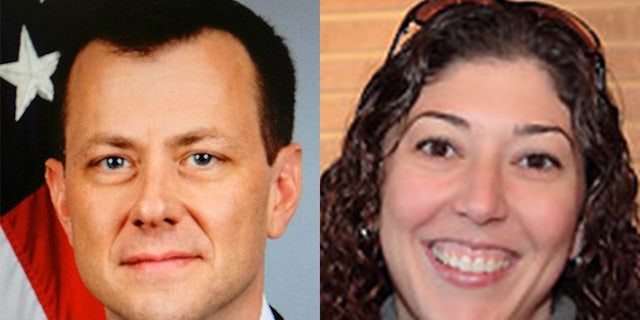 The messages were just some of the 50,000 texts between the pair, who later would work for a time on Special Counsel Robert Mueller's probe of Russian meddling in the 2016 elections.
GOP REP. TREY GOWDY RIPS STRZOK: 'THIS IS NOT THE FBI I KNOW'
In August 2016, the IG notes, Strzok vowed to Page that they could "stop" Trump from becoming president, although the IG did not find that political bias tainted specific investigative decisions in the Clinton probe.
Trump is "not ever going to become president, right? Right?!" Page texted to Strzok.
"No. No he won't. We'll stop it," Strzok responded.
The lovers exchanged numerous other anti-Trump texts during the investigation in the lead-up to the presidential election, including one in which Page calls Trump a "loathsome human" and another in which Strzok dubs him an "idiot."
But Page insisted she had kept her personal views separate from the investigation.
"I guess I didn't feel like I was doing anything wrong," Page said. "I'm an American. We have the First Amendment. I'm entitled to an opinion. ... I saw it as, I still see it as so separate from the investigative activity we were taking in the, in Midyear [Clinton probe] that I didn't, didn't really think about it, to be honest with you."
IG REPORT UNCOVERS ADDITIONAL FBI AGENTS WHO DISCUSSED THEIR HATRED FOR TRUMP
In the report, Horowitz says that law enforcement agencies like the FBI can impose sanctions for unprofessionalism by employees who engage in certain political activities that compromise the appearance of integrity in an investigation.
"While these employees did not give up their First Amendment rights when they became employed by the FBI, Supreme Court decisions make clear that the FBI retains the authority — particularly as a law enforcement agency — to impose certain restrictions on its employees' speech in the interest of providing effective
and efficient government," Horowitz writes.