Exit Poll: Independents Pick Christie in Decisive Victory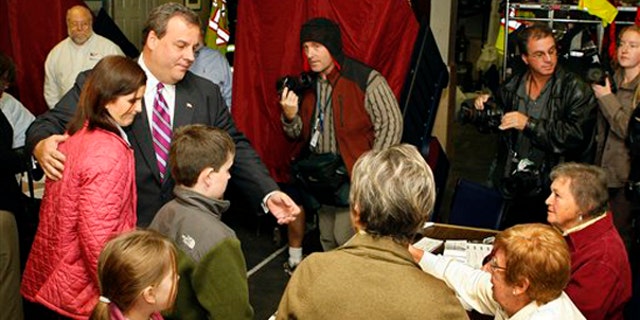 NEWYou can now listen to Fox News articles!
Exit polls showed independent voters that gave President Obama a huge advantage in the state last year strongly favored Republican Chris Christie on Tuesday.
Though a majority of late-deciding New Jersey voters leaned toward incumbent Gov. Jon Corzine, it wasn't enough to save the Democrat from anger in a state battered by high taxes and scarred by government corruption.
Obama's aggressive campaign may have helped a bit in the normally blue state, but after five campaign appearances, including a rally in the state's largest city on Sunday, two days before the election, it wasn't enough to stop voters from electing Christie to take over the reins.
Christie campaigned on a platform of smaller government but was criticized for ethical lapses An AP exit poll, however, showed independent Chris Daggett, a former Environmental Protection Agency administrator, drawing far fewer than the 20 percent he drew in some earlier polls.
The Fox News exit poll also showed most voters maintained confidence in the government. Fifty one percent of voters said the government should do more while 46 percent said it should do less.
In Virginia, where Republican Bob McDonnell defeated Democrat Creigh Deeds for governor, 51 percent of voters said the government should do less and 43 percent said it should do more.
The AP poll suggested New Jersey's voters were not thrilled with their choices. No more than about half the voters had favorable opinions of any of the candidates.
Voters said their top concerns were the economy and jobs, followed by property taxes.
Voters who said the economy was important favored Corzine, while voters who said taxes mattered most supported Christie, according to the exit poll. About two in five voters said none of the three candidates had a good plan to reduce property taxes.
Jackie Booth, an unaffiliated voter from Hamilton, said concerns over wasteful spending and taxes drove her decision to vote for Christie.
New Jersey voters haven't elected a Republican statewide in a dozen years. Obama carried New Jersey by 15 percentage points last year. The president made the case for Corzine over the weekend, urging 11,000 supporters in Newark to show the commitment to the incumbent they showed Obama last year.
The president's appeal worked for Roger Johnson, a 50-year-old restaurant employee from Cherry Hill who said he had qualms with Corzine but voted for him anyway.
"I went in to help the president. I wasn't going to vote for Corzine," said Johnson, a registered Republican who usually votes for Democrats. "But I did."
But many voters were disenchanted with Corzine, a former Goldman Sachs CEO who failed to deliver property tax relief to the middle-class.
He froze property taxes for senior citizens and provided rebates for low-income residents, but taxes remain the nation's highest, averaging $7,045 per household.
Christie has been criticized for remaining vague about how he would solve the state's chronic financial problems.
The exit poll of 1,424 New Jersey voters was conducted by Edison Research in a random sample of 40 precincts statewide. Results were subject to sampling error of plus or minus 4 percentage points, higher for subgroups.
The Associated Press contributed to this report.