EXCLUSIVE: Military Absentee Voting Pilot Program Downed By Expensive Payout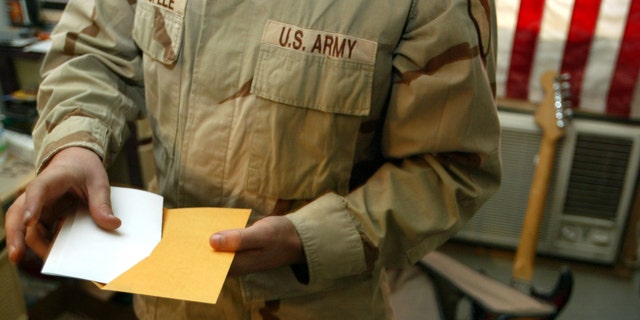 Military voters from at least six states will be unable to participate fully in a Defense Department pilot program -- substantially reducing their opportunity to vote in November -- because a private election software company is dragging its feet and demanding exorbitant fees to supply states with their own voting data, some state officials participating in the program tell FoxNews.com.
On Monday, one state -- Nebraska -- backed out of the program entirely.
But the company, Nebraska-based ES&S, says it is a business and deserves compensation for its services. And it says time constraints -- not the company -- have caused the program to stall.
The Federal Voting Assistance Program (FVAP), the Defense Department agency charged with helping military and overseas civilians vote, last year announced the Electronic Voting Support Wizard pilot program, which aims to improve and expedite the delivery of absentee ballots to military servicemen and women who have historically had problems with snail mail delivery or with getting a hold of their ballots due to frequent relocation.
In March, the Defense Department asked vendors that specialize in electronic voting systems to propose a plan for developing and delivering online ballots down to the precinct level -- meaning that a military member could log on in Afghanistan and be directed to his or her exact local, county, state and federal election ballots to expedite voting.
Five vendors won the opportunity to work with the states to develop online balloting systems that overseas voters can access though the Internet and either mark onscreen or by hand and then print out. For voters from states that allow for e-mail and fax returns, an onscreen marking option provided overseas voters with a way to download, mark and submit ballots quickly and easily without paper and printer.
Onscreen marking especially benefits servicemen and women on the front lines or in remote locations who may not have immediate access to a printer or the postal service. Each vendor then submitted bids to work with individual states on the pilot program.
The final pairings were made on July 9, leaving states a little more than two months to develop, test and roll out the program before the Sept. 18 deadline mandated by the 2009 MOVE Act, which calls to have the system in place 45 days before Election Day, Nov. 2.
Several election software systems used by states participating in the pilot program have handed over their ballot data quickly and at no cost, according to documents and interviews with election officials.
But some states haven't been able to give vendors the information they need to develop the platform -- seriously jeopardizing their chance of participating in the pilot program -- because ES&S, the nation's largest election systems company, which manages more than half of all elections in the U.S., is being slow and demanding exorbitant fees to hand over the databases, officials said.
ES&S says otherwise.
"ES&S is not the vendor of pilots that was tasked with making this online marking tool," said John Groh, senior vice president of ES&S, which is based in Nebraska. "I am a for-profit business and if I don't profit, we go out of business."
Groh noted that his company is busy working for paying customers -- states and counties for whom ES&S is running primary elections across the country.
The conflict developed about three weeks ago when ES&S informed a Defense Department program administrator negotiating on behalf of some states and their vendors that it would charge each state a $50,000 baseline fee plus an additional $5,000 for each voting jurisdiction. For a state like West Virginia, which has 53 counties, that means a bill of $325,000.
ES&S sent out new contracts and nondisclosure agreements to the states that require data from it, copies of which were obtained by FoxNews.com.
Groh said ES&S -- which manages elections for many of the states, and in some cases is the sole holder of the voter and balloting data needed to build the online system -- found out only last month that its databases were needed for the pilot and that neither the states nor the vendors seemed to know exactly what information they needed from the company, and in what format.
Election officials disagree, saying Defense Department officials discussed the issue with ES&S many months ago and that ES&S agreed to charge minimum fees and to provide the data promptly. State officials say they had no idea there was going to be an issue until three weeks ago.
After some negotiations between program officials and the states, ES&S sent out a second round of pricing last week. Now, the most basic data, in .pdf format, will be available at no charge; a more detailed spreadsheet will be made available for $25 per jurisdiction (with 53 counties, West Virginia would pay $1,325; or a more enumerated, in-depth database -- a format that can most easily be fed into the pilot program -- will cost $50,000 plus $886.52 fee per jurisdiction, according to documents and e-mails obtained by FoxNews.com.
Hugh Gallagher, managing director of Scytl USA Secure Electronic Voting, a vendor that nine states, including Nebraska, are using to build the program, said he could put together an online balloting system for the pilot using the free data, but it will take significant manpower and time, and there just isn't enough of that left.
Scytl must incorporate each state's specific voter and ballot information to build its system -- and ES&S holds the data it needs.
"Had we known this issue with ES&S would occur, we could have probably had a contingency plan. But no one saw the ES&S challenge coming," Gallagher said.
"We're sort of being held hostage, it's a little frustrating to say the least," Gallagher said.
Gallagher and state election officials said voters from at least five of 19 participating states -- Kansas, West Virginia, Idaho, Arkansas and Montana -- will be unable to participate in the onscreen marking of ballots because ES&S has not handed over their data in time and in an easy-to-use format. Gallagher said Nebraska dropped out of the program altogether because ES&S wouldn't hand over all the data it needed.
But Groh said that's not true.
"I do not think the primary reason they're pulling out is ES&S," Groh said. "The primary reason behind this, for anybody struggling with this, is time -- time to test and try the things that need to be done."
West Virginia -- one of the leading states for military voting -- agreed to pay for the second level of support but also no longer has time to build the onscreen marking portion of its pilot program, Secretary of State Natalie Tennant told FoxNews.com. But the state will still be in compliance with MOVE Act provisions because it has its own separate pilot program that provides e-mail ballot returns for military voters.
"I think it's over -- until my people tell me it's not over," Tennant said.
But others say there's still time for things to get even worse. Some states asked ES&S for preliminary information about getting their data months ago, and still haven't heard back. Officials say if they don't get a response soon it'll be too late to participate in the program at all.
Abbie Hodgson, a spokeswoman for Kansas' secretary of state, said Kansas has been waiting for months to hear back from ES&S about pricing.
"We've put in the request," she said. "But it needs to be sooner than later -- we've got elections coming up."
Federal authorities have no legal authority either to pay ES&S or make it change its pricing.
Robert Carey, director of FVAP, said in a statement to FoxNews.com that it is up to the states to deliver the data to the vendors on time.
"If the states are unable to deliver that data in a timely manner, the vendors may be unable to develop the ballots on time," Carey said. " And the military and overseas voters may ultimately be unable to access these ballots online, a major improvement over having to wait for ballots by mail."
Gallagher said he thinks the decision by ES&S not to turn over its data is a disservice to the fighting forces.
"That's the group we're really trying to get, people who are more remotely deployed who deserve right to vote," he said. "We make these folks jump through hoops as it is, and now we're pinned down by someone who won't give us the data that we need -- that's really what it boils down to.
To request an absentee ballot, find out more about FVAP's programs, including numerous delivery options for voters from each state and a 24/7 call center providing assistance, and for information specific to military voting in each state and territory go to www.FVAP.gov.