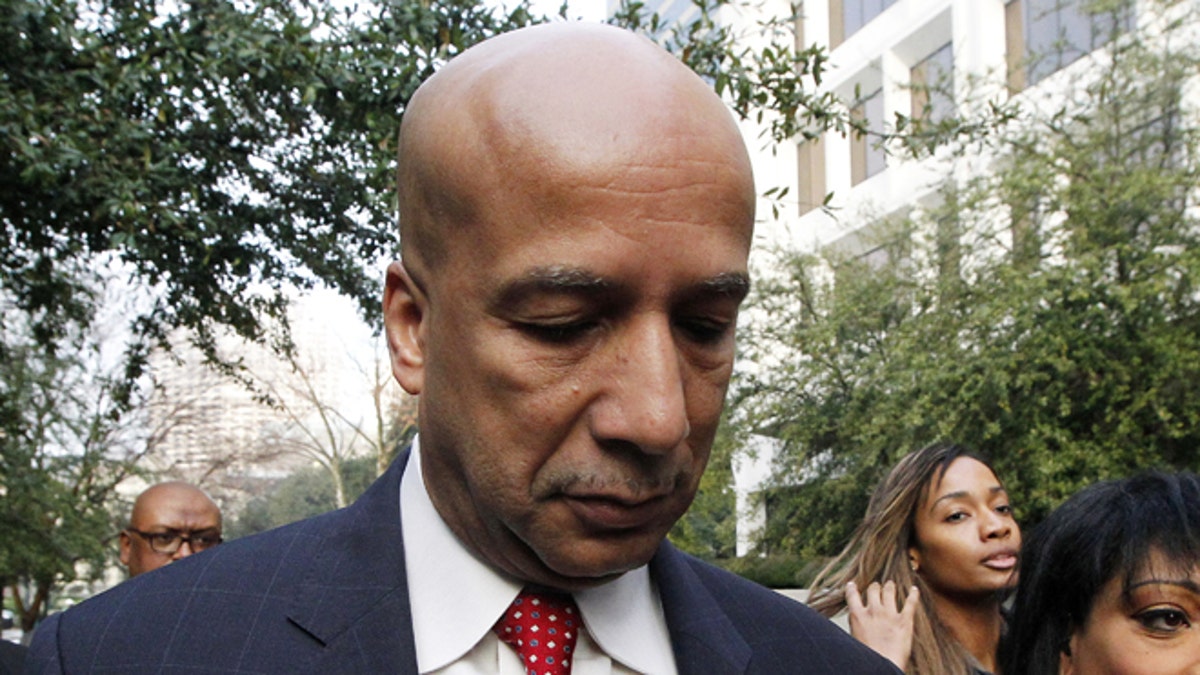 Ray Nagin rose to American political fame in swift, albeit uncensored, fashion -- as the New Orleans mayor who publicly trashed and pleaded with President George W. Bush to save his city in the aftermath of Hurricane Katrina.
"Flying over in Air Force One doesn't do it justice," Nagin said during a radio interview a few days after the storm hit on Aug. 29, 2005.
Today, more than three years out of office, Nagin returns to New Orleans, only this time to face federal corruption charges related to the aftermath of the deadly and destructive storm that put him in the spotlight.
Jury selection is underway this week in the case accusing the former Democratic mayor of using his office for personal gain, by accepting payoffs, free trips and gratuities from contractors while the city was struggling to recover from Katrina's devastation -- caused when levees broke and water flooded much of the city.
The 21-count indictment, which includes bribery and wire-fraud charges, is the outgrowth of a City Hall corruption investigation that already has resulted in guilty pleas by two former city officials and two businessmen and a prison sentence for a former city vendor.
The indictment states Nagin accepted more than $160,000 in bribes and truckloads of free granite for his family business in exchange for promoting the interests of businessman Frank Fradella -- who secured millions of dollars in city contract work after the hurricane. The hurricane and its aftermath killed roughly 1,800 people and cost an estimated $108 billion.
Fradella pleaded guilty in June to bribery conspiracy and securities-fraud charges and has been cooperating with federal authorities.
Nagin also is charged with accepting at least $60,000 in payoffs from another businessman, Rodney Williams, for his help in securing city contracts.
Williams pleaded guilty in December 2012 to a conspiracy charge.
Still, Philadelphia lawyer and former Assistant U.S. Attorney Fred Tecce questioned the strength of the case, despite the list of witnesses and their convictions.
"My gut reaction is the prosecutors' case isn't as strong as they think it is," he told FoxNews.com on Wednesday. "We'll wait and see how the evidence unfolds."
Tecce based his opinion in part on the Nagin defense team's willingness to go to trial and argued the evidence will have to be more than "dirty witnesses."
He also pointed to New Orleans' long history of political corruption.
"In any other city, this guy would probably get convicted," Tecce said. "But people there will be like, 'Free vacation, so what.' They don't call it the Big Easy for nothing."
Jury selection started Monday, but has been delayed because of the ice storm that hit the South.
Nagin was living in a Dallas suburb when a federal grand jury indicted him a year ago. The New Orleans native and son of work-class parents was a political novice when elected mayor in 2002. He was reelected in 2006 and left office in 2010 because of term limits.
Nagin moved to Dallas after leaving office and founded CRN Initiatives LLC, which specializes in publishing, public speaking and emergency preparedness.
He also wrote and published "Katrina Secrets: Storms after the Storms," a first-hand account of how New Orleans recovered from Katrina.
Nagin made no comment Monday about the case, upon entering the federal courthouse, saying only "It's fine" when reporters asked about his noticeable limb.
Each bribery count carries a maximum sentence of 10 years in prison. Each wire fraud count is punishable by up to 20 years in prison.
The indictment also claims Nagin received free private jet and limousine services to New York from an unidentified businessman who owned a New Orleans movie theater.
Nagin allegedly agreed to waive tax penalties the businessman owed to the city on a delinquent tax bill in 2006.
The allegations aren't limited to his tenure as mayor. Prosecutors said Nagin accepted monthly payoffs from Fradella totaling $112,250 after he left office.
Aaron Bennett, a businessman awaiting sentencing in a separate bribery case, told The Times-Picayune he introduced Nagin to Fradella specifically to help the mayor get a Home Depot contract for granite installation work for a business Nagin and his sons founded.
Fradella's company received more than $4 million in city contracts for repair work at Louis Armstrong New Orleans International Airport and in the French Quarter after Katrina, the indictment states.
The contractors who pleaded guilty to bribing Nagin also agreed to cooperate with investigators.
Greg Meffert, a former technology official and deputy mayor under Nagin, pleaded guilty in 2010 to taking bribes and kickbacks in exchange for steering city contracts to businessman Mark St. Pierre.
In 2011, St. Pierre was convicted of charges that include conspiracy, bribery and money laundering. Nagin's indictment accuses him of accepting bribes from St. Pierre.
FoxNews.com's Joseph Weber and The Associated Press contributed to this report.