Ernst criticizes Trump's Mar-a-Lago visits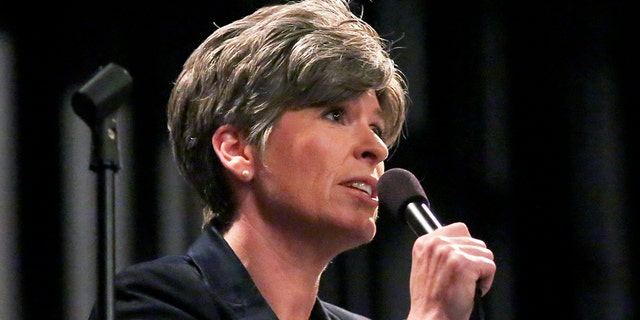 NEWYou can now listen to Fox News articles!
Republican Sen. Joni Ernst told constituents at a town hall on Tuesday that President Trump has a number of character "flaws" and spends too much time at Mar-a-Lago.
Though the Iowa Republican backed Trump throughout the campaign, she made clear she backs his policies more than him, personally. Ernst spoke bluntly when asked at a town hall in Wall Lake, Iowa, how she could support "a man that treats women the way Donald Trump does."
"Would you say they're character flaws?" Ernst responded. "I think he has a number of—I think we have a president who has a number of flaws—I support a majority of the policies versus the actual person."
Ernst stood by then-candidate Trump last fall following the release of a 2005 video in which Trump made lewd remarks about women, even as other Republicans were distancing themselves. The senator did, however, say that she was fighting for her country, not Trump, and would support the Republican ticket due to her disagreements with Hillary Clinton.
Ernst also took the town hall opportunity Tuesday to address her concerns with the president's frequent travel to the 'southern White House.'
"I do wish he would spend more time in Washington, D.C. That is what we have the White House for," Ernst said. "We would love to see more of those State Department visits in Washington D.C. I think it's smart that he does business in Washington D.C."
Ernst suggested other Republican lawmakers feel similarly about Trump's visits to his property in Palm Beach, Fla.
"I have not spoken to him about the Florida issue yet, but that is something I think has been bothering not just me, but I think other members of our caucus," Ernst said. "So I think that is going to be a conversation that we have when we get back to Washington D.C."
Ernst's senate office reiterated the senator's overall support for the president.
Press Secretary Brook Hougesen told Fox News in a statement: "Senator Ernst very much supports President Trump. These were questions she received at a town meeting, she didn't bring them up proactively. She would like to see more fiscal responsibility with respect to the visits to Mar-a-Lago. Regarding the comment on "flaws", her point is simply that one would be hard-pressed to find a perfect president that one would always agree with on everything. However, she does agree with the president on many policy items."
According to FiveThirtyEight, Ernst so far has voted in line with President Trump's position and policies 100 percent of the time.