Employers Add Zero Net Jobs in August, Unemployment Rate Unchanged at 9.1 Percent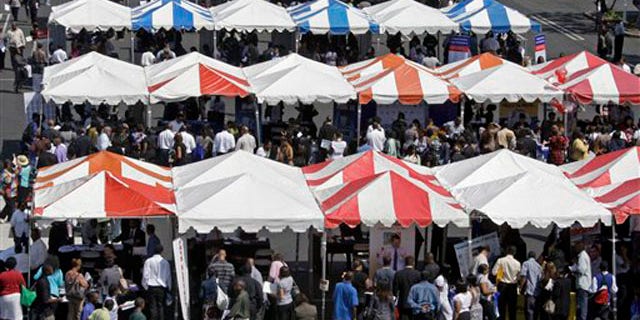 A dismal labor report Friday showed the economy added zero net workers in August, intensifying pressure on President Obama to unveil a major jobs initiative during his speech to Congress next week.
The Labor Department report, which showed the unemployment rate stuck at 9.1 percent, feeds into concerns that the economy could be at risk of another recession. It was the weakest jobs report since September 2010.
Republican leaders swiftly cited the report as renewed evidence that the Obama administration must change course.
"Private-sector job growth continues to be undermined by the triple threat of higher taxes, more failed 'stimulus' spending, and excessive federal regulations," House Speaker John Boehner said.
He and House Republican Leader Eric Cantor urged Obama to reach across the aisle when he unveils his jobs plan next week. "The administration's previous attempts at this didn't produce the expected results, and we must be mindful not to repeat the mistakes of the past," Cantor said.
The White House, in a blog on its website, urged the public not to read too much into any one monthly jobs report and noted that despite the slowdown the economy has added private-sector jobs "for 18 straight months." However, the White House called the jobless rate "unacceptably high" and said "faster growth is needed to replace the jobs lost in the downturn."
"Next week, the president will lay out a series of additional bipartisan steps that Congress can take immediately to put more money in the paychecks of working and middle class families; to make it easier for small businesses to hire workers; to put construction crews to work rebuilding our nation's infrastructure; and other measures that will help the economy grow while still reducing our deficit and getting our fiscal house in order," the White House said.
The president plans to address Congress and the nation next Thursday. Obama has staked a lot on this speech, and raised its profile even more this week by initially scheduling it for the same night as a Republican presidential primary debate. The president later pushed back his speech at Boehner's request.
The president may call for a blend of tax relief, infrastructure spending and other measures, but lawmakers are looking for more than just a repackaging of old ideas.
The labor report Friday was so weak in part because of a strike by 45,000 Verizon workers, which lowered the job totals in August. Those workers are back on the job. But hiring fell across many different sectors. Manufacturers cut 3,000 jobs, its first decline since October 2010. Construction companies, retailers, and transportation firms also cut workers.
The health care industry added 30,000 jobs last month.
Overall, the private sector added 17,000 jobs, the fewest since February 2010. That compares with 156,000 in July and 75,000 in June.
Job gains in June and July were also revised lower, to show 57,000 fewer jobs added. The downward revisions were all in government jobs. The average work week also declined and hourly earnings fell by 3 cents to $23.09.
The report may dampen expectations for the economy to pick up in the second half of the year.
With hiring stagnant and wages declining, consumers won't see much gain in incomes. That will limit their ability to spend, which undercuts economic growth. Consumer spending accounts for about 70 percent of the economy.
Weak growth, a downgrade of long-term U.S. debt in early August and a sell-off on Wall Street likely kept some businesses from hiring.
The economy expanded at an annual pace of only 0.7 percent in the first six months of the year.
That was the slowest six months of growth since the recession officially ended in June 2009.
Most economists forecast that growth may improve to about a 2 percent annual rate in the July-September quarter. But that's not fast enough to generate many jobs.
The economy's weakness was underscored Thursday by the Obama administration, which estimated that unemployment could average about 9 percent next year, when Obama will run for re-election. The rate was 7.8 percent when Obama took office.
The White House Office of Management and Budget projects overall growth of only 1.7 percent this year.
The Associated Press contributed to this report.